Team GB Asgard Bike Storage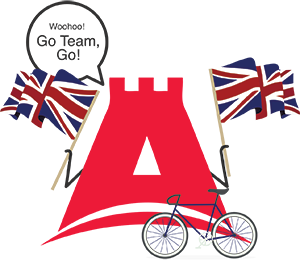 Asgard Storage is well known in the cycling communities for making metal bike sheds that provide high-security solutions, which protect bikes from thieves, the weather and condensation damage. That's why a few of Great Britain's very own cycling team have opted to use Asgard bike lockers when it comes to storing their livelihoods away somewhere safe.
Laura Kenny, Jason Kenny, Helen Scott, Victoria Barnes and long-time friend of Asgard Elinor Barker have all called upon Asgard for advice on which the ideal storage solution for their bikes would be. And when the stars come calling, Asgard are only too happy to help them out.
We also have some famous celebrities that are also proud Asgard Shed owners, you can find out more about the celebrities here.


Laura Kenny
4x Olympic Gold Medalist
Track Cyclist



Jason Kenny
6x Olympic Gold Medalist
Track Cyclist



Elinor Barker
2x World Champion
Track Cyclist



Alistair Brownlee
2x Triathlon World Champion





Liam Harrison


8x Kickboxing & Muay Thai World Champion



Helen Scott
Sprint Cyclist





Victoria Barnes
Track Cyclist





Ellie Dickinson
Road & Track Cyclist





Katie Flatters
Team GB Physio & Triathlete





Lauren Delany
Irish International Rugby 15s
& Team GB Nutritionist



Alex Edmondson
Australian Olympic Team
UCI Road & Track Cyclist



Megan Barker
Track Cyclist





Matthew Bostock
Track Cyclist





Corrine Hall
Paralympic Gold Medalist





Sophie Thornhill
Team GB Paralympic
Track Cyclist



Claire Cashmore MBE
Paralympic Swimming &
Triathlon Champion



Hayley Simmonds
2x Trial Champion





Jody Cundy
7x Paralympic Gold &
20x World Champion





Andy Tennant
Track & Road Cyclist




Josh Quigley
Round the World Cyclist




Luke Willcocks
BMX World Champion




Emma Trott
Team GB Women's Academy Coach

---
Jason & Laura Kenny

Laura charmed the British public at the London Olympic Games in 2012, where at the age of just 20, she won gold medals in the team pursuit and the multi-discipline omnium event.

As a key part of the Great Britain team that won 12 medals - eight of them gold - across the cycling events, Kenny became one of the nation's most beloved athletes. Laura went on to further success four years later in the Brazilian Olympics, taking her personal total of Olympic gold medals to four, as she successfully defended both titles.

Jason Kenny has won six Olympic gold medals. He has only been matched by his fellow cyclist Sir Chris Hoy. Jason Kenny enjoyed an astonishing campaign at Rio 2016 in which he won three titles, in the team sprint, sprint and keirin.

Olympic gold medallist at the age of 20 in 2008, Jason Kenny was one of the figureheads of the highly successful Great Britain Cycling Team at their home Olympics in London four years later, taking his career haul to three golds medals in the sprint and team sprint.
---



Elinor Barker

A chance sighting of the Maindy Flyers Cycling Club, while on her way to a swimming class in her hometown of Cardiff, led the then 10-year-old Elinor Barker turning her back on the pool in favour of the velodrome. This set her on the way to becoming a world and Olympic champion.

Elinor Barker first came to Asgard in 2014 just after her appearance at the Commonwealth Games in Glasgow. She approached Asgard's much loved Andrew Heath, because she needed space to store her bicycles at her Manchester home, where she had moved to be closer to the velodrome where she trains to this day.

Barker has now had two Asgard sheds. She previously used one of Asgard's larger sheds – the Police Approved Bike Storage x 6, which sat on her driveway and protected up to 6 bikes that Elinor and her housemates kept there. When Elinor moved to her own house, the area for the shed was a tighter fit, so a new solution was required. Speaking to Elinor about the dimensions of her new yard space, the Asgard team found the perfect high-security solution. The Bike Shed for 29ers was the chosen storage solution and is providing Elinor with highly secure storage for her bikes to this day.
---
Alistair Brownlee

Alistair is the only athlete to hold two Olympic titles for the triathlon, winning gold in London in 2012 and in Rio in 2016. He is also a two-time Triathlon World Champion and a two-time World Team Champion as well a three-time European Champion and a Commonwealth Champion, Brownlee was also awarded an MBE in 2013 for his services to triathlon.

Alistair's love of cycling began from the young age of 8 when he was introduced to triathlon by a family member and decided to take the sport seriously when he won the World Junior championships in 2006.

Alistair Brownlee contacted Asgard as he needed somewhere safe, secure and trustworthy to store his award-winning bikes while he was out training, expressing that his bikes are his most prized possession. The Asgard team chatted directly with Alistair about the space he wanted to store his beloved bikes. The Police Approved Gladiator bike store was the perfect fit, with the Gladiator Bike Rack and multiple additional Bike Racks (designed specifically to hold spare bike frames), maximizing the space this bike storage offered the secure high-security level Alistair needed, to help put his mind at ease while training.
---
Ellie Dickinson

Eleanor May 'Ellie' Dickinson is the youngest member of the British Cycling Podium Team, on the track, she won the gold medal at the 2016–17 UCI Track Cycling World Cup. Selected for the British Cycling Olympic Talent Team at 14 years old, Ellie has seen a speedy rise in the world of cycling and made the British Cycling Podium Team in 2018.

Ellie contacted Asgard after a recommendation from teammates Laura Kenny and Elinor Barker. The Asgard team chatted with Ellie about where she would like to store her bikes as she had recently moved to Manchester to be closer to the cycling track.

The shed of choice for Ellie was a Police Approved - Bike Storage x 3 shed. A popular bike shed with cyclists across the UK, this compact bike shed, offers top of the range security yet can neatly fit into yards, gardens and large balconies without being too obtrusive. The Asgard team fitted Ellie's Asgard Bike shed on her 4th-floor Balcony, allowing her to keep her bikes on her own property and give Ellie a piece of mind when storing her award-winning bikes.
---
Katie Flatters

Recently we met up with Katie Flatters and Lauren Delany of team GB fame. Katie is a Physiotherapist for the GB Cycling Team and in her spare time an Ironman finisher and all-round athlete.

Katie contacted Asgard after recommendations from some of her Team GB teammates Elinor Baker and Helen Scott, who have previously had Asgard bike sheds installed. Katie picked the Annexe, Police approved bike store, a bike store discreet enough not to be an obvious bike shed, yet strong enough for her to house her bikes and equipment in.

Asgard metal bike sheds have proved popular with the Team GB cycling team, with a choice of sizes and designs, we have storage sheds for all types of athletes and sports. Many Asgard sheds have received the Secured by Design status helping to ensure that these professional cyclists are able to keep their beloved bikes stored in our high-security sheds, with total peace of mind, sure that they need to protect their award-winning bikes, from thieves, the weather and condensation.

The Police Approved – Annexe Bike Storage x 3 shed, was the perfect fit for Katie. The UK made bike shed offers the ultimate protection for Bikes, but the compact unit can also be neatly installed into gardens without being too obtrusive.
---



Helen Scott

Annexe High Security Bike Shed

Inspired by Sir Chris Hoy's Gold medal-winning exploits at the 2004 Olympics, Helen Joined the Great Britain Cycling Team in 2010, as a pilot to Aileen McGlynn. She enjoyed immediate success, winning a silver and bronze medal, alongside McGlynn at her first Paralympic Games at London 2012. Helen was then paired up with Sophie Thornhill. The Scott/ Thornhill partnership has been a fruitful one, with the pair winning Paralympic gold, two world titles and two Commonwealth titles

Helen approached Asgard when she moved into her new home, near to the Manchester Velodrome, where many of the Team GB cyclists train daily. Having seen how her Olympic colleague, Elinor Barker securely stored her bikes in hers, Scott came to us for advice on what the right shed for the dimensions of her garden would be.

The shed of choice for Helen was a Police Approved – Bike Storage x 3 shed. This is one of Asgard's most popular sheds amongst cyclists and can fit neatly into yards, gardens, and driveways without being too obtrusive.
---
Liam Harrison

Liam 'The Hitman' Harrison is an 8x World Kickboxing and Muay Thai Champion, first getting into the sport at the young age of 13. Liam was trained by Commonwealth and European Kickboxing champion Richard Smith, making his professional debut into the sport at 15 years old.

Liam first contacted Asgard when he needed somewhere to store his Kick Boxing & Muay Thai equipment. The Asgard Access was chosen as the all metal storage shed helps to provide Liam with the peace of mind he needs to keep his training equipment safe. To give the best security, the Access Storage shed is fitted with two external (steel plated) shrouded locking points and an integral deadbolt (steel) locking bar to help ensure your equipment is safe.
---



Victoria Barnes

Annexe High Security Bike Storage

At 15 years old, Victoria made the switch from athletics to cycling, after one of her athletics coaches advocated that her attributes were better suited to the sport.

Producing good results on power tests, Victoria was put on the Girls4Gold scheme, which is a female-only search for talent, which aimed to find female athletes with Olympic potential. From there, Victoria was accepted onto British Cycling's Olympic Development Programme, advancing onto the Academy Programme in 2011.

A good friend of Helen Scott, Victoria first discovered how secure Asgard sheds were when she saw Scottie putting her bikes into the shed under lock and key. Because cycling is Victoria's chosen career path, keeping her bikes safe, under lock and key is of paramount importance.

Victoria suffered a potentially career-ending accident on the track in 2016, but is now in training for the 2020 Tokyo Olympics.
---



Lauren Delany

Annexe High Security Bike Storage

We recently met with Lauren Delany, The Great British Cycling Team's performance nutritionist. Lauren is on hand to ensure the team fuel and recover effectively, which will also help to maximize training and reduce recovery times through food and nutrition. Lauren also plays Full Back for the women's Ireland Rugby Squad as well as the Waterloo Ladies. Lauren will be playing in the 2019 Six Nations.

Lauren was on hand as the Asgard installation team built Katie Flatters (also of team GB fame) new Asgard Annexe Bike Shed. Both Katie and Lauren can now store their bikes and riding equipment, knowing they are safe from theft and the British weather.
---



Alex Edmondson & Ellie Dickinson

Annexe High Security Bike Storage

We recently helped Australian Track & Road Cyclist Alex Edmondson and Team GB Cyclist Ellie Dickinson relocate their Annexe Bike Storage Shed to their new home. By the age of 18, Alex became the 2nd youngest cyclist to ever get chosen to be a part of the Australian Olympic team. Alex won the silver medal for Cycling at the 2016 Summer Olympics.

Ellie is the youngest member of the British Cycling Podium Team. On the track, she won the gold medal at the 2016–17 UCI Track Cycling World Cup.
---



Megan Barker & Matthew Bostock

Team Asgard ventured down to Manchester to install the popular Access secure bike shed for Team GB cyclists Megan Barker and Matthew Bostock. Megan represented Wales at the 2018 Commonwealth Games and has recently signed to ride for the UCI Women's Team Drops for 2019 Women's Road Cycling Season, while Matthew won the bronze medal at the 2016 UEC European Track Championships.

Megan had heard about Asgard and our sheds through her Team GB sister Elinor Barker, who is a proud owner of two of our sheds – The Centurion and Access metal bike shed.
---



Corrine Hall

Corrine represented Great Britain in the 2016 Rio Paralympics as a sighted pilot for British Cycling Paralympian, Lora Fachie. They won a gold medal at the summer Olympics in the Women's Individual Pursuit B. The pair are currently partaking in the Para-Cycling Track World Championships and came fourth in the women's tandem pursuit.

Corrine approached Asgard Secure Steel Storage when she required a storage solution to not only store her bikes, but also ensure they're safe in her garden. Asgard provided her with the Access Cycle Store which features a gas assisted lift up lid and double doors.
---
Sophie Thornhill

Annexe High Security Bike Storage

Sophie is an English track racing cyclist for the Great Britain Cycling Team. Joining in 2013 she immediately achieved two world titles and set two world records. Born with Oculocutaneous Albinism, Sophie is visually impaired with 7-9% sight. When competing, she is at the rear of the tandem where she is guided by a sighted pilot. Sophie has worked with several pilots throughout her career including Rachel James, Helen Scott, and Corrine Hall (who also have Asgard bike sheds!), and has gone on to win more medals, set new records, and gain world titles.

Sophie's main criteria for her bike shed was that it needed to be very secure and protect her expensive bikes, but also small due to the limited space available. After discussions with our teams, the Annexe Secured by Design Police approved bike shed fitted the bill.
---
Claire Cashmore MBE

Paralympic swimming champion and International Triathlon Union (ITU) world champion Claire Cashmore is the latest professional athlete to choose Asgard storage to store her sports equipment in.

The Asgard installation team headed down south to install the Asgard Centurion Storage Shed x6, a LPCB, UK Locksmith and Secured by Design (Police) approved cycle shed. Claire and her partner Dave Ellis (also a 3x ITU World and ETU European Champion holder) will use the secure shed to store her bikes, turbo trainer and sports equipment in.
---
Hayley Simmonds

Twice Time Trial Champion Hayley Simmonds joins the growing number of professional athletes who store their bikes in an Asgard storage shed. Hayley is a road and track British racing cyclist with an impressive medal collection. A twice British time trial champion, Hayley's also won medals at the 2018 Commonwealth Games and 2019 European Games, and in 2015 set a new British national 10mile time record!

Asgard has helped many world champions and GB athletes securely store their bikes and equipment in our metal sheds. After discussing Hayley's storage needs, the Access bike shed was the most suitable.
---
Jody Cundy

Jody Cundy is the latest professional cyclist to store their bikes in an Asgard shed! Jody picked the popular Access Metal Shed which can store up to four bikes! The shed also features a gas assisted lid and double doors for better access.

Part of the Para-T Paracycling Team, Jody Cundy is one of Britain's most successful and impressive cyclists. With a huge range of titles and medals, Jody is not only a 7x Paralympic Champion (3 in swimming, 4 in track cycling) and 20x World Champion (3 in swimming, 7 in track cycling), but holds 2 World Records
---
Andy Tennant

Team GB cyclist, Andy Tennant, reached out to Asgard Secure Steel Storage to find a secure storage solution for his many bikes and spares. After careful consideration, taking his bike storage requirements and outdoor space into account, Andy went for the Access Bike Shed.

Andy is a Professional Cyclist for Great Britain and Canyon Eisberg. In 2013, Andy was part of the gold-winning squad in the European Championships and a year later, completed double gold in the Team and Individual pursuits.
---
Josh Quigley

Round the world cyclist, Josh Quigley, is the proud owner of the Access Bike Shed after being a victim of bike theft in April 2019. Josh will be attempting his 7th 'round the world' cycle to set a new record, cycling a total of 18,000 miles! After being a victim of bike theft, Josh required a safe place to securely place his bikes. The Access x 4 cycle shed can house up to 4 bikes* and features a tough 3-point locking system and additional padlocks to steer away any thieves.

Josh has broken the record of the 516 mile route across the Highlands. He took 31 hours 19 minutes and 8 seconds to ride the 516 mile route, over 4 minutes faster than the previous record.
---
BMX Champion Luke Willcocks and his BMX cycling family reached out to Asgard for help and advice on how to safely secure their 15 BMX bikes. With security being the most important factor, they opted for 2 Gladiator Police approved secure cycle sheds with additional bike racks to stand each bike upright.

"Best Christmas Present ever. The bikes are now out of the house. Thank you so much Asgard and Happy Christmas. Loads of much needed secure bike storage for our cycling family. Electric system and lighting installed too." - Cathy Willcocks

At just 11 years old, Luke is World No4 BMX Champion, he represents Great Britain at competitions alongside his dad Steve Willcocks.
---
British Cycling Women's Academy Coach, Emma Trott approached Asgard storage for help and advice for storing a wide range of items including tools, equipment and bikes. Recommended by her sister, Olympian and World Champion Laura Kenny, Emma wanted a multifunctional and adaptable garden shed and bike storage for her back garden, with the Access 8x4 metal shed fitting the bill. The Access' signature lift-up lid and double doors give plenty of space to manoeuvre items in and out, whether it would be a bike, cycling equipment or gardening tools.

"Big thank you to @asgardstorage for sorting this garden shed for me! Never thought I would be so happy to finally have the garden tools out of the garage and into their own space! I must be getting old. #shed #asgard #best #amazing" - Emma Trott, Women's Academy Coach