How to leave an Asgard review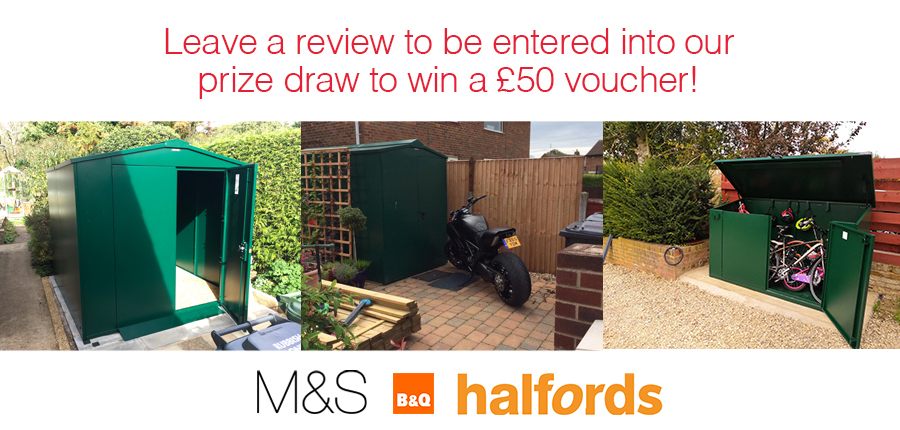 Leave a review to be entered into our prize draw

Here at Asgard Secure Steel Storage, we take pride in what our customers have to say about our products. If you have pictures of your Asgard shed, be it our Bike Sheds, Garden Sheds or Motorcycle Sheds please let us know. If you don't have pictures but think we have provided a great service, then please let us know. We love featuring customer reviews and images across our website and all of social channels.

All images, videos, and reviews are used throughout our website, social media accounts, and promotional material. All review emails are automatically entered into our monthly 'Customer Review of the month' and "Customer Image of the month" prize draw.

Each month we pick a winner at random to win High Street Vouchers.

You can send your images and feedback through the product pages or Facebook, Twitter and Instagram or to our fantastic Customer Support team at sales@asgardsss.co.uk.

Read our bike, motorcycle and garden reviews
How to leave a review on our website
To leave a review on the Asgard website, please visit the individual product page and click 'add your review" We love seeing the personal stamp our customers leave on their storage sheds, so don't be shy share that shed picture!
Reviewed by Bike, Motorcycle & Gardening Magazines
It isn't just customers leaving reviews. Check out what the professionals and journalists are saying about the range of Asgard metal storage sheds. Click below to find out more.
Refer a friend scheme
As a thank you, we'd like to give our existing and new customers 10% off* their next Asgard purchase through our new 'refer a friend' scheme. With every Asgard delivery, we have included a slip with details of our 'refer a friend' scheme including the discount code. Simply give this 10% discount code to your friends and when purchasing their Asgard, they can enter it into our website at the checkout.
If you love your Asgard as much as we do, you can also use the 10% discount code* on your next Asgard shed purchase too!
*Please note the 10% discount code excludes installation and accessories. Min order of £100.
---
Terms & Conditions
Eligibility
To contribute to our product review section, you must be a genuine Asgard customer with a minimum spend of £250. Every review placed goes through a strict moderation process. Your review will only be considered for publication if made within 28 days of delivery. Asgard take the integrity of our product reviews seriously, any attempt to manipulate our review process is strictly prohibited. If you violate our guidelines in any way we will not publish your review.
Be Helpful and Relevant
The review section has been designed to provide useful feedback for both our customers and Asgard. The content you submit should be relevant and based on your own honest opinions and experience. Asgard will use your feedback to improve our products and services. Customer reviews should be relevant to the product and/or service purchased, comments about pricing availability or alternative ordering options/ alternative suppliers are not relevant and will not be published.
Respect Others
Please be respectful of others and don't post content that is libellous, defamatory, harassing, threatening or inflammatory. For example, don't use obscenities or profanity, and don't express hatred or intolerance for people on the basis of race, ethnicity, nationality, gender or gender identity, religion, sexual orientation, age, or disability, including by promoting organisations with such views.
Don't post content that is obscene, pornographic, lewd, or that contains nudity or sexually explicit images.
Don't post content that invades others' privacy. For example, don't post other people's phone numbers, email addresses, mailing addresses, or other personal information.
Don't post links to phishing or other malware sites.
Don't impersonate other people or organisations or pretend to be someone or something you're not.
Don't repeatedly send messages or requests to other people.
Don't resend the same review multiple times.
Don't attempt to drown out other people's opinions, including by posting from multiple accounts or coordinating with others.
Don't engage in name-calling or attack people based on whether you agree with them.
Don't attempt to post reviews containing URLS, referrer tags or affiliate codes.
Don't post comments with reference to pricing or comments about 3rd party suppliers (if purchased through one of our suppliers).
Do not speculate on the best way to forcibly enter Asgard sheds, or indicate where Asgard sheds are situated or speculate on the contents.
You may question the beliefs and expertise of others as long as it is relevant and done in a respectful and non-threatening manner.
Asgard do not participate in mutually beneficial reviews – we will not reward or offer incentives for positive reviews.
Asgard offer a £25 high-street voucher for a 'review of the month'. The winning review is picked at random from all reviews received in the given time period.
Illegal Activity
Don't post content that encourages or supports behaviour that is illegal, including violence, fraud, illegal drug use, underage drinking, or child or animal abuse. Examples of prohibited content include:
Content advocating, threatening, or joking about physical or financial harm to yourself or others, including terrorism.
Content posted intentionally as sarcasm as it relates to self-harm or harm to others.
Content that encourages or supports the dangerous misuse of a product.
Posting Images
You may only post images of your own product and we recommend you do not feature people (friends or family) in the photograph. We also recommend you do not indicate your address or include prominent landmarks in the photos or anything that may indicate where your shed/ product is located.
By submitting images to our review section, you are indicting Asgard may reuse these images in online and offline Marketing and other promotional material, including but not limited to; Social Media, printed brochures and materials.
Additional Guidelines for Customer Reviews
The following guidelines apply to Customer Reviews in addition to the other guidelines given above:
If your review is removed or rejected because it does not comply with our guidelines concerning promotional content, you may not resubmit a review on the same product, even if the resubmitted review includes different content.
Customers in the same household may not post multiple reviews of the same product.
We may restrict the ability to submit a review when we detect unusual reviewing behaviour, or to maintain the best possible shopping experience.


If you have any questions regarding our review policy please contact the Asgard Customer Services team at sales@asgardsss.co.uk