Are Metal Sheds are Better than Wooden Sheds?
The most popular question that arises when someone visits Asgard, is "why should I buy a metal shed instead of a wooden shed, metal sheds are more expensive". Well that's exactly why we're going to show you the advantages of having metal shed over its wooden and plastic counterparts.
Cheap sheds can be deceptive. Many people think they are getting a bargain, but in the long run the materials used to construct these sheds will not stand the test of time. Thin sheds are vunerable to attack and should only be used for low value items, as they offer little protecion against theft or the British weather.
Rust Resistant Metal
One of the most common issues with outdoor metal sheds is rust. There are a lot of cheap sheds out there! These are low quality, cheaply made metal sheds that are often imported into the UK on mass from overseas. This is not only bad for the UK based manufacturing industry, but it also adds to a companies carbon footprint. The quality of the finish on many of these types of garden buildings is poor, which is what makes these sheds so cheap in the first place. Often these low end sheds are made from very thin steel, to compensate this these shed tends to be ribbed to add stiffness, the fittings will not be Zinc (rust proof) - so it is common for hinges, screws and latches to rust and break.

Unfortunately if you do buy or already own one of these sheds, you're likely to find out they are more likely to rust, even with ongoing maintenance. Where as a well maintained Asgard shed will last for years - Don't forget Asgard sheds have a full 10 year warranty.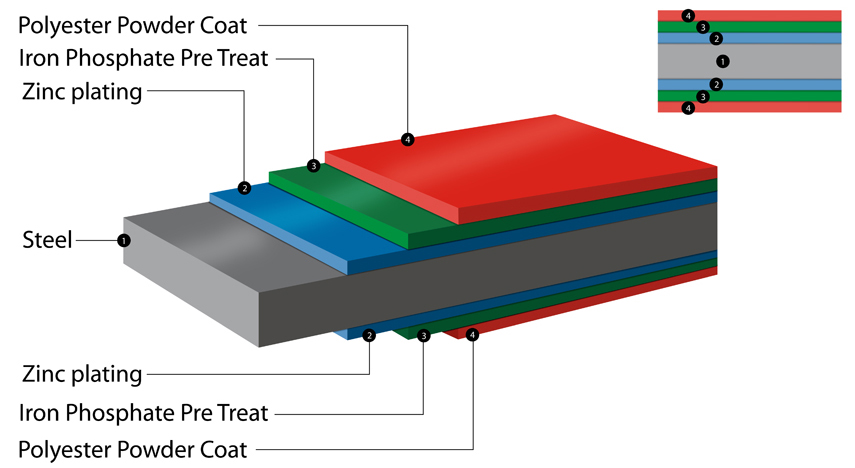 A metal shed made by Asgard is made from thick galvanised steel. The process of galvanising the metal makes the shed weatherproof and prevents the metal from rusting.
The metal sheds are then coated in polyester powder coat paint in Asgard's own paint plant. This final layer makes the sheds extra weatherproof, as well as tough and durable. As well as this Asgard only use rust-resistant zinc-coated screws for the shed assembly. We can say that Asgard sheds are truely built for the British climate.
If you're interested in see what the inside of our factory looks like, including the paint plant visit our Factory Tour page.
What is Galvanised Steel?
Asgard sheds are made from Galvanised Steel, which makes them some of the securest, most weatherproof for outdoor storage units on the market.
.......But what is Galvanised Steel, we hear you ask? Don't worry we're going to explain this for you.
Let's take a look at what Galvanised Steel actually is.
• It is a coating of zinc, that when intact, stops corrosive substances from reaching the underlying steel or iron.
• Serving as a sacrificial anode, even when the surface has been scratched, it still prevents corrosive substances from reaching the underlying steel.
• The zinc corrodes before the iron, thus protecting its base metal. For enhanced results, chromates are applied over the zinc as an industrial trend.
Shed Weight & Security
With weight comes quality and security - Good quality metal sheds such as Asgard sheds are heavy. The heavy-weight of these sheds means that they are strong, stable and secure.
Some of the Asgard sheds weigh over 70 stone, would be burglars will find it very difficult to just lift of the roof and steal the contents from inside. The heavyweight doors also provide fantastic security, heavy duty and fitted with pick proof locks.
On average Asgard's metal sheds are around five times heavier than equivalent sized products from other companies**.
With Asgard storage sheds you can choose to fix the unit to the floor using the supplied ground fixing kit. By fixing the shed to the ground you will have maximum security for your tools and equipment.
Asgard sheds require a low level of maintenance, other than oiling the hinges and giving the unit a periodic wipe down.
Here are some of the benefits of having a low maintenance metal shed from Asgard.
The Benefits of an Asgard all Metal Shed
To summarise why Asgard's metal sheds are better than wooden sheds, here are a few points to consider;
Asgard units will not rot or leak - wooden sheds are vulnerable to the weather.
Hidden ventilation system - reduces condensation in the units.
Asgard shed are Police Approved
Asgard sheds are Insurance approved
Many of our units are UK Locksmiths approved.
Very heavy units are almost impossible to move when assembled and fixed.
3 or 5 point locking - A wooden shed will at best have a hasp and staple.
Rust proof* - galvanised steel which is then powder coated.
All units have an integral metal floor with ground fixing bolts - this adds weight and security.
Reinforced joints - Wooden units are weak and vulnerable to attack.
Industry approved locking system - We fit only the best locking systems.
No annual re-felting of the roof.
No repainting.
No rotten panels to replace.
No leaks.
Many units in the range are LPCB level 1 approved. - This can reduce your insurance premiums.
Full after sales support from a nationwide customer services team - If you have a problem, just call us.

** typical product comparison.