Asgard storage - 5 Point locking system
Asgard Metal storage shed - 5 point locking
Asgard have built a reputation for security. So what's the reason behind this? We use Euro Cylinder pick and drill resistant locks on our metal sheds, with either a 3 point or 5 point locking systems built into the shed body. As you can see by the images below, our 5 point locking system features a steel shrouded lock casing and 10mm steel dead bolts for the best in shed security.
Many of our sheds are Insurance approved, Police Approved and / or UK Locksmiths Approved! The sheds that are not - feature reinforced doors and panels. All of our sheds are made from heavy gauge steel which is galvanised and powder coated, ensuring they are not just super strong and secure but also weatherproof.
Pick and drill resistant locks feature on Asgard metal sheds
Another feature of the 5 point locking system is rather unique. In the event of someone trying to break in, forceful impact on the handle will cause it to snap off. Once this has occurred, the only way to gain access to the shed is by using the key. (As seen in the image below).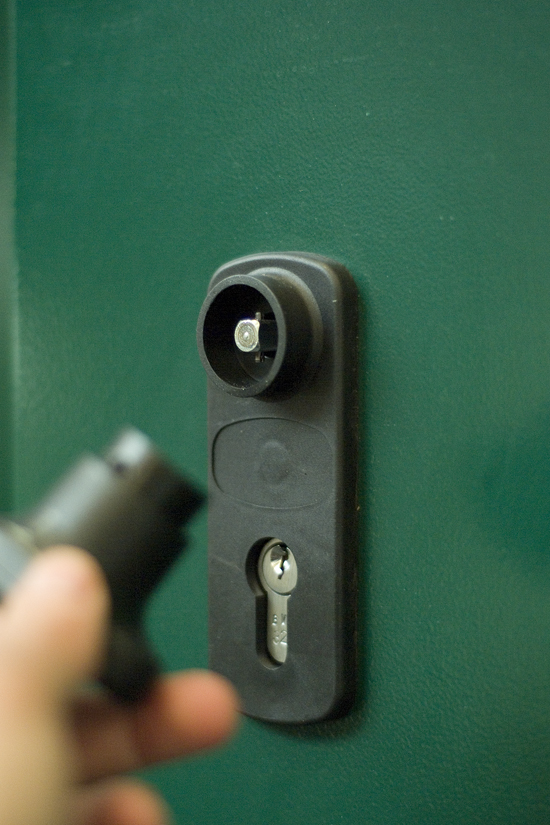 If you have experienced this, and are needing to repair your lock, then please do so by following the instructions manual found here.
Asgard Lock Instructions
The Asgard 5 point locking system also features a handle on the inside. This means that you will never be locked inside, which is a big bonus if you have children. This simple yet affective design allows you piece of mind if you store children's toys or games inside your shed.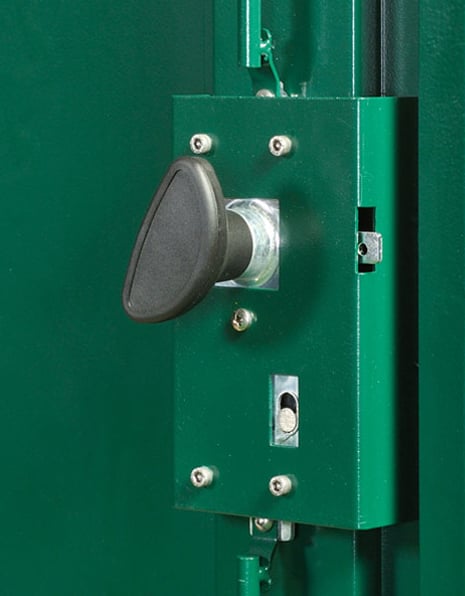 The rear of the Asgard 5 point lock - shrouded in steel for security
Worried about your insurance? Well for insurance purposes...
The Asgard metal shed locking system features A 6 PIN pick resistant Euro cylinder grade 4.
With a classification of 15000C52 (BS EN1303)