Asgard Sheds - LPCB Approved Designs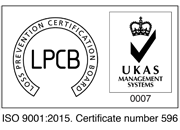 Asgard LPCB Test Videos
The following videos were recorded during the Insurance tests of the Asgard Centurion / Motorbike Unit conducted by the Loss Prevention Certification Board. Each test has the aim of breaking into the unit, with multiple tests being done to ensure all points of break-in have been tested.
You can find the LPCB test certificate here.
---
The Doors
The Motorbike garage is built from tough galvanised (weatherproof) steel (1.2 / 18swg). The doors feature reinforcing bracing bars, welded hinges, and an innovative (shrouded) 5-point locking system.
---
The Lock
Our motorcycle unit features a drill and pick-resistant Euro cylinder lock. Designed to help to beat the thieves.
---
The Doors & Locking Mechanism
With welded hinges and heavy-duty steel construction, the Asgard has been accredited by the UK Locksmiths Association and Loss Prevention Certification Board.
---
The Side Panels
---
A selection of Asgard products are LPCB-approved, but what does this mean?
LPCB stands for Loss Prevention Certification Board. The LPCB has been working with industry and government for over 100 years, setting the standards needed to ensure that fire and security products perform effectively.
When you purchase an LPCB-approved product, you know that what you are purchasing will help to reduce the risk of fire and theft.
How are LPCB products tested?
For each product type, different requirements and testing procedures take place. To gain LPCB approval for an intruder-resistant building, such as an Asgard shed, the following testing is undertaken.
The following tools were used to simulate an opportunistic attack:
Adhesive tape
1 Cable cutter – 150mm long
Fishing line
Flexible Plastic coupon
1 Glass cutter
Hexagon wrenches
Hooks
1 Knife – blade 125mm long x 3mm thick
1 Lever
Pliers
Punches
Rope
1 Screwdriver
1 Scriber
Socket/Screwdriver set
Spanners
Traction Screws
Tweezers
Wire
WD40
Wood/Plastic wedges
For the product to be approved, all aspects of the product need to withstand the attack.

Asgard's sheds are approved by the Loss Prevention Certification Board.

To see all of our LPCB-approved Design sheds, visit our high security sheds category.