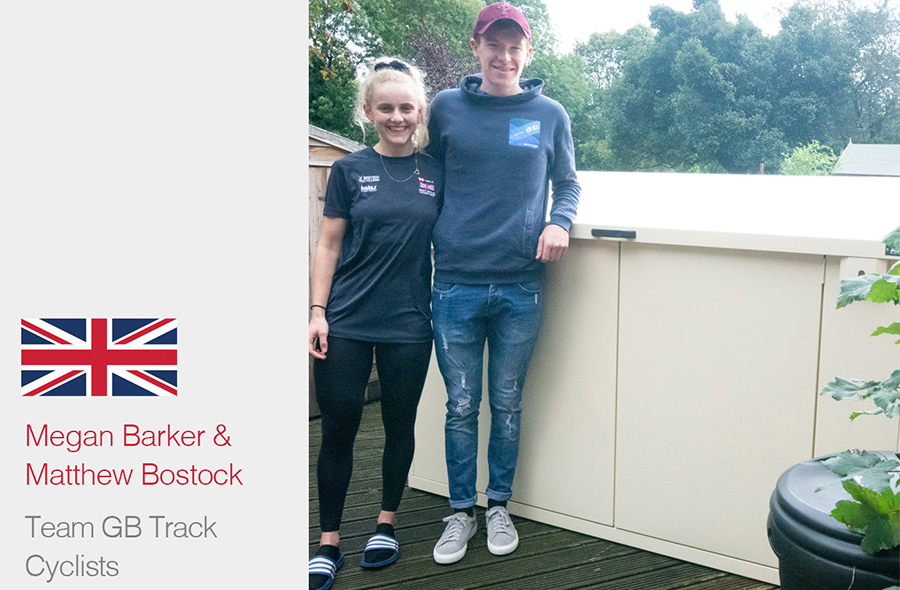 With the Autumn winds slowly settling in, team Asgard made tracks to Manchester to install the ever-popular Access Secure Metal Bike Shed for Team GB Cyclists Megan Barker and Matthew Bostock. Barker represented Wales at the 2018 Commonwealth Games and has recently signed to ride for the UCI Women's Team Drops for 2019 Women's Road Cycling Season, while Bostock won the bronze medal at the 2016 UEC European Track Championships.

Megan had heard about the fantastic security Asgard cycle sheds provide for her bikes from her Team GB sister, Elinor Barker, who has had two of our bike sheds so far - a Centurion and an Access. Megan and Matthew chose our Ivory Access bike shed with a full set of accessories including helmet hooks, a subfloor and a set of shelves for total bike security and storage.

'We really love our new Asgard shed! We've gone from having 6 bikes in our living room to having them all safe and secure in the shed outside. And we no longer have to bring wet and dirty bikes through the house!' - Megan Barker, Team GB Cyclist.

Prior to receiving their Asgard shed, Megan and Matthew were storing their bikes in their living room, which is far from ideal on a typical wet and rainy Manchester day. Matthew took to Instagram to express how the Asgard metal bike shed is already making a difference!

'Headed to the Tour of Britain knowing my bike is safe and out of the dining room' - Matthew Bostock, Team GB Cyclist.
About the Access Bike Shed
The Access metal bike shed is made from tough, galvanised (weatherproof) steel and features an ultra-secure 3-point locking system which includes two heavy-duty external (steel plated) shrouded locking points and an integral deadbolt (steel) locking bar inside the doors. The easy lift (gas lift) lid and double doors give you fantastic visual access and of course means you can enter your shed to easily access your bikes and accessories. Concerned about your bikes getting rusty?? The Asgard Access features an integrated ventilation system, designed to allow air to circulate inside the shed, keeping condensation to a minimum. Keeping your bikes safe and dry.

The Access bike shed has been designed to store up to 4 bikes, so more than enough for even the professional cyclists!

For more information on all of our cycle storage, please see our cycle storage section.