Asgard products reviewed
We love hearing from our customers and finding out what you really think about our products. Here are a selection of reviews and pictures from Asgard customers.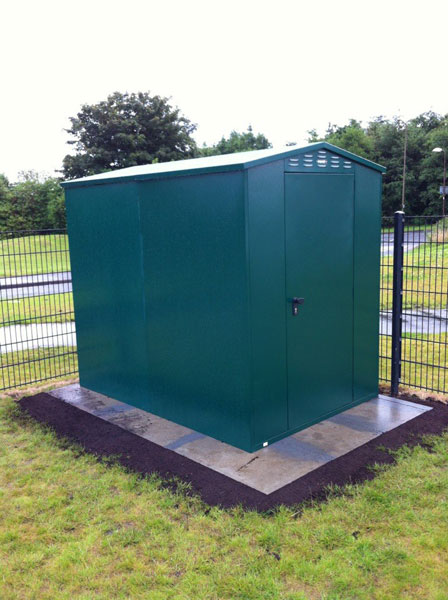 It isn't just individuals that purchase from us, we sell quite a lot of our storage units to schools and companies. Here our Flexistore garden shed has made its way to a local nursery. The Flexistore 1522 metal garden shed review.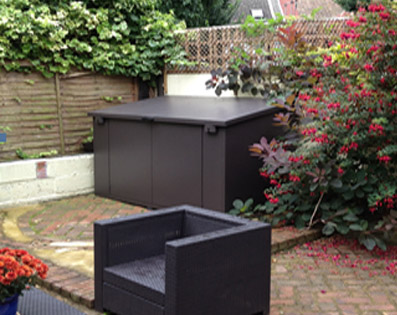 The Asgard range of storage units have been created to blend seamlessly into any garden environment. As you can our Access metal shed looks fantastic in the corner of this garden.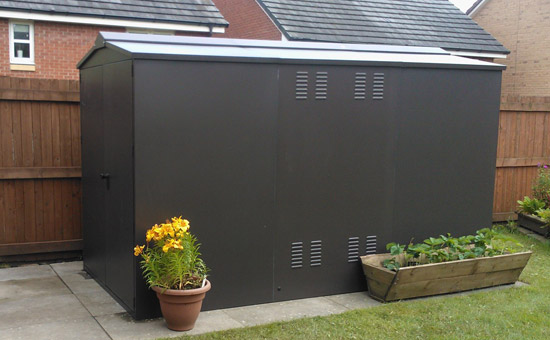 A motorcycle plus garage in brown, our metal unit looks great in this customer's garden. As the larger of our two motorcycle storage units, this garage features an extra-large vented side panel for increased air circulation. This unit is also approved by the UK Locksmith Association, so you know your motorbikes are safe. More information about this metal garage.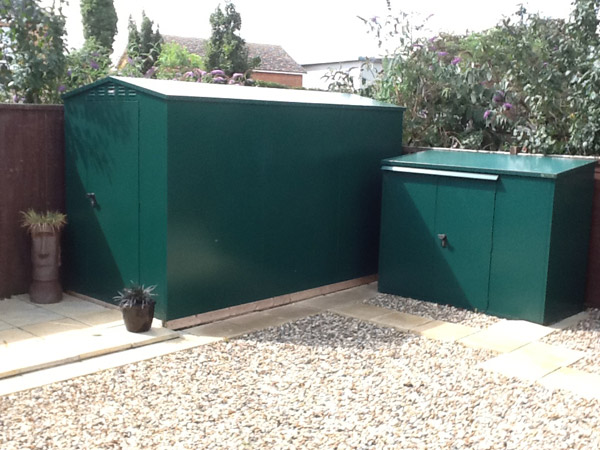 This customer loved his steel shed so much, they bought two! It's not uncommon for our customers to make a repeat purchase when their storage situations change. This just shows the high quality and value that our sheds provide. Each of our metal storage units are supplied with a 10 year warranty, so you don't have to worry about a thing. This customer has a Flexistore 1533 and an Addition garden shed. Read more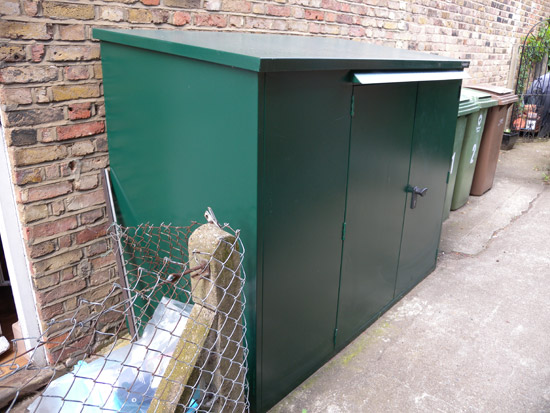 The Addition Bike Storage Unit slips seamlessly into the smallest of spaces. It may appear small, but don't be fooled inside there is room to store up to 3 bikes securely. Read more about this Asgard case study here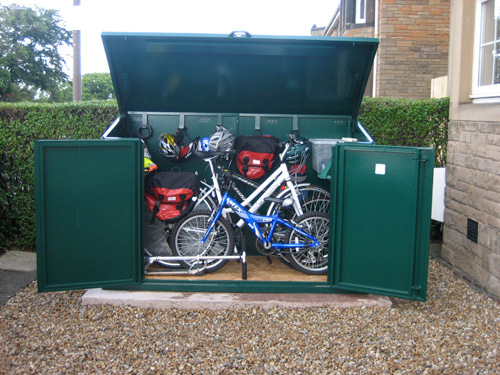 You'll find that our Access bike shed has enough space to store all of your family bikes and trikes. You can even add shelves and storage hooks inside this unit to expand your storage space. Read about this customers bike shed feedback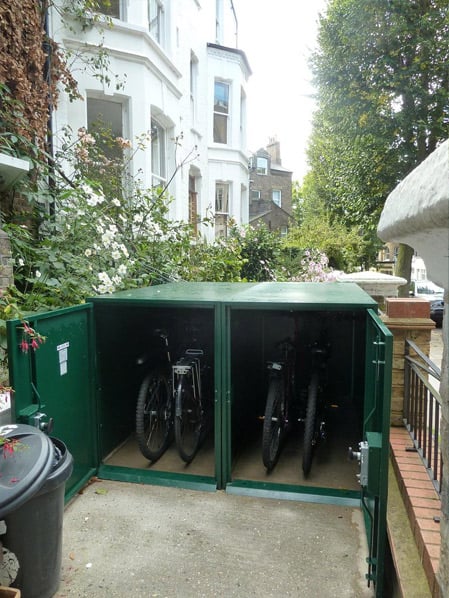 Double, double bike lockers. If you have 4 bikes but don't want to opt for our 4 bike storage unit, take a leaf out of this customer's book. They decided to use 2 of our twin bike lockers to create their own 4 bike storage unit. We think it looks pretty good and suits their front garden perfectly.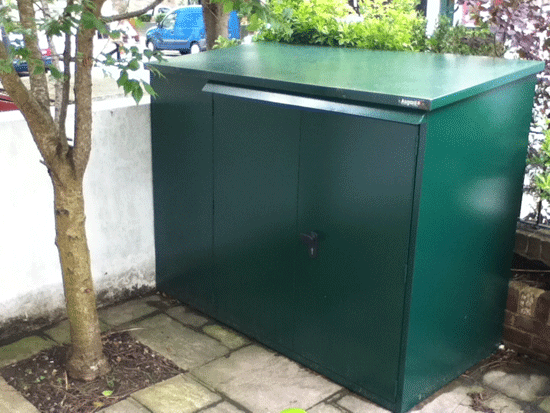 The Addition Bike Shed is still a popular unit with our customers, looking at it you can see why. This stylish and compact, weatherproof steel shed can securely hold up to 3 bikes. Read more about this customers feedback.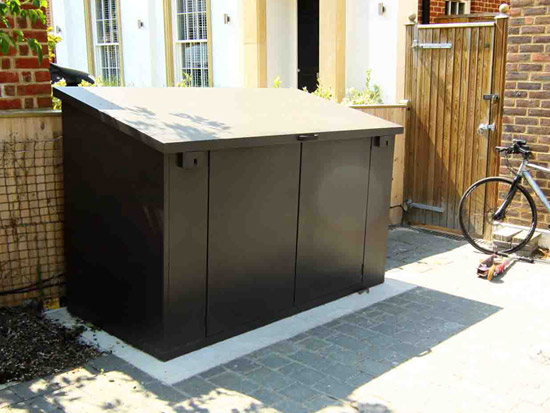 Not as popular the dark green, but we think the Access 4 bike shed looks great in brown. It looks especially good in this customers outdoor area. Read more about this happy bike storage customer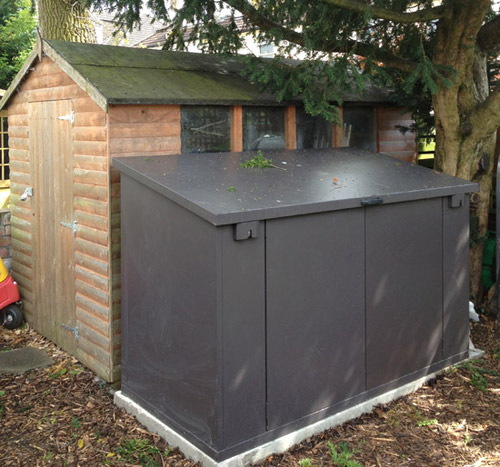 When a wooden shed isn't up to the jobs, send for an Asgard metal shed! This customer ordered our 4 bike store especially for keeping their bikes safe, because an Asgard bike store will help beat the bike thieves better than your ordinary wooden shed ever will. Read more about this Asgard Case Study Here.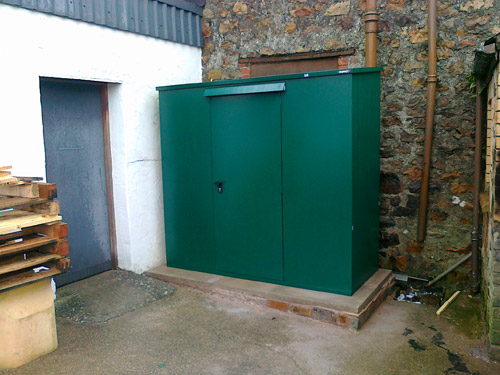 Metal sheds at Asgard come in a range of shapes, sizes and colours. Our Trojan metal shed is one of our tall garden storage units, ideal for storing bigger items such as ladders and fishing poles. Read the feedback here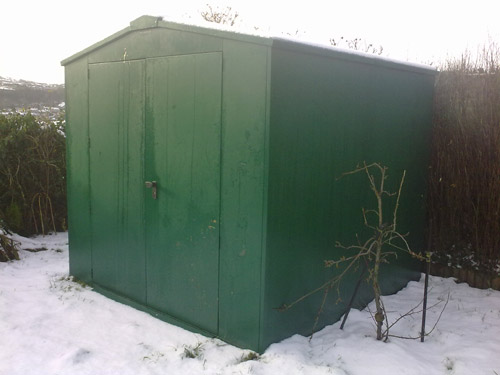 Asgard sheds can handle any weather rain or shine, hot or cold, Asgard sheds can take it all! You won't even have to worry about carrying out regular maintenance as you'll find our sheds rarely need any, just the occasional wipe down. Learn more about this customers shed.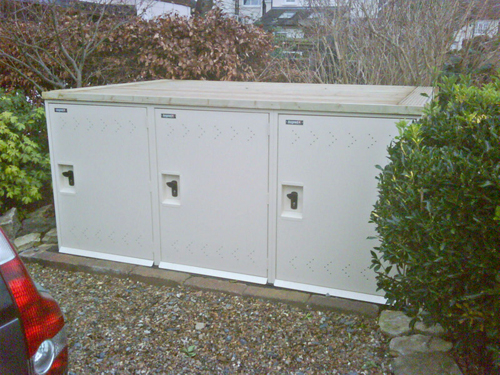 This customer has used 3 twin bike lockers to create more even bike storage space. We think this looks pretty stylish in the ivory colour.Asgard Bike Lockers in situ.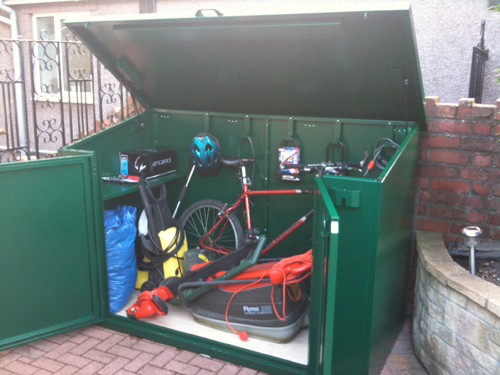 This Asgard customer has shown that you can store just about anything in our bike sheds. It's a bike store, its a lawn mower store, its a shed... its everything!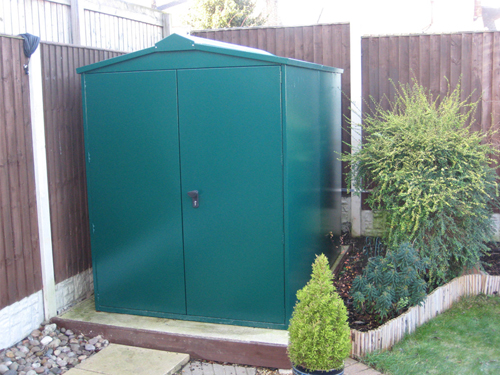 The Centurion garden shed is one of our first designs and still a top seller. This customer has demonstrated just how to blend one of our sheds into your garden, making it seem like it has always been there.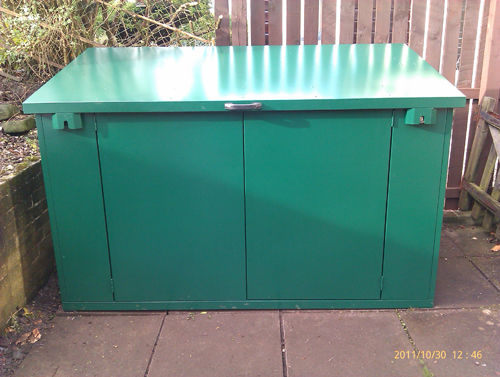 Find out what this customer thought about our sheds. "It was easy to order and it was delivered to my house before the stated delivery time (by at least a week!) which was good" more detail here >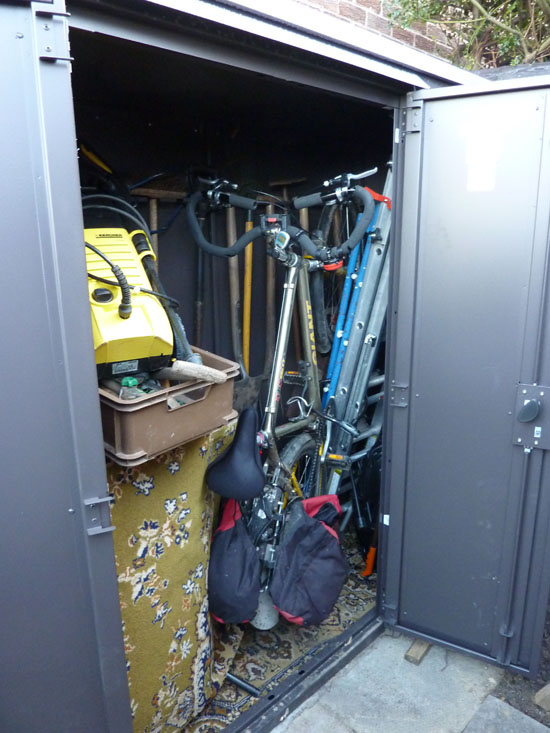 "I just wanted to keep a few garden tools secure but easily accessible when working in the garden. The classic store was easy to erect on the prepared base and all the pieces were there, that I had finished on my own) it in a fraction of the time expected. When finished I was so confident of its robustness that I moved all my garden tools and my bicycle into it from the garage"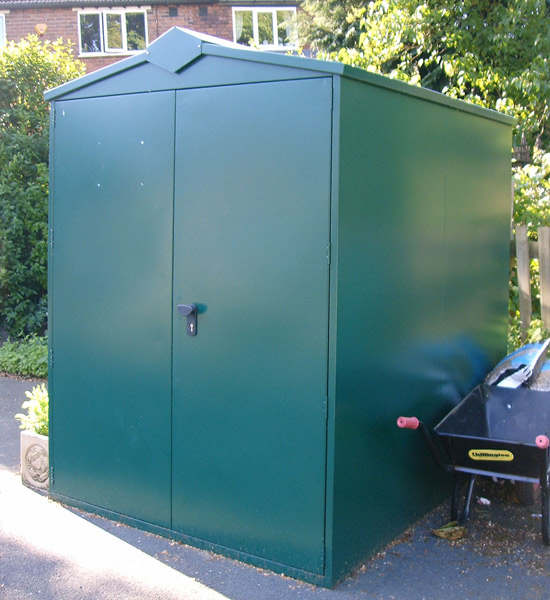 The Centurion Garden Store. Great for the home or the school.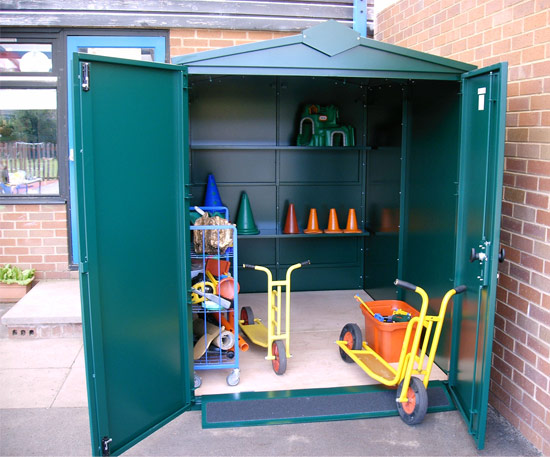 The Centurion School Storage Pack, A UK best seller.
When one Asgard shed just won't do! Here we have two Centurions and one Gladiator shed. Find out more about these sheds.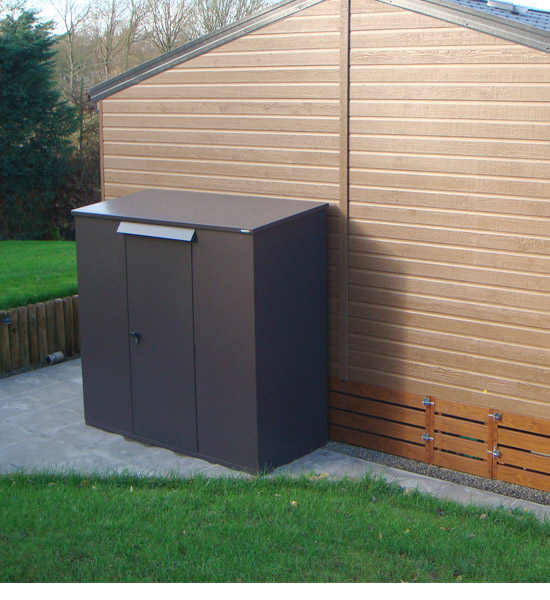 The Trojan caravan site store is tall, tough and strong, ideal for keeping outside your static caravan or holiday home. Now you can store all of your seasonal items and sports equipment, such as outdoor furniture and bbqs. To read more about this asgard review click here.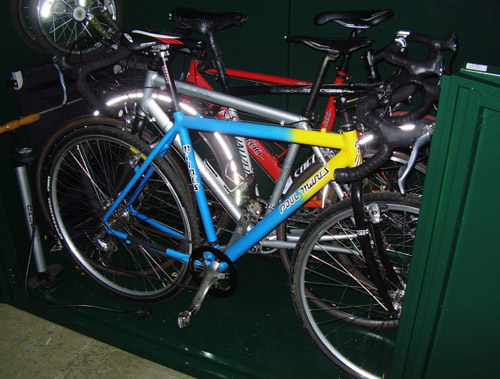 Four road bikes safe in an Asgard Access Bike Shed. Read more about this Asgard case study here.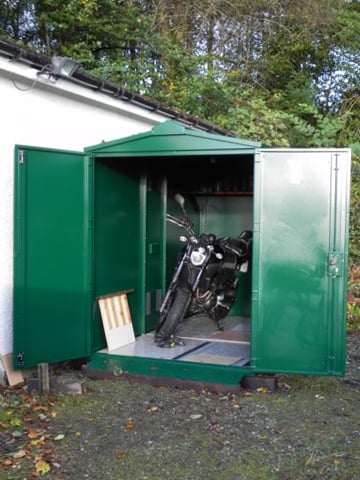 Store your motorcycle securely in our popular motorcycle garage, which has been approved by the UK Locksmith Association and boasts reinforced components to help keep thieves out. Read the Motorbike Garage Review here.
The Asgard range of bike lockers are perfect for fitting down the side of a house or flat. This customer has demonstrated this perfectly. This twin bike locker fits perfectly and looks descreet. "We are very happy with the bike shed". John Dalton - Read the review here.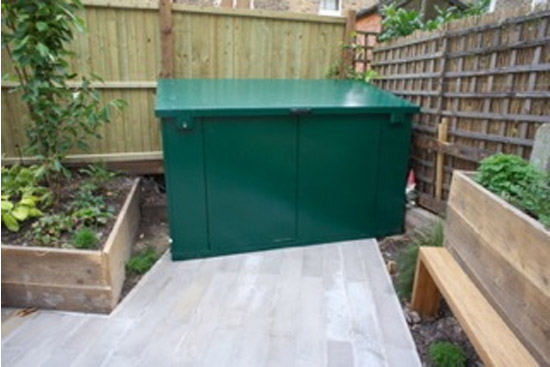 Another Access garden shed blending seemingly into a customer's garden. See the customer comments here.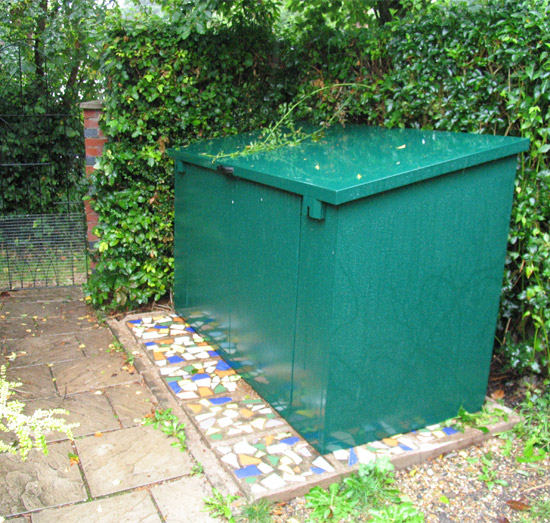 Simple yet effective. This customer has jazzed up their garden storage shed by placing it on a unique mosaic tile base, read the review.
A Centurion Plus 1 and an Addition garden store. Our customers just keep on coming back! You may find as time passes by, your storage needs may change and you could find yourself needing another one of units. This customers purchase shows just how good our units look together.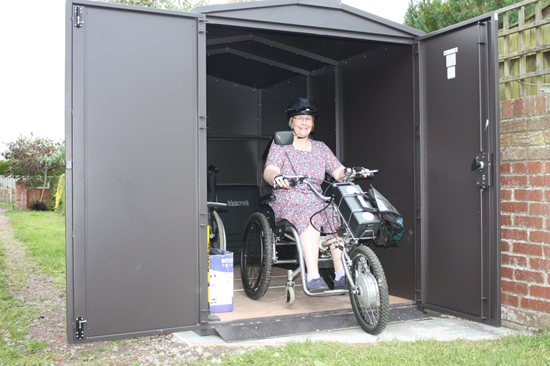 Asgard - A UK manufacturer
Asgard design and manufacture a range of steel storage suitable for a range of uses. From Bike Sheds to Garden sheds to units suitable for Schools and Councils. Secure and hard wearing storage from a UK company. Read more about Asgard here.