Motorcycle garages | electrical mounting plates
The ultimate storage for your motorcycle?
Our Asgard motorcycle storage unit is great for keeping your precious motorbike safe from theft and dry. This fully weatherproof steel unit is tough, secure and hardwearing and has been approved by the UK Locksmith Association, so you know you're getting a UK made motorcycle storage which is tough and secure.
To give you the ultimate in motorcycle security, our motorcycle garage is packed with a number of features, such as a pick and drill resistant lock and a strong 5 point locking mechanism.
Our motorcycle garage is also available in a choice of sizes and colours, so you can get motorbike storage to suit you.
Other features of the Asgard motorcycle garage include:
A full metal floor
Ventilated side panels
Large double door access
Easy access ramp
10 year warranty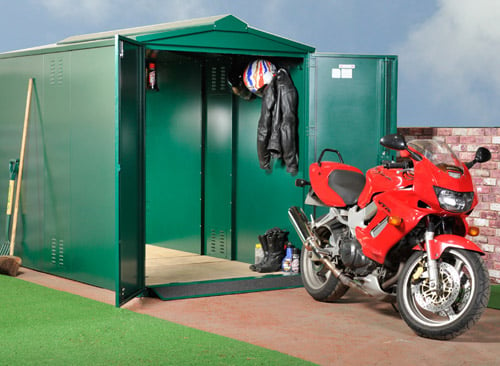 Add power to your Asgard Motorbike Shed
One of the key features of our motorcycle storage units is the ability to add power to your unit, with an Asgard electric mounting plate kit. You'll find many uses for this fantastic accessory as it is great for charging accessories, fitting lighting and anything else you may need. Two plates are located inside these units (one on either side) below each unit is a rubber grommit allowing you to feed cables into the shed and upto the plate -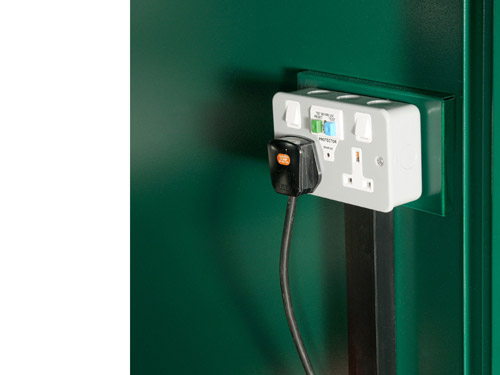 Motorbike electrical mounting plates - add power to your asgard
motorcycle garage
Please note, you will need a qualified electrician to install the mounting plate kit - Asgard do not supply electrics or fit electrics.