Easy to fit and comes with a set of security screws, just enough to make it hard to nick
Heavy Duty Ladder Rack
With a heavy duty, galvanised steel construction, this heavy duty ladder rack will fit into most* Asgard sheds. This easy retrofit add on will increase the storage capacity of your Asgard garden shed.
This heavy duty storage rack can be fitted into your Asgard shed in no time at all* - with only a screwdriver, you simple choose the location, unscrew existing fittings and fix the rack into place.
For a little extra security each ladder rack is supplied with 2 security screws, giving improved security. Our screws feature a specialised head making it difficult to unscrew without the correct screw bit. (please note the screw bit not supplied).
The ladder rack features 2 locking points, allowing you to lock the your ladders to the rack for even more security.
* Fits the following Asgard sheds; Trojan Plus, Centurion, The Gladiator and selected Flexistore sheds only.
Product Code: Ladder rack
Ladder rack
Ladder rack
Ladder Rack
Construction from weatherproof galvanized steel – heavy duty.
Tough welded construction – for strength.
Retrofits to Asgard sheds - flexible solution.
Holds ladders, hose pipes etc – make more use of your Asgard garden shed.
Easy assembly – retrofit design - with minimal tools.
Supplied with security screws – for additional security.
2 securing points – lock your ladders to your Asgard shed.
Anti-slip bike holder – keeper the ladders on the rack and off the floor.
3 colours options – to match (or contrast) your Asgard shed.
Not just for ladder – ideal for hose pipes and bikes.
Print
Metal bike rack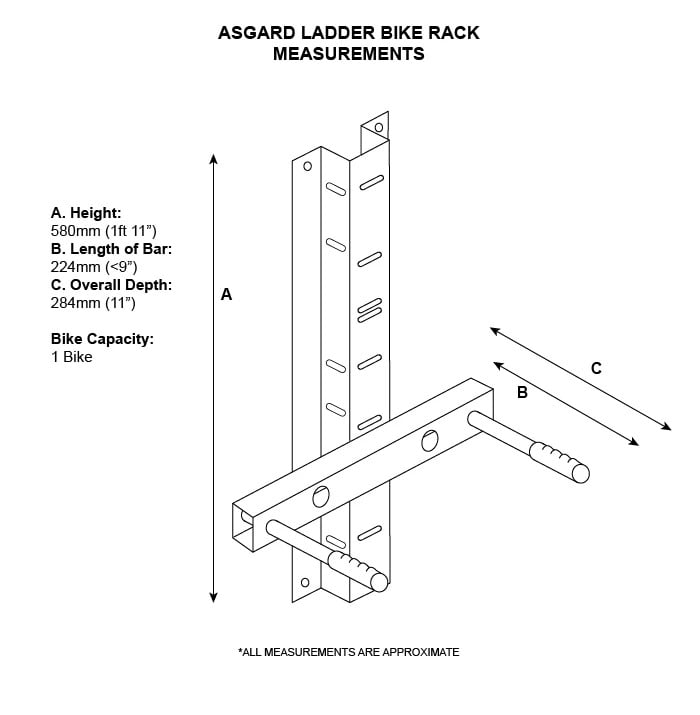 Bundle Deal
The Flexistore 1511 Shed (5ft 2" x 3ft 7")
+
+
+
+
+
+
+
+
+
+
+
+
+
+
+
+