Adding Power to your Asgard Shed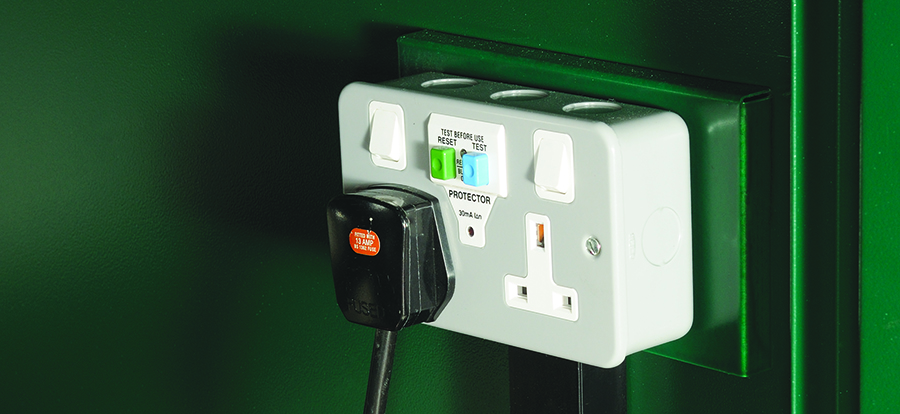 Adding Power to your Asgard Shed
Our motorcycle, bike, and garden sheds are perfect for keeping your items safe and secure. The all-metal sheds are made from tough galvanised steel and include a wide range of features to create the ultimate secure storage space for you. As well as keeping your bikes, motorbikes, tools, and accessories safe and dry, you can also add power to your shed! Many of the Asgard secure sheds come with electric mounting plate kits* which means you can customise your shed however you like to include lighting, tool benches, or charging stations for your E-Bikes!
Why have a shed with electricity?
Having a shed with electricity can be very handy! Making gardening or bike maintenance that little bit easier. For example, if you are a gardener, you could power your garden tools such as electric garden hedge cutters from inside your shed, instead of pulling out the extension leads all the time! If you are a cyclist, you could charge your bike lights, e-bike, or tools overnight before your morning cycle. Or maybe you fancy a spot of gardening or bike maintenance in winter and use an electric fan to keep yourself toasty. The options are endless, but selecting a shed that can easily fit electrics in could save you a lot of time, money, and hassle in the future.
How does it work?
Select Asgard sheds feature electrical mounting plates located inside the units (see below for a full list). This allows a qualified electrician to safely mount an outdoor double electric socket to the shed without perforating the shed structure. Below each mounting plate is a rubber grommet allowing you to feed cables from the mounting plate, down the shed, and out to your power source. The cables can be neatly tied to the shed using eyelets too!
Below is a list of Asgard bike sheds, motorbike garages, and garden storage which feature electric mounting plates:
Asgard Bike Sheds
Asgard Garden Sheds
Asgard Motorcycle Garages
Depending upon the size of the shed, the number of mounting plates will differ, please see the product pages for details.
*Please note: you will need a qualified electrician to install the mounting plate kit - Asgard do not supply electrics or fit electrics.