Key Features of the Asgard Annexe Bike Shed
What makes the Annexe bike shed so tough?
The Annexe is our toughest bike storage unit, designed to keep thieves out! Take a look at this bike sheds key features.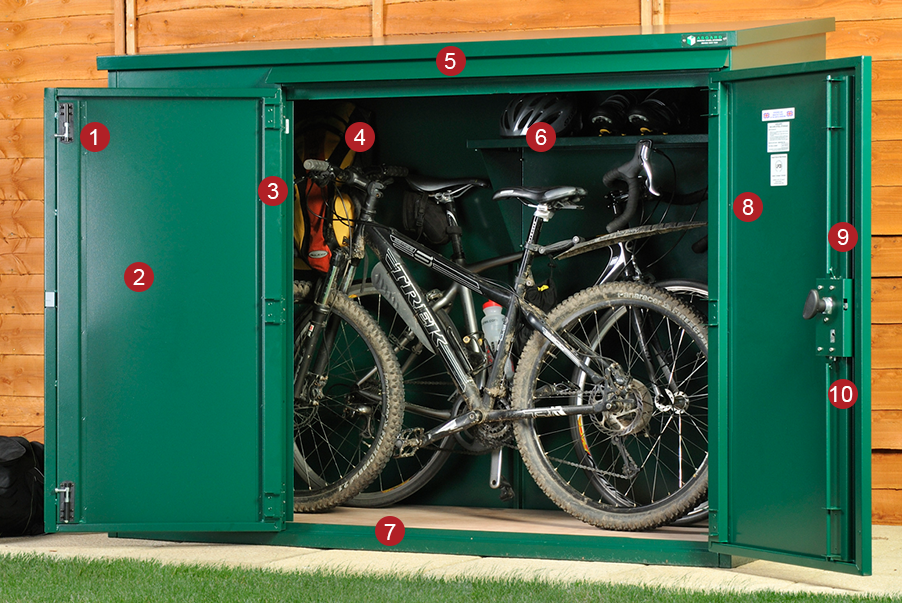 1. Door bolts
This bike shed features tough door bolts as an added security measure.
2. Galvanised steel
Asgard metal bike sheds are all made from galvanised (weatherproof) steel.
3. Reinforced panels
The Annexe boasts reinforced doors, panels and hinges for the best bike security.
4. Hooks available
Heavy-duty hooks are available to purchase, these are ideal for hanging helmets and other accessories.
5. Rain guard
Fitted with an integral rain guard to keep the bad weather out!
6. Shelving available
Heavy-duty, galvanised steel shelves are available to purchase. Keep all of your cycling gear stored with your bikes.
7. Full metal base
Asgard bike sheds are fitted with a full integral metal base for security, this can be bolted to concrete for extra tough storage.
8. LPCB Approved
The Annexe high-security bike shed, has been approved by the Loss Prevention Certification Board which may help to reduce insurance premiums.
9. Pick resistant lock
Fitted with a euro cylinder pick-resistant locking mechanism, for secure bike storage.
10. Tough locking system
The Annexe has a tough 5 point locking system, designed to keep thieves out!

The Annexe Bike Storage shed features a high-quality locking system, that is both hardwearing and secure. Pick and Drill resistant features have ensured this lock is Locksmith approved. Not only this but the entire unit has been certified as Secured By Design (police approved) making this one of the most secure methods of safeguarding your bikes against theft. Inside the Annexe you will find heavy-duty fixings designed to prevent bike theft – reinforced doors, panels and locking systems, have ensured this product is Loss Prevention Certified to Level 1.
Take a look at our full bike storage range