Did you know?
The Vangard is one of our lightest metal storage units. It offers stylish, discreet garden storage and is often used within caravan parks, as a caravan storage unit or for securing lower value items. The Vangard metal shed weighs around 76 kg which, about the same as Adult Male Javan Warty pig.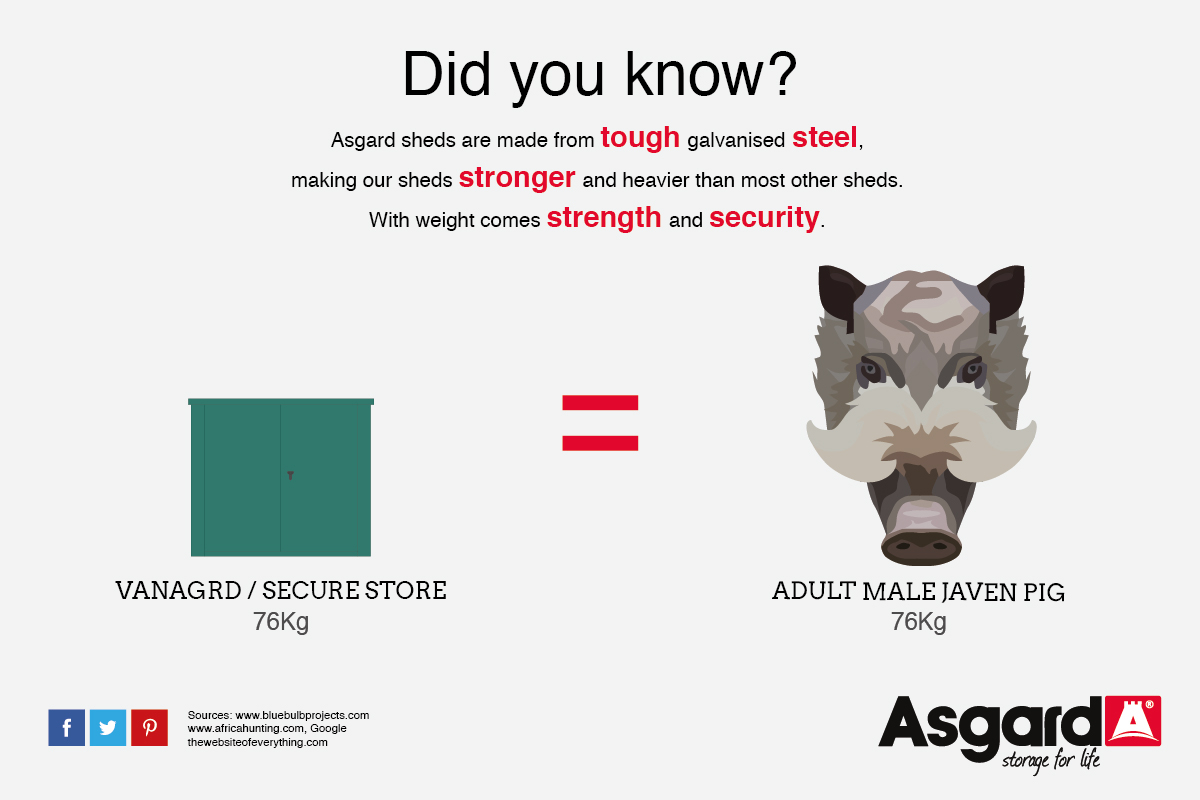 ---
The Addition bike store is a professional level cycle storage unit. Perfect for storing your most expensive bikes and riding equipment. The Addition bike shed has been approved by a multitude of cycling professionals, including BikeRadar and Cycling Plus. The Addition bike store falls into weight category 2 and weighs 130 kg, which is more than a baby elephant.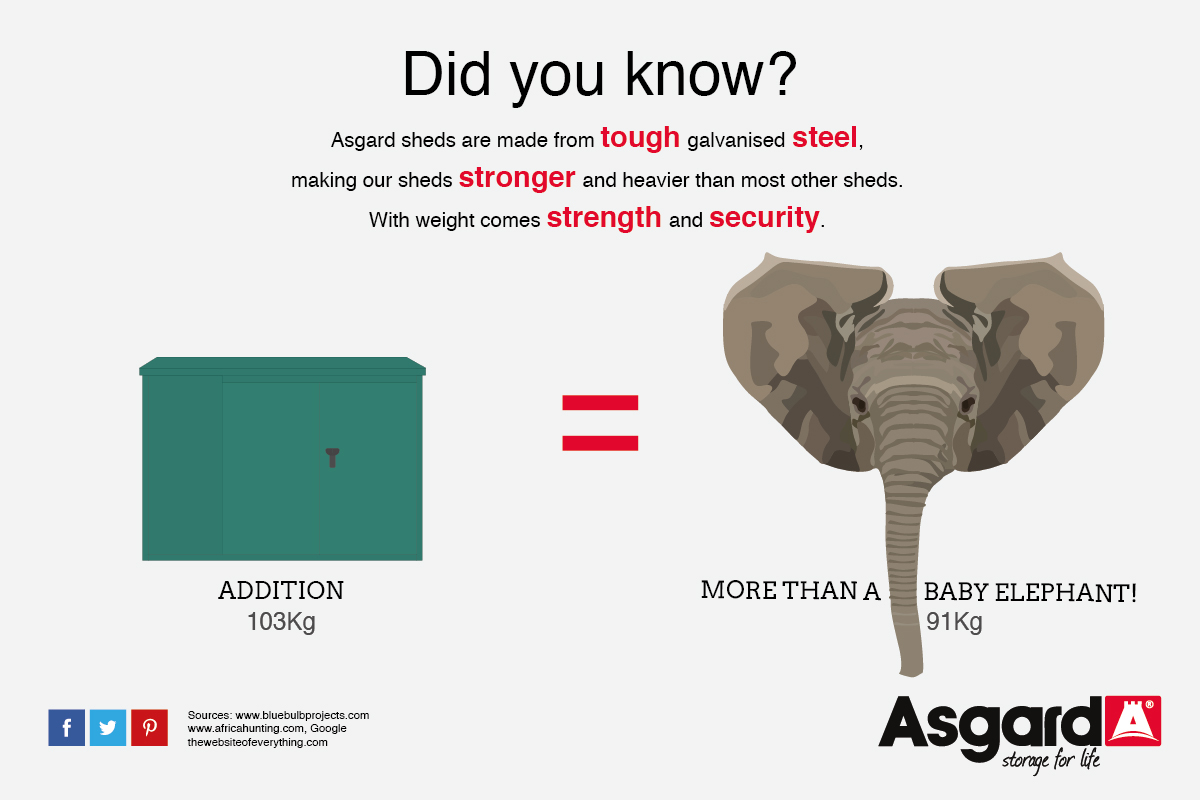 ---
The
Access
bike storage shed is one of our bestsellers here at Asgard and is great for storing up to 4 road and mountain bikes. The Access has been reviewed by many professional cycling publications, including
total women's cycling
. It weighs as much as an adult male ostrich, which is 115 kg.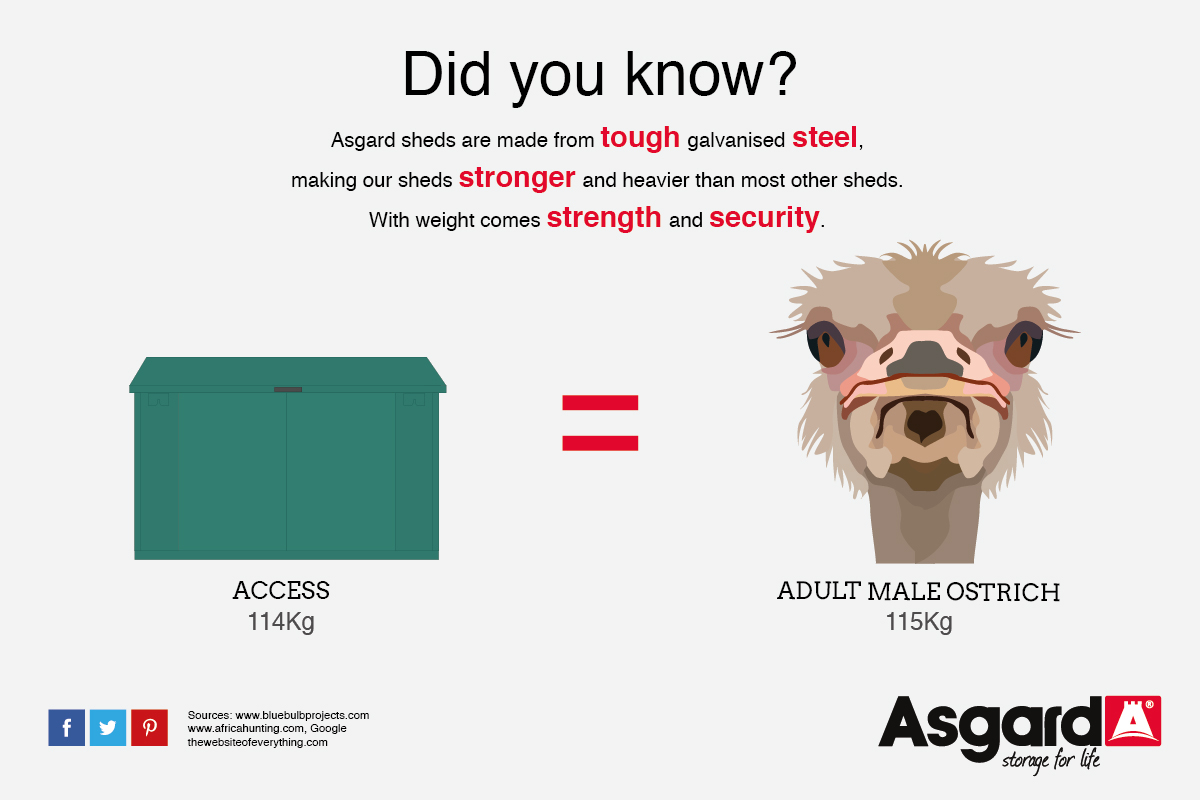 ---
The Access E Plus is our first bike shed designed specifically to protect your E-bikes. The Access E is a mounting plate, designed to allow you to mount electric sockets for battery charging. The side panel is fitted with holes that have rubber grommets, allowing you to feed your cables from outside into your bike shed. The Access E plus weighs around 122 kg, which is about the same as a large St Bernard Dog.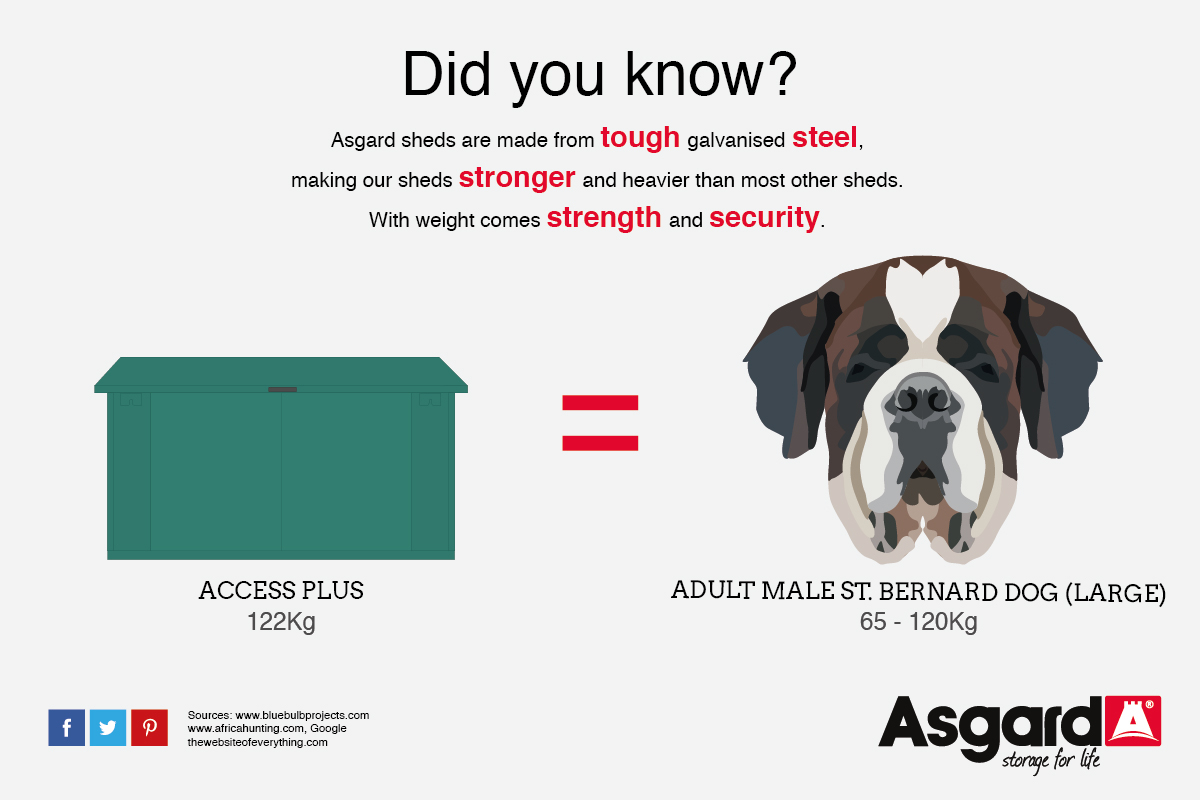 ---
The Annexe is Asgard's Police and Locksmith approved high-security bike storage shed. The shed that has often been described as a 'beast' of a shed. It falls into weight category 2 at 138 kg, which, is almost the same as an adult wildebeest!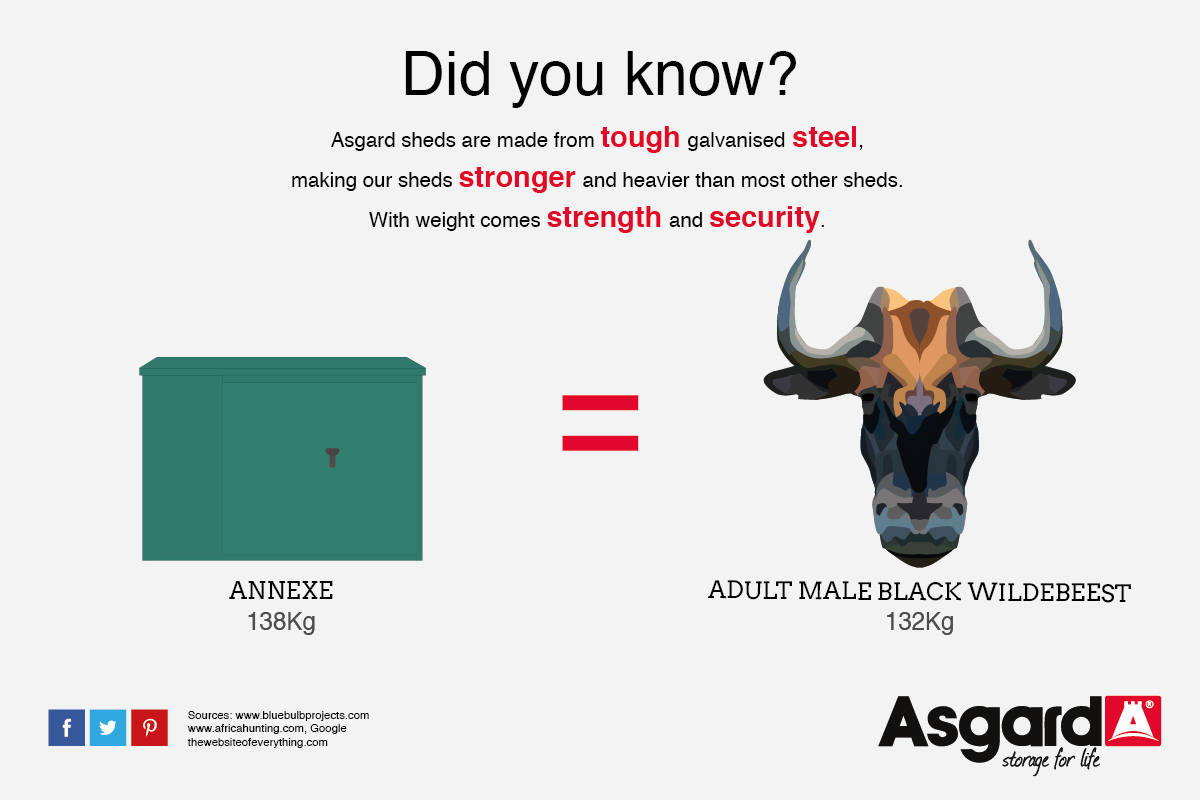 ---
The Trojan is Asgard's tallest metal shed and measures 7 feet in height, making it one of our most efficient garden sheds, as it is great for not only storing all your garden tools, but can also store sunshades and ladders. The Trojan weighs around the same as a mountain tapir, which might be the smallest in its species but an adult male can still weigh up to 149 kg.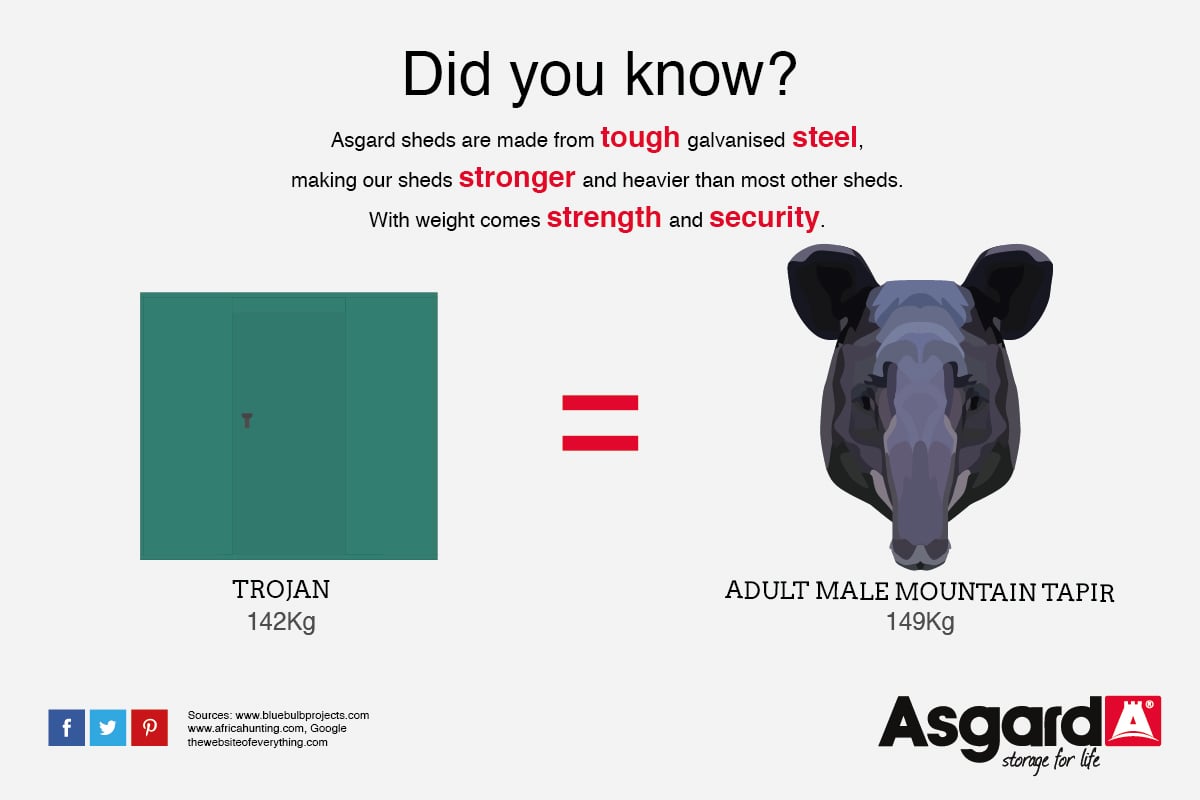 ---
The Trojan Plus is a combination of garden shed and bike storage. This metal shed combines extra height with double door access, making it nice and simple to store all of your garden and bike equipment, securely in one place. The Trojan Plus weighs around 160 kg which is roughly the same as a Western Gorilla.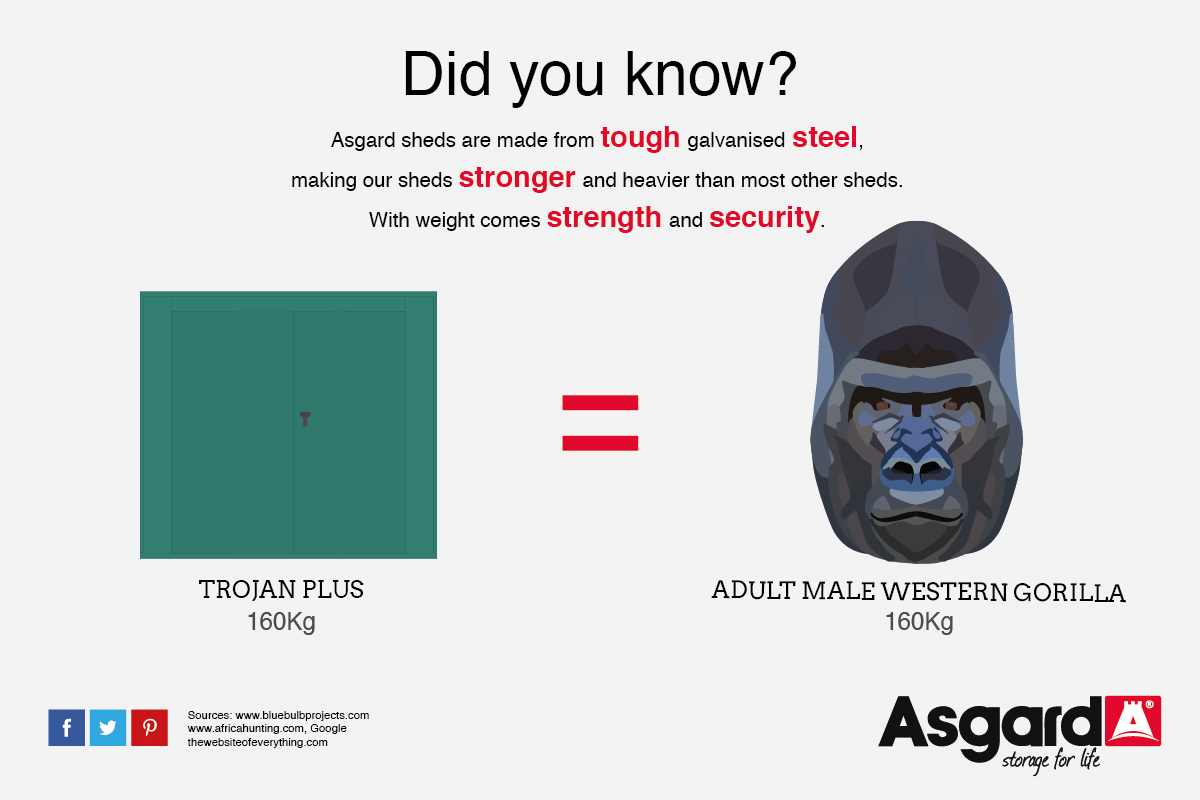 ---
The Flexistore is a garden shed that gives you a high-quality alternative to the wooden garden shed. It looks good anywhere and provides you with secure storage. The Flexistore maybe the smallest of our Flexistore garden shed range. However, it still weighs around the same as a 120 kg adult male tiger.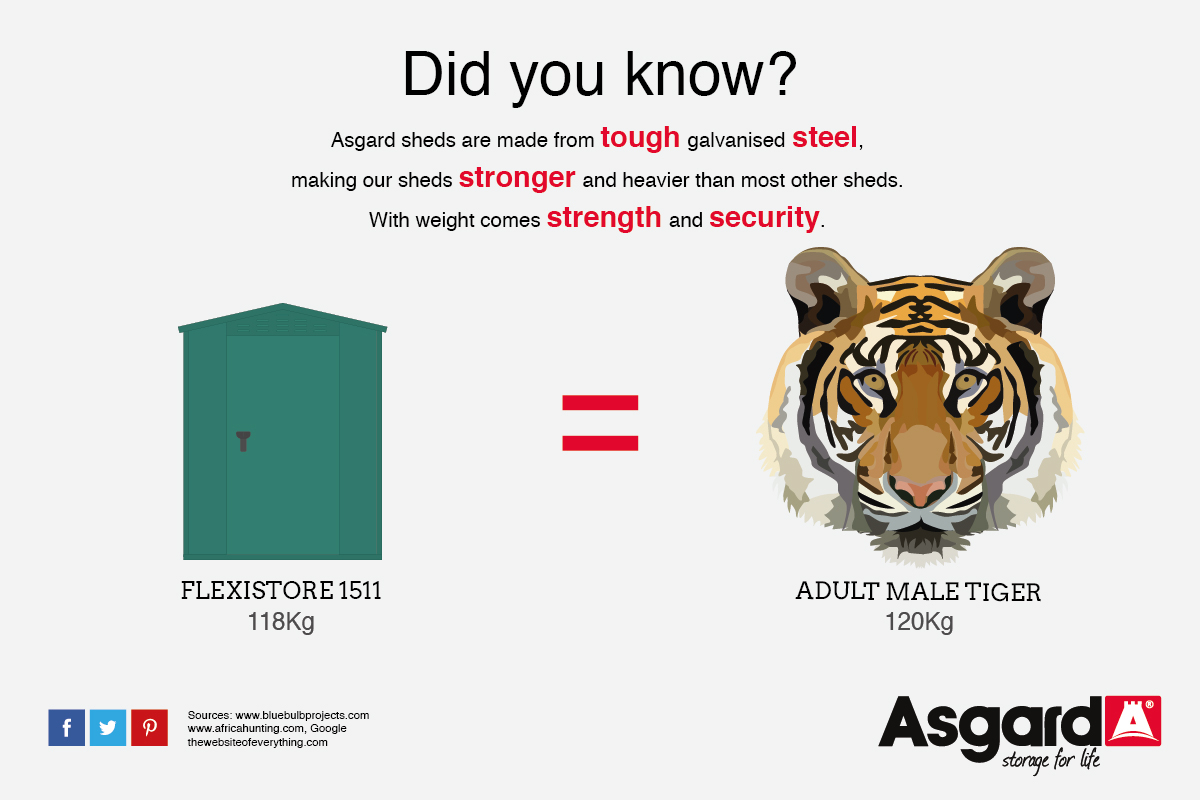 ---
The Flexistore 1522 is the mid-size unit of the Flexistore metal garden storage range and falls into weight category 2 at 184 kg. This works out roughly the same as 3 spotted Hyenas.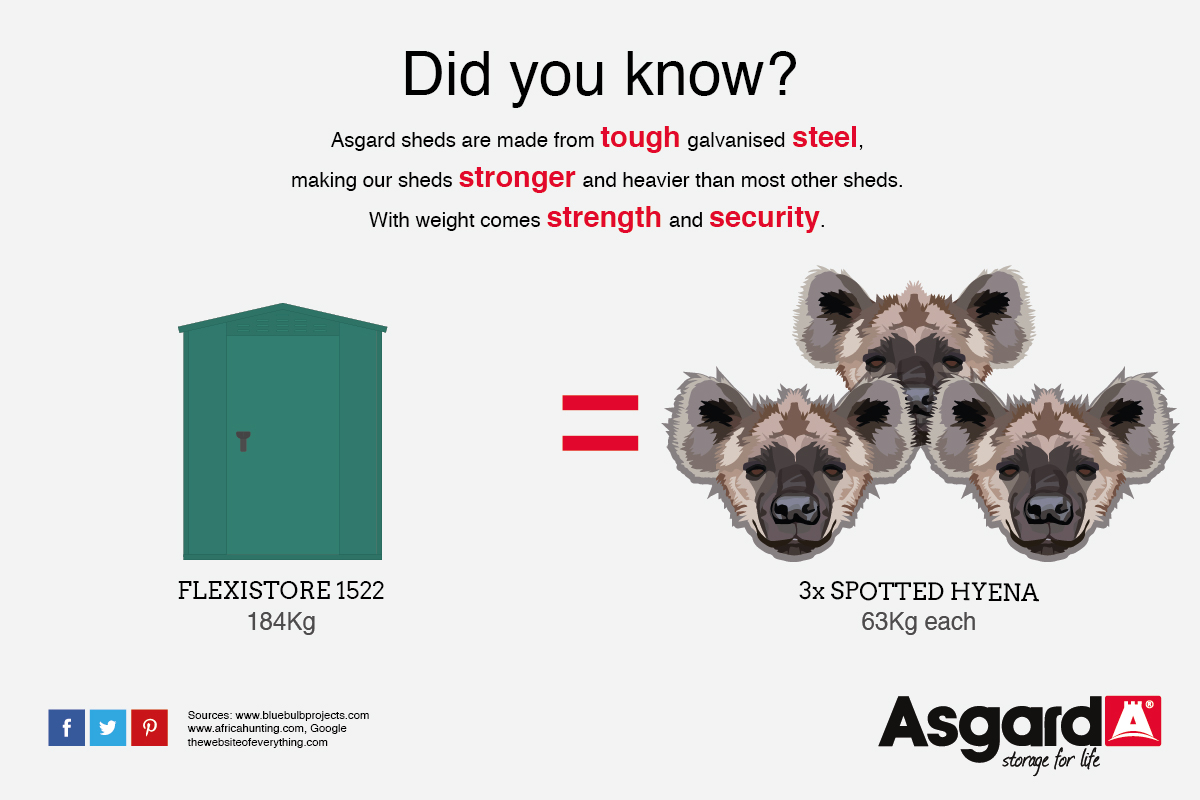 ---
The Flexistore 1533 is the largest garden shed in our Flexistore shed range. It is suitable for professional or amateur gardeners and falls into weight category level 3 at 250 kg. This is roughly the same as a fully grown African lion.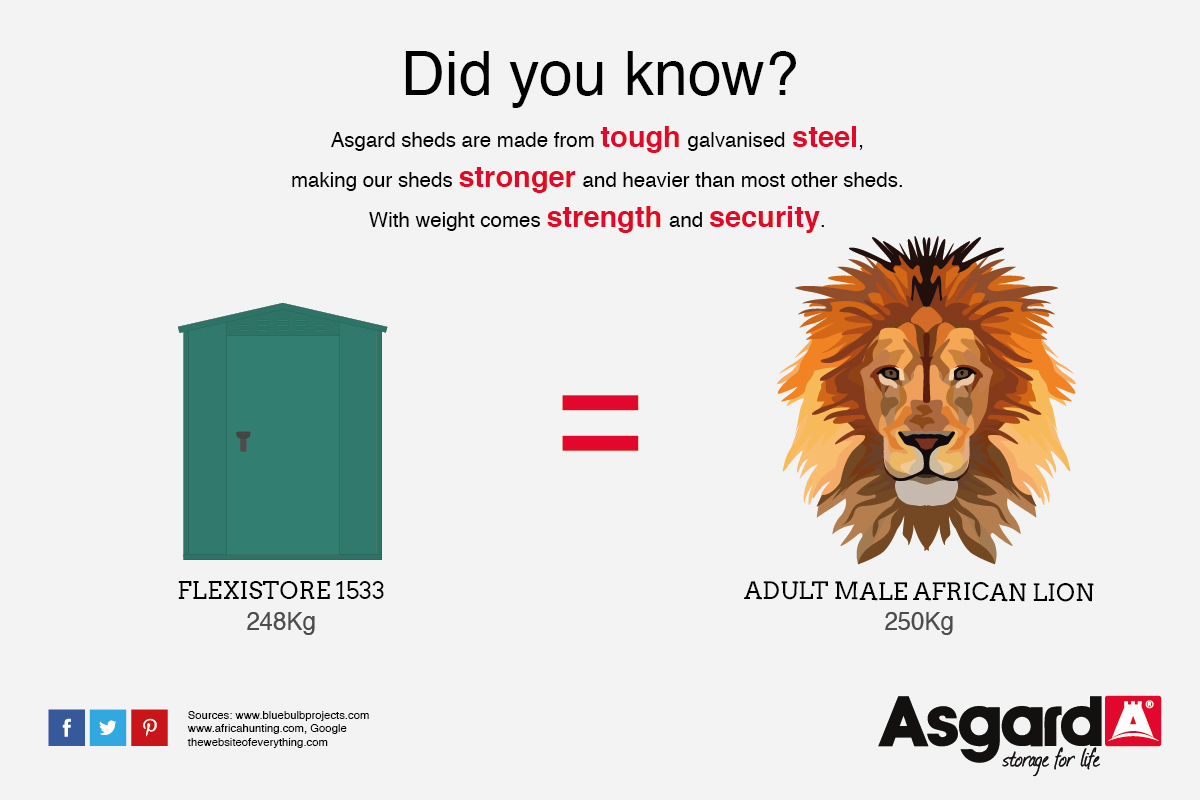 ---
The Police Approved Centurion falls into weight category 3. This large garden shed, features large double doors and weighs around 225 kg, which is slightly less than Roan Antelope.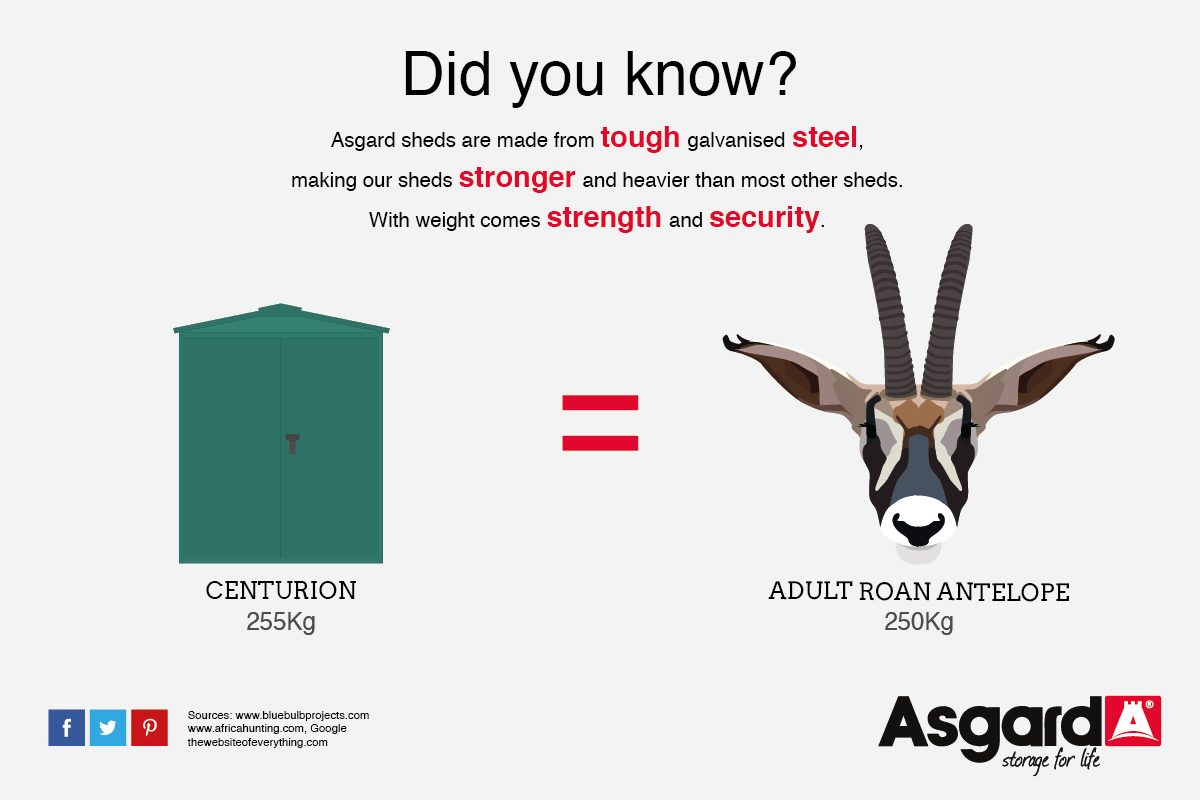 ---
The Centurion Plus 1 is an extra-large metal garden shed, providing flexible outdoor storage for large garden items and equipment. Weighing around 334 kg, the Centurion Plus 1 is about the same weight as 4 adult kangaroos, which generally weigh around 85 kg each.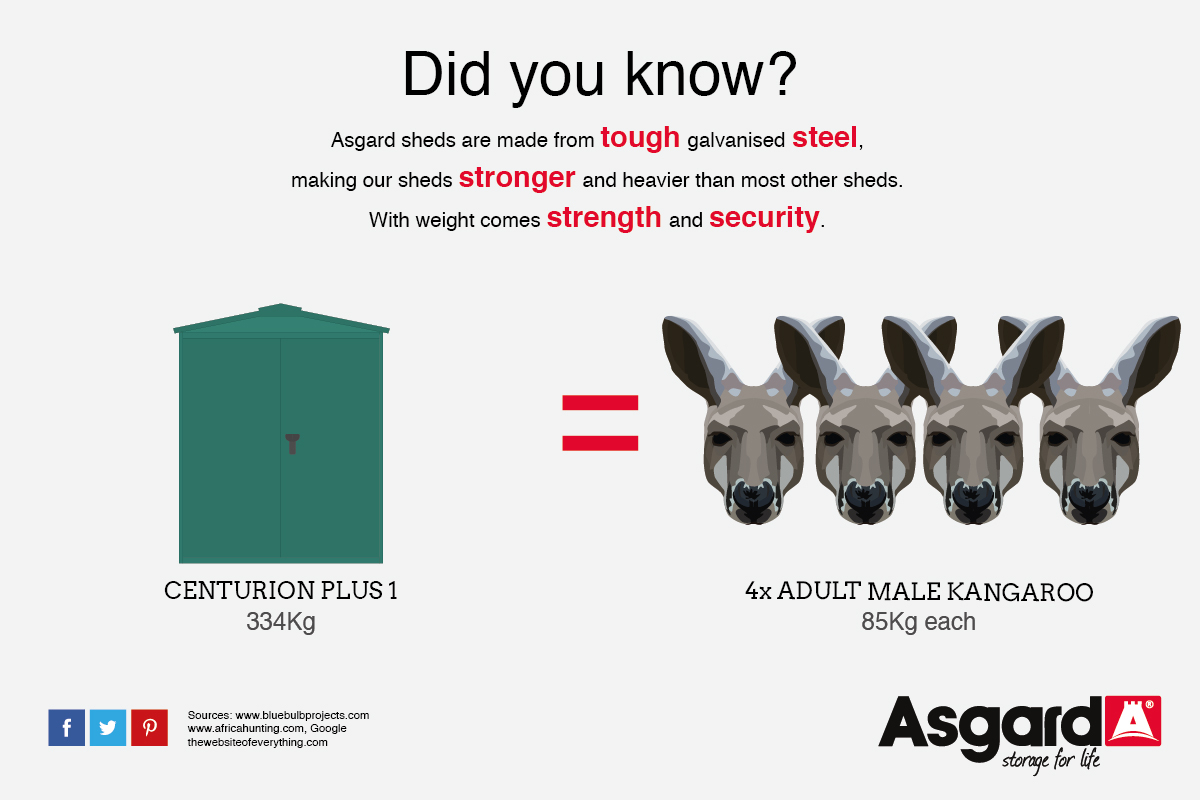 ---
At over 4 metres long the Police Approved Centurion plus 2 is our extra large metal shed, falling into our largest weight category 6 at 413 kg. This is around the same as 3 Giant Pandas! As you can imagine this helps to make this metal shed exceptionally secure.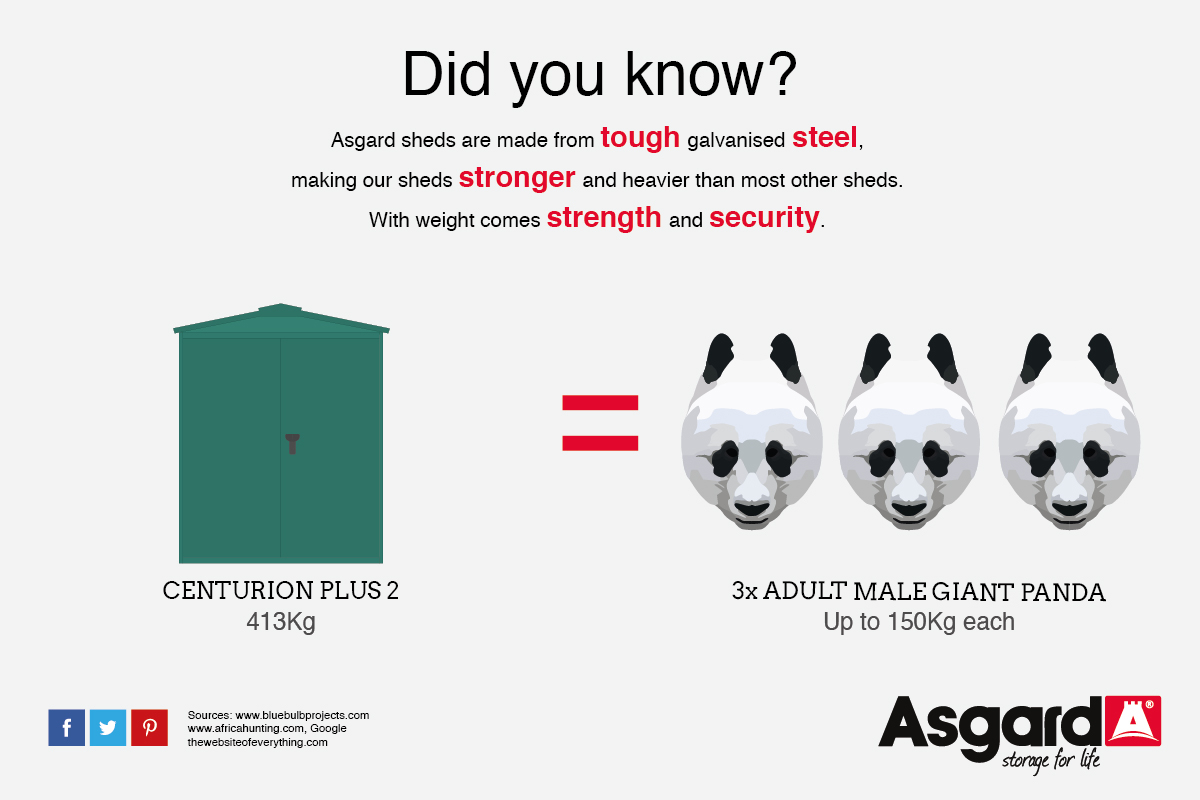 ---
The Gladiator is a professional level, all metal garden storage shed, providing secure garden storage for all garden and play equipment. It weighs around 327 kg which is about the same as two adult reindeers.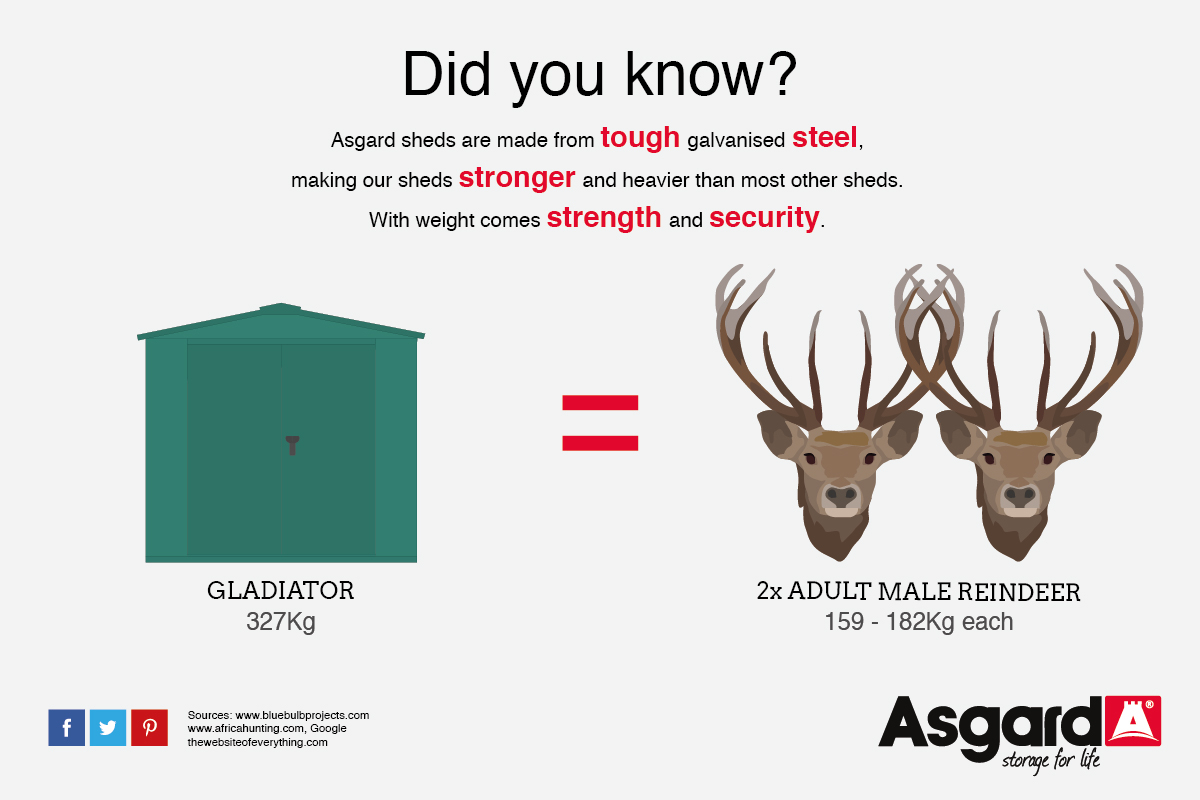 ---
Gladiator Plus 1 is one of the largest "off the shelf" metal garden sheds. At over 3 metres long and around 433 kg in weight, it is around the same weight as a male Arabian horse. This shed offers a seriously sturdy storage solution.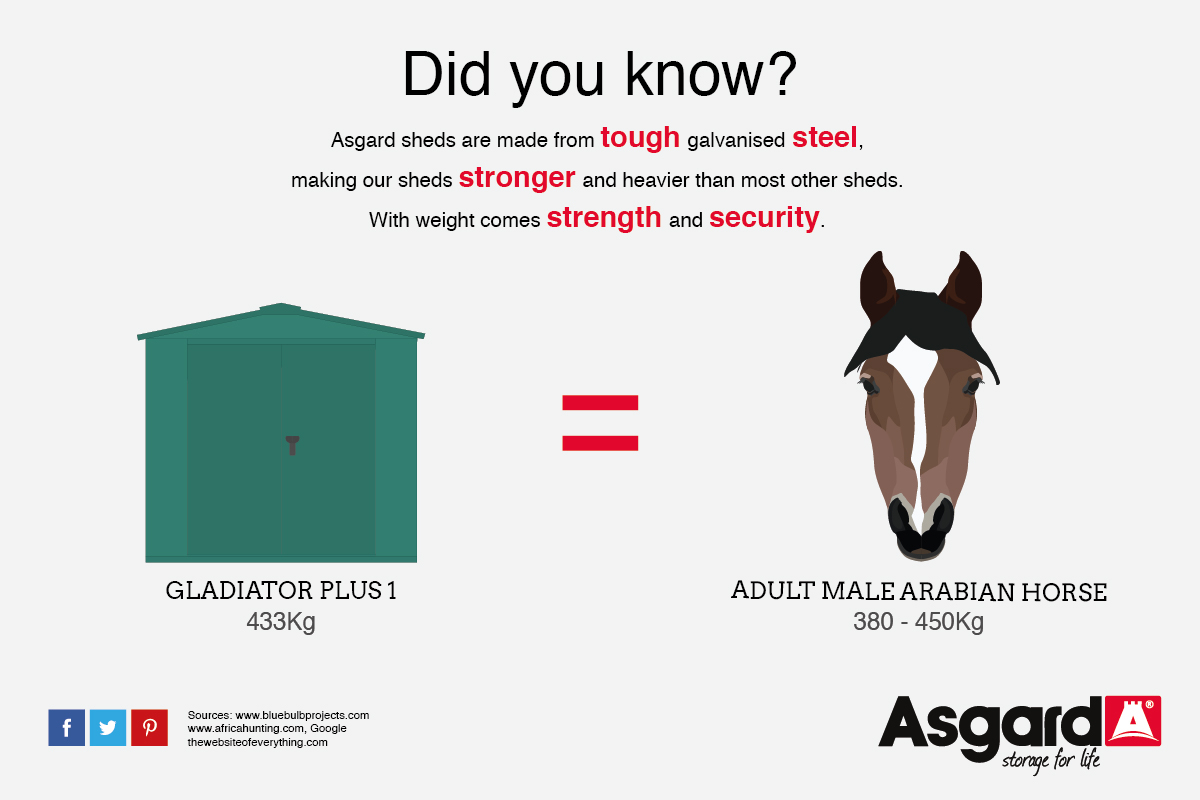 ---
Gladiator Plus 2 is a huge all metal shed. The extra size makes the Gladiator Plus 2 suitable for very large items of garden machinery. It falls into weight category 6 and is also the heaviest Asgard shed at a whopping 539 kg, which is more than an adult male grizzly bear