Motorcycle Garage Features
Features of the Asgard motorcycle garage
"It only takes a motorbike thief 21 seconds to steal your motorcycle". The Asgard motorcycle garage is a Locksmiths approved secure garage designed to help keep your motorbike safe from theft.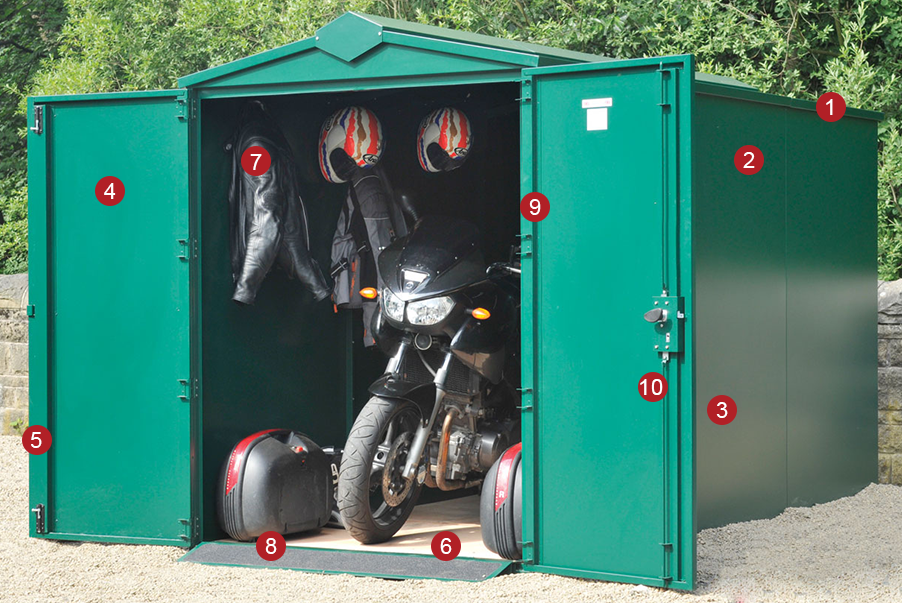 1. Galvanised all steel construction - weatherproof motorcycle storage
As with every Asgard metal shed, the motorcycle garage range is made from strong weatherproof steel, Tough, secure and weatherproof!
2. Vented side panels and vented roof design
The Asgard motorcycle garage range features vented side panels and the famous Asgard vented roof system. Both of which allow exhaust vapours and moisture to escape, keeping condensation down and keeping your motorcycle not just super safe but also as dry as possible.
3. Easy to assemble
The Motorcycle garages are supplied with easy to follow step by step instructions for self assembly. Two people can put up an Asgard shed in around an hour. If shed building is not for you then an Asgard assembly service is also available if building sheds in the rain is not your thing.
4. Free 10 year warranty
All Asgard motorcycle storage are designed and made here in the UK and supplied with a free 10 year warranty - as standard. Be assured Asgard design and manufacture only high quality, long lasting products.
5. Large double doors - for easy access
Fitted with large double doors for simple and easy access. You can wheel or ride your motorbike in.
6. Integral metal base supplied with protective wooden floor (to protect your tyres)
The Asgard Motorcycle Garage has an integral metal floor for strength and security. To protect your tyres we also supply a wooden subfloor to sit on top of the metal floor helping to protect your motorcycle tyres.
7. Helmet and leathers hook rail
Simple, easy fit hook rail - no tools required! ideal for hanging helmets and leathers inside your motorcycle garage with your motorcycle.
8. Heavy duty ramp - for easy access
A heavy duty ramp is supplied allowing you to ride your motorbike straight inside the garage. The ramp is made from the same galvanised (weatherproof) steel as the garage.
9. Tough 5 point locking system
Every Asgard motorcycle garage is fitted with a tough 5 point locking system - featuring dead bolts and a lock... designed to keep your motorcycle safe.
10. UK Locksmiths Association Approved
The pick and drill resistant Asgard motorcycle garage is the only Locksmith Association Approved Motorcycle Storage Garage in the UK.