Motorcycle helmet rack for your Asgard
Motorcycle storage
Asgard motorcycle garages are made in the UK from ultra tough, super strong, weatherproof steel and covered by a 10 year warranty. So you can be sure, your motorbike will be safe and secure. All Asgard motorcycle storage packs are supplied complete with a range of accessories to enhance your storage capability.
Each motorcycle storage pack is supplied with a heavy duty metal hook rail and an ultra tough maintenance tool shelf.
Helmet hook rail
This clever (yet simple) device allows you to store all of your helmets and leathers inside your Asgard motorcycle store. Helping to keep all your riding gear inside your Asgard and outside of your house. The helmet hook is made from the same heavy duty steel as the mototcycle garage with the same 10 year warranty.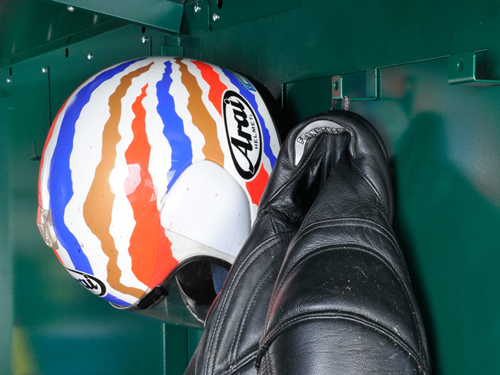 More about the Asgard Motorbike garage.
Asgard Motorbike garages are UK Locksmith approved motorcycle storage garages, with heavy duty galvanised construction and a 10 year warranty. Our motorbike garages have tough 5 point locking systems, with dead bolts and a Each motorbike garge is supplied with a wide selection of accessories, to your store not just your motorbike, but all your riding gear as well.. Other accessories included WITH our motorcycle storage packs include:
A full wooden subfloor
One heavy duty maintainence equipment shelf
A weatherproof steel ramp
Electric socket mounting plate
These accessories are designed to give you ease of use and the maximum amount of storage.