Motorcycle garage - easy access bike ramp
Metal Ramp for your Asgard motorcycle storage garage
If you are looking at this page, then you must know how secure and reliable our motorcycle storage garages are! With a fully galvanised steel construction and a 5 point locking system, our garages are tough and secure. Well they have to be .. as they are approved by the UK Locksmiths Association.
To make your life that little bit easier Asgard have designed a heavy duty shed ramp to help you to wheel your bike into your garage. As with all Asgard products the ramp is made from the same heavy gauge steel (weatherproof) steel as the actual motorcycle garage units.
How does it work??
Simply slip the ramp under your Asgard motorcycle storage garage (it will be held in place by the weight of the unit - yes all 46 stone of it). No tools required!! You now have an easy way to get your motorbike into your unit! It's as simple as that!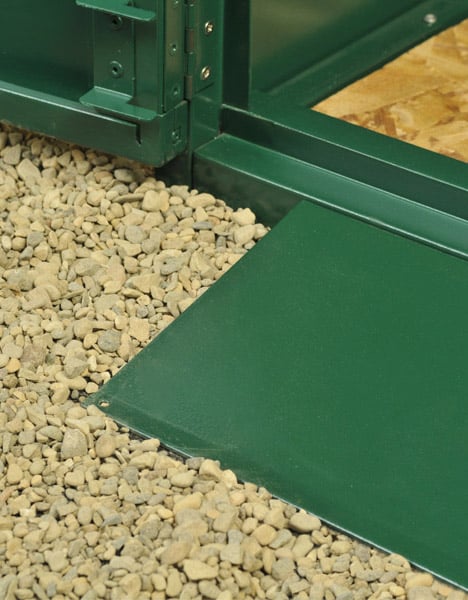 Asgard motorcycle ramp - Made from tough galvanised steel and strong enough to hold the weight of your motorbike. As with the main motorcycle garage, the motorcycle ramp is made by us here at Asgard and has the same 10 year warranty as the rest of the Asgard storage range. If ordered within the motorcycle garage pack the ramp is delivered free and will be supplied in the same colour as the main garage.