High security shed feedback
Asgard High security shed feedback
Our workshop storage units are ideal for storing expensive and dangerous power tools and chemicals in.
With an insurance rating of 1 (LPCB
) these are exceptionally secure sheds - featuring a pick resistant, 5 point locking system and heavy duty galvanised construction. This unit weighs in at an impressive 18 stone.
Situated inside your garage for extra security or outside as a standalone secure store - The Asgard workshop store.
Read some of our customer comments:
"We are very pleased with the unit. We initially sought something of this sort because country rats are very fond of horse grain. Since installing this unit, we haven't had a single nibble or hole in the grain bags from so much as a mouse, let alone a rat. They simply can't get in there. Excellent". - Janet Rainey
"Ideal for expensive power tools, I though the hooks were a little pricey to begin with, but after trying some cheap ones that snapped, they don't seem all that bad value after all".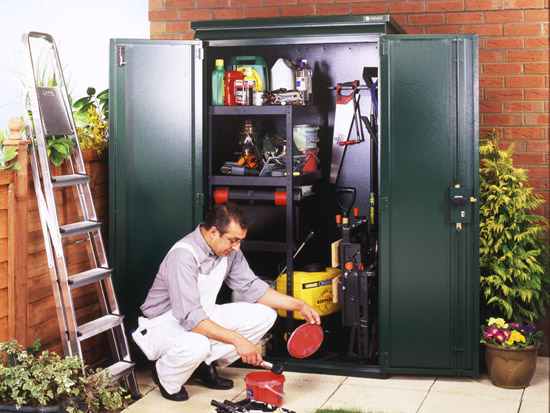 "I am a joiner so I have lots of expensive tools in my garage. Garages are easy to break into so I have an Asgard in my garage. Total security". T.H.
"As a seasonal skier I had no where to keep my equipment safe from damage. My Asgard unit solved that. I can lock away several thousand pounds of equipment for months at a time, safe in the knowledge they won't get stolen or damp even if my garage is broken into I even got a reduction on my insurance" K.L.
"Yup these are **** expensive units and I thought I was going to have a nose bleed when I got the bill!!!!!! But after some s***** tried to get in and failed - I knew it was worth it!". AH
"Good stuff"