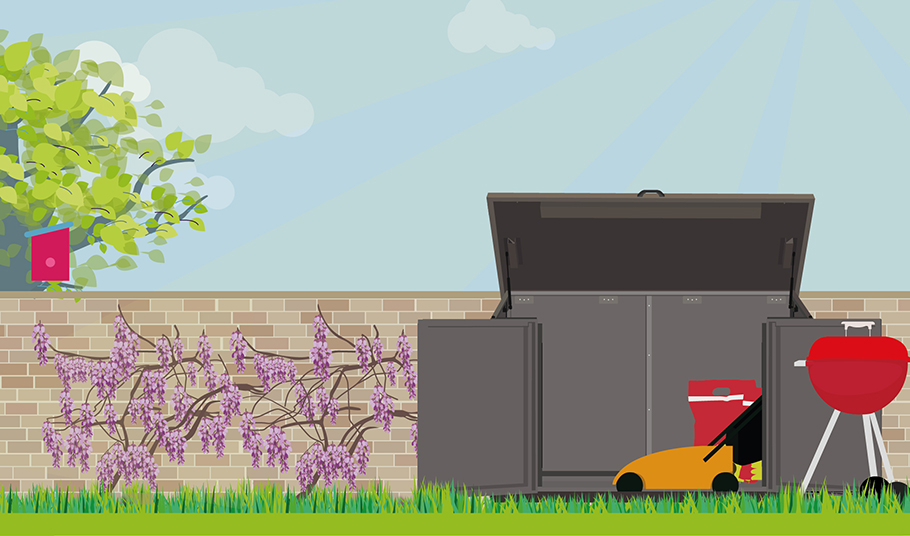 Often the first question to ask is 'what is the best type of shed?' This can be very subjective and depends on your personal needs.
Shed choices are generally wooden, plastic, steel, and concrete. Below is a handy breakdown of contributing factors including
materials, roof style, heights and capacity, security, electricity and ventilation.
Materials

Plastic - Cost effective, however they are lightweight and insecure. A plastic shed can be broken into in seconds, even those that offer a hasp and staple offer no real protection from theft. Plastic sheds can also be picked up and carried off by thieves, or blown about in strong wind.

Wood - A traditional look, however they deteriorate with age and weather. Wooden sheds are often insecure, offering little protection from theft or rodents. With no floor, wooden sheds are not immune from condensation, they often sit on a raw concrete base allowing moisture to rise up into the structure.

Metal Galvanised - Long lasting and virtually maintenance free, however not to be mistaken for cheaper models with poor fixings and no integral base. Galvanised steel has been coated in zinc, making the shed rust proof. Galvanised steel sheds with a pre-drilled integral base are more robust and allows you to bolt the shed to the ground, improving security.
---
Asgard Roof Styles

Apex Roof Sheds
Apex roof's ensure the rain runs down the side of the shed. The roof is usually overhanging to clear the water away from the main body of the shed. Asgard sheds use the overhang to hide built-in ventilation, allowing air to flow inside the shed to minimise condensation build up.

At Asgard, we have 4 types of Apex sheds: Flexistore (1), Centurion (2), Gladiator (3) and the Sentry (4). All four metal sheds are modular in design and extendable in size.

Pent Roof Sheds
There are 2 types of Asgard pent roofs: forward sloping - which drains the rain off forwards to the front of the shed, and rear sloping which provides the opposite. Sloping roofs are designed to keep water from settling on the sheds. Standing water on a flat roof will eventually rot galvanised steel, so it makes sense to drain the water away as soon as possible.

Our Asgard Addition / Annexe (6) and Trojan Plus (5) are all forward sloping pent roofs with each of these sheds featuring a rain guard to ensure the water doesn't drip back through the door and get into the shed. The Vangard /Secure Store (7) are both rear sloping pent roofs, draining the water off the back.

Gas Assisted Lift-Up Lids/ Pent Roof
The Access range is Asgard's gas assisted lift-up lid shed. The lid easily lifts up and double doors open giving full access to walk into the shed.

When closed, the Access range is a front sloping pent roof and overhangs at the rear of the shed and the front, covering (and protecting the locking mechanisms) and preventing standing water, from gathering on the top.
---
Asgard Security

In addition to the build of the shed, the locking mechanisms have a huge impact on the security and effectiveness of a shed. Please note, sheds not to scale.

2-Point Locking
The Vangard features a thumb lock for your own padlock. When the unit is locked, a full-length bar interlocks at the top and bottom of the unit, securing it further.

3-Point Locking
Our Flexistore, Addition, Secure Store and Sentry sheds feature a cam lock that secures the doors and a full length locking bars that interlock at the top and bottom. This includes a pick-and-drill resistant Euro Cylinder lock and a handle that's designed to sheer off in an attempted break-in.

3 Point Locking & Disc Padlocks
The Access range features a 3-point locking system with additional locking bars behind the double doors. Under the heavy-duty steel lock shrouds, the level 8.5 heavy security rated disc secures the lid at both ends of the shed.

5-Point Locking
The Trojan Plus features a tough 5-point locking which includes, deadbolts, locking bars and a pick-and-drill resistant locking system. The handle is designed to sheer off in an attempted break-in.

5-Point Locking (Police Approved)
The Asgard Centurion, Gladiator and Annexe sheds are Secured by Design (Police) approved, UK Locksmith and LPCB level 1 certified. This is due to the combination of reinforced doors, panels and hinges along with 5-point locking making it a secure steel shed. The 5-point locking system features a cam lock that secures the unit across the doors and full-length bar which interlocks at the top and bottom of the unit. The doors also feature an additional two bolts at both the top and bottom. The handle is designed to sheer off in the attempt of a break-in.
---
Electricity

Our Centurion, Gladiator and Access Plus E all feature electrical mounting plates and a cable grommet to add electricity to your shed. Adding electricity to your shed can help charge equipment and e-bikes when not in use, or power your tools minimising the need for extension leads.

Wireless LED sensor lights can be fitted using the strong magnetic strip. The light also features a motion detector, light detector, and charges via USB.
---
Ventilation

All Asgard sheds are designed with a hidden ventilation system, however, if you are storing a motorcycle, it maybe best to consider adding extra ventilated panels. The Centurion and Gladiator range features additional vented side panels.

Why do I need extra ventilation if I'm storing a motorbike?

If you store a hot bike in a cold shed it will create condensation, the extra ventilation helps maintain airflow also ensuring any fumes escape the shed.
---
Height & Width
The height of the unit makes a difference to what you can store in your shed. Tall sheds are ideal for storing ladders, and garden accessories, the shorter units are normally more suited to such items as patio furniture.

---
Size

All Asgard secure steel sheds are available with a number of accessories to make the most out of the space. This can include bike racks, shelves, hooks and tool rails which may be suited for your bike, garden, or motorcycle shed. Each of our shed has a handy guide to show an example capacity. Our Centurion, Gladiator and Flexistore ranges are extendable. We always recommend measuring beforehand.

Centurion Plus 1 Garden Shed

Centurion Motorcycle Plus

Centurion Bike Store x7
Bike Model: Indi ATB2. Overall length approx. 1680mm
Motorbike Model: Kawasaki Ninja Bike
Trees from www.vecteezy.com, artist:pixeden