Addition metal bike shed - key features
The Asgard Addition - All Metal Bike Shed
Store 3 bikes in the Asgard Addition (all metal) bike shed. An all metal bike storage shed designed and made here in the UK, the Addition is one of Asgards best selling bike storage units. As with each and every Asgard bike shed the Addition bike store is made with a fully galvanised construction, reinforced components and the all important integral metal base, making the Addition bike shed fantastic for keeping your bikes not just out of the rain, but also safe.
Still not sure??? The Addition bike shed has pick and drill resistant locks and has been hailed as a best buy by the cycling press - take a look at its key features to find out why this is the bike shed for you.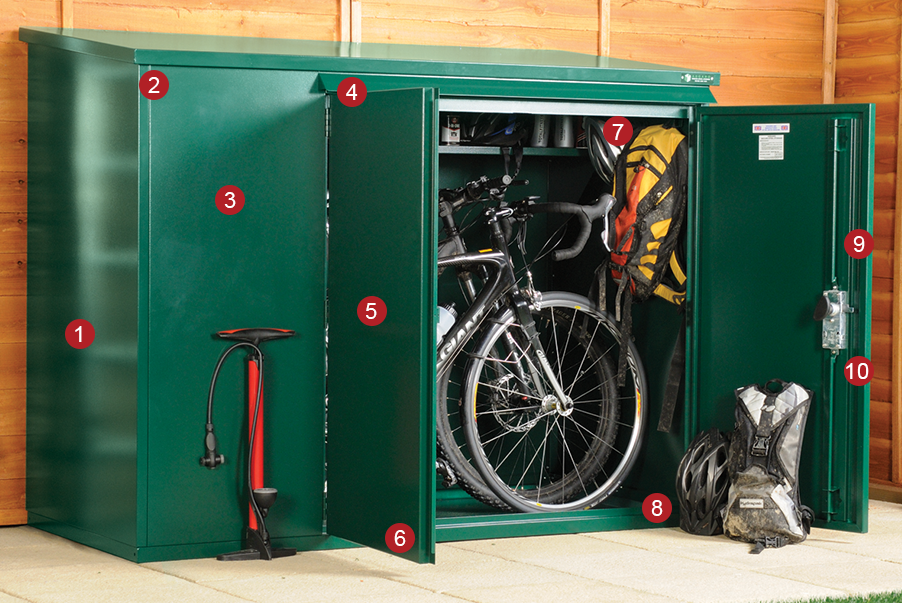 1. Galvanised steel
The Asgard Addition metal bike shed from Asgard is made from strong weatherproof steel - the same as all Asgard metal storage units.
2. No exposed screws or fixtures
All Asgard bike storage sheds are designed with no exposed screws or dangerous sharp edges.
3. Easy self assembly
All Asgard metal bike sheds come with easy to follow step by step instructions. The Adition bike store can be assembled by 2 people in under an hour. An assembly service is also available.
4. Unique shed ventilation
All Asgard metal storage units are fitted with a unique ventilation system to minimise condensation inside - keeping your bikes safe and dry.
5. Low maintenance
All Asgard metal bike sheds are very low maintenance. No repainting required, simply wash donw once a year.
6. Metal shed 10 year warranty
All Asgard sheds come with a free 10 year warranty as standard. Asgard is an ISO accredited UK manufacturer with 50 years of experience.
7. Bike shed accessories
Shelving and hook accessories are available to purchase, adding more storage space to your unit.
8. Integral metal floor
Security is added with an integral metal floor.
9. Pick resistant locking mechanism
The pick and drill resistant locking mechanism is fixed to our heavy duty steel doors - designed to keep thieves out!
10. 3 point locking system
An easy to use 3 point locking system with steel bolts helps keep your bike and stored items locked away securely.