Key Features of the Double Ended Bike Locker
Innovative double ended bike locker
Our Double Ended Bike Locker is one of our most innovative bike storage units. This bike locker allows you to store two bikes completely independently of each other, perfect for sharing!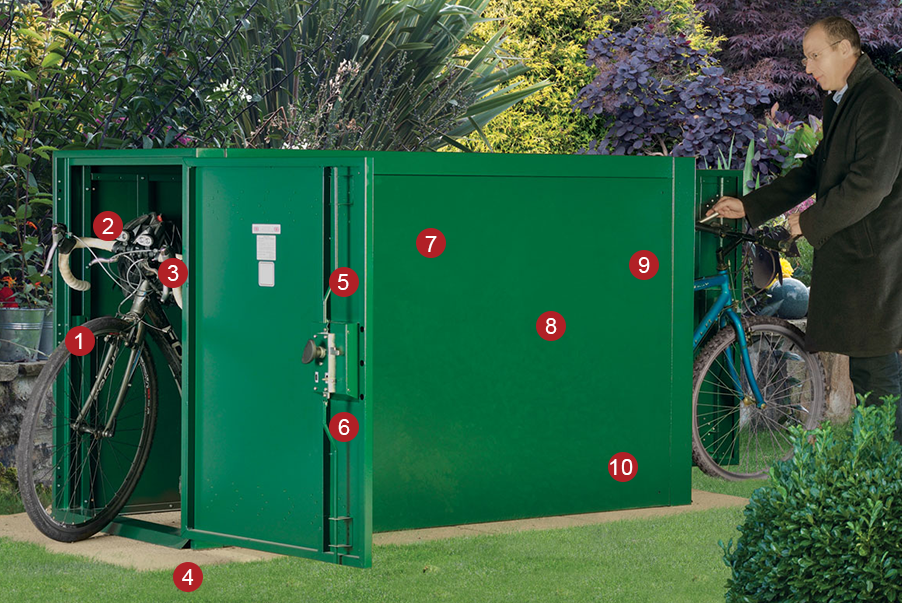 1. Fits 2 bikes
This bike locker is designed to store up to 2 bikes independently of each other.
2. Includes storage hooks
Heavy-duty hooks are provided with this bike locker, perfect for hanging helmets.
3. Internal locking point
This bike locker is designed to be shared, an internal locking point has been included to keep your bike extra safe.
4. Can be secured to a concrete base
This bike locker can be bolted to a concrete base for added security.
5. 3 point locking system
A 3 point locking system, with a reinforced handle surround, is fitted to both doors on the Double Ended Bike Locker. Each door is operated by a different key, to keep your bike secure.
6. Pick resistant lock
This bike locker is fitted with a euro cylinder pick and drill resistant lock.
7. Internal steel divider
A steel divider is fitted inside this bike locker, to securely separate your bike from the other.
8. Galvanised steel
The Double Ended Bike Locker is made from strong galvanised (weatherproof) steel, for the toughest bike security.
9. Easy assembly
Asgard bike lockers are easy to assemble and are provided with step by step instructions. An installation service is also available.
10. Ideal for down the side of a house
This bike locker is designed to be a space-saving way to store your bike and is ideal for sitting down the side of a house or flat.


The double-ended bike locker has been designed with space in mind. The Tardis of our bike storage range, fit two bikes easily into two separate, lockable compartments. Pick and drill resistant locks, with locking bolts ensure your bikes will be safe. The double door system, are independently lockable, so ideal for tenants in shared accommodation or for staff use in the workplace. As with all Asgard bike storage, the locker is made from heavy-duty, weatherproof steel – ensuring your bikes remain not only safe but also dry.
View the full range of Asgard bike storage