Bike locker - Secure locking system
Bike locker - locking mechanism
The Asgard Bike Locker range uses our fantastic, ultra tough - 3 point locking system. The pick and drill resistant lock offers you unmatched security for your most expensive bikes or trikes. The lock is recessed inside a tough, heavy duty, all steel door ion. This all steel shroud, is fully welded and galvanised for extra strength and weather resistance.
As you can see by the pictures below, the Asgard bike lockers are built for strength and security.
The lock barrel is only the start!!! Fixed to the lock are steel rods that "shoot" inside the body of the shed, helping to stop forced entry - giving you a 3 point, pick resistant locking system. Your bike should be pretty safe! ... still not sure??? Well we sell them to the Police force for the community officers bikes... so they must be pretty good.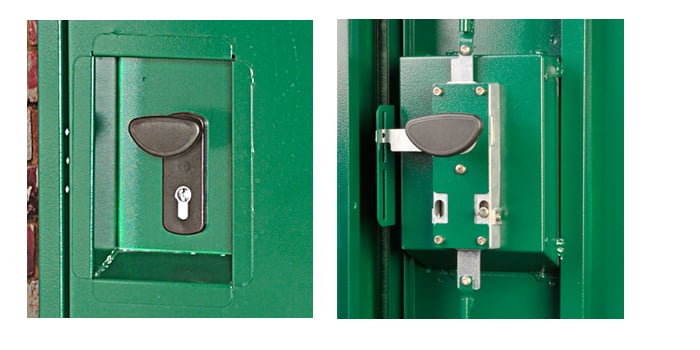 This bike locker offers incredible security via it's recessed handle system.
This bike storage lock is a pick and drill resistant euro cylinder lock, designed to shear off in the event of forced entry helping to keep thieves out and your bikes safe and sound inside.