TV garden prop hire, TV garden show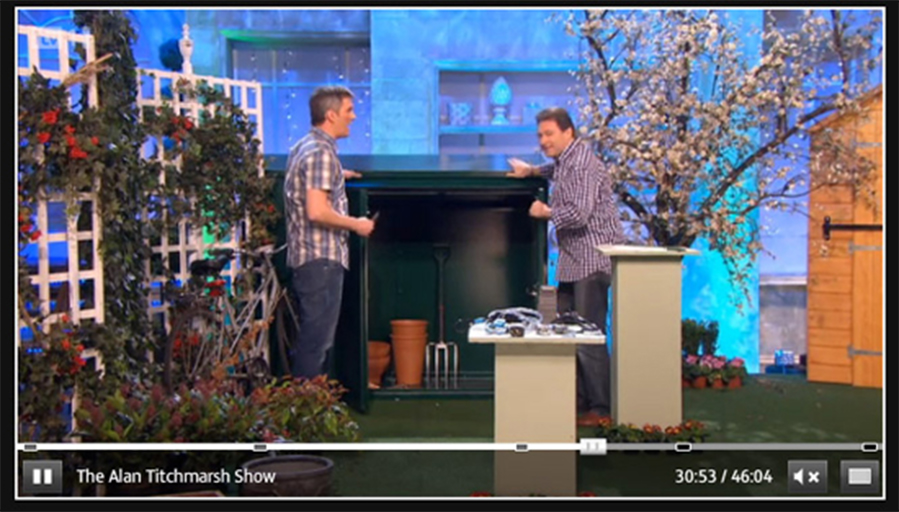 TV Prop Hire - Hire an Asgard shed
Asgard Secure Steel Storage design, manufacture and install secure metal sheds for homes, and commercial use. But, we don't just sell sheds, we can hire them to you as well. If you need a shed or storage unit as a prop or accessory for a film or tv show, just drop us a line. Asgard manufactures all of our sheds in our factory in West Yorkshire, we can quickly and easily supply bike safes, garden sheds, motorcycle garages, and gas bottle storage units for hire to the Film and TV industry.
Our sheds can make your garden and home set look real, lived in, and homely, and are available in 3 colours; green, grey, and ivory with a range of styles from modern to traditional sheds. With a solid metal base and complete panels, they are quick and easy to install saving precious set building time. Our team of Asgard installers can even deliver and install the shed for you in your chosen setting, and demolish it if required.
Have you seen Asgard on the TV?
You may have seen our sheds on a few occasions across home and garden makeover shows, including ITV's Alan Titchmarsh Show where Alan reviewed and rated our Annexe high-security garden shed! We've also been featured on Sarah Beeny's Double your House for Half your Money and The Hotel Inspector to name just a few. See more of our accreditations here.
Over the years we have worked with many British Athletes, Charities, and industry experts, our flexible approach seems to work for the top athletes and companies in the country, so why not try us out?
How does it work?
Simply contact us with your requirements including which TV programme you are making, when you need the shed, and if you need it installed and/or removed. We will consider your request and deliver your chosen loan shed to most of the UK mainland.
If you are looking for garden storage props or office furniture props from our sister company Flexiform Business Furniture Ltd, please contact Andy Heath directly at andy@asgardsss.co.uk and we may be able to help you.