Secure space saving vertical bike locker
Pushbike storage - compact security - storing your bike vertically
Secure a bike in the Asgard vertical bike locker. Our innovative bike storage allows you to store your bike vertically, which is great for saving on space.
Storing your bike upright is a great way to free up floor space, especially where the amount of space you have is an issue. The locker looks great outside or even stored inside the corner of your garage.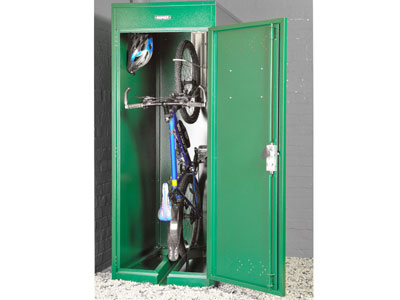 What is the bike locker made from?
Our Vertical bike locker is made from the same strong stuff as all Asgard products, weatherproof steel. This strong and secure material will keep bike thieves out.
How does the vertical bike locker work?
An easy access guide ramp will secure your back bike wheel, while a wheel retaining clamp at the top of the locker will secure the front bike wheel. Hooks inside the unit provide extra storage and the pick resistant lock offers bike security.
Vertical bike locker customer comments
"I love it. Just the right size for the back of my garage". - KL