Secure School Bike Storage Lockers
School Storage Pack 11- Storage For Bikes
Asgard is the home of the best-selling bike storage in the UK. The compact design means that the bike locker doesn't take up much space. Keep your bikes stored securely in this metal bike locker, with room for hanging helmets and other bike accessories. All Asgard school storage packs include delivery and installation.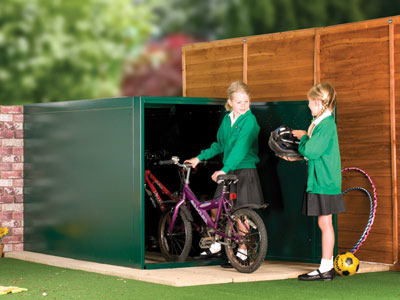 What is the school pack 11 made from?
Our bike lockers are made from tough, strong weatherproof steel.
How does this school pack work?
Storing up to 2 adult or childs bikes, our twin bike locker will keep bikes locked up securely. Fitted with a 3 point locking system and pick resistant lock, security is at the heart of this unit. Multiple units can be bolted together created additional security.
School Pack 11 - customer views
"Our Asgard shed has provided clean, secure and easily accessible storage for our equipment. Installation was quick and efficient. In fact we were so satisfied that we have recently ordered a 2nd." S.B (Headteacher) HATTON SCHOOL
"We are happy with the quality of the Asgard sheds we now have on site. They were delivered anderected swiftly and professionally." K.R.Rougham CEVC Primary
Do you want to know more about Playground Storage?