The most secure cycle shed you can buy?
Asgard NEW Secure Bike Shed
Bradford, West Yorkshire, November 2010, Already recognised for its range of high quality bicycle and motorbike storage units, Asgard have stepped up on the design, construction and the security features of their bike storage unit range with the NEW
Annexe Bike Shed
. This all-
metal bike shed
is suitable for storing up to 3 adult bikes, as well as cycling accessories, spares and clothing gear safe and secure in one place.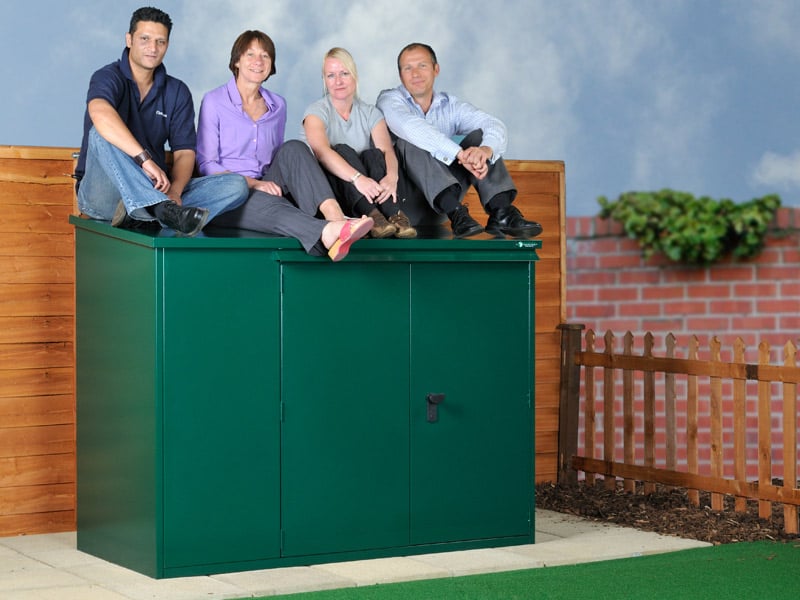 As with all the Asgard storage units, the Annexe high security metal bike shed is built from solid galvanised steel panels with a heavy-duty integral metal floor and additional attack resistant features. The Annexe Bike Shed has a unique 5-point locking system, with the reinforced doors, panels and hinges for maximum security. The robust design has earned the new bike shed from Asgard LPCB approval, indicating that product has been independently tested and awarded a level 1 award from the Loss Prevention Certification Board.
Although the number of cyclists choosing to commute by bike has risen over the last couple of years, the need for adequate and secure storage for bikes is still a major concern. Research into cycling theft figures from the Bike Revolution initiative found that over 500,000 bikes worth over £113 million were stolen in the UK in 2009, approximately 1 every 65 seconds. Asgard have worked towards tackling these issues with the new Annexe Bike Shed by improving the outdoor storage facilities available and increasing security standards for cyclists across the UK.
And already, the Annexe Bike Storage Unit has been a hit with customers, receiving positive feedback on the new storage unit from Asgard, I was pleasantly surprised when my bike storage unit arrived. The level of security is an exceptional, bolt, 5 point, pick resistant locking, ground anchoring and reinforced steel tube sections give incredible peace of mind. . A nice touch is the fact that the unit does not look like a bike storage unit, deliberate or not this element of discretion is just as important as the amount of locks. A passing thief would never know I have nearly 10k of bikes in there. (Denis H, Buckinghamshire)
Nick Hewitt, MD at Asgard commented that If you are in a high risk area where security is an issue, you need maximum protection for your bikes. The LPCB accredited Annexe Bike Shed will not only keep your bikes and property safe from theft and damage, it may also help with meeting security requirements for many bicycle insurance policies and reducing premiums*.
The Annexe Bike Shed is now available to order via the company website at Special Introductory prices for a limited time starting from just £549 (inc VAT) with Free Delivery with the UK*.
(*Check with your Insurance company for policy details.)
- ENDS -
Asgard is one of the UK's leading suppliers of high qualitysecure metal sheds, metal bike storage units, motorcycle garages, school storage and caravan storage for over 50 years. From very large industrial size units down to smaller more discreet units the Asgard range of outdoor metal garden sheds are security approved and built to last.
Asgard prides itself on its superior quality and secure design, with many of the Storage Units accredited with the Loss Prevention Certification Board, to Level 1 as well as supplying Sold Secure and Thatcham approved security products. As specialists in secure steel storage, Asgard is also a Calor Gas approved supplier for the Asgas gas bottle storage units.
Asgard design and manufacture the most versatile and secure multi-purpose storage for outdoor use, with excellent weatherproof protection and unequalled build quality. Asgard continuously monitors its environmental impact, with its environmental systems ISO 14001 approved, and its Quality Management System accredited under 9001.
View the Asgard high security bike store