Looking to store a single bike in a secure way?
Secure Bike Storage Locker - Security for one bike
Asgard have a reputation for producing the most innovative bike storage units on the market. An Asgard bike locker is a great way of locking away your valuable bike.
This innovative product has been designed as a space saving method of bike storage. If you are short of outdoor space and need to keep your bike out of sight, this could be the bike shed for you.
To keep the unit size to a minimum this bike locker is accessed from one end, making it ideal for the side of a flat or house.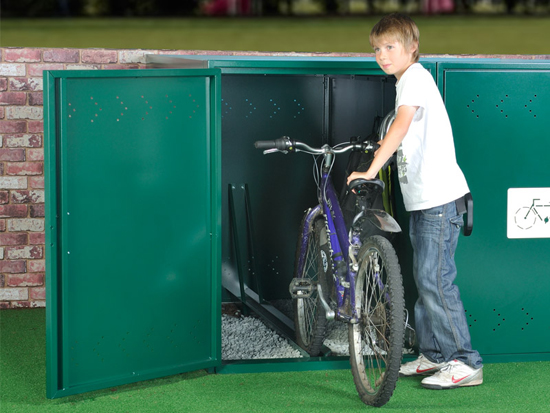 What is the Bike Locker made from?
Just like all of the Asgard bike storage range, the single locker is constructed from thick, galvanised steel panels then covered in a hard wearing weatherproof coating.
How does the Asgard Bike Locker work?
The clever bit. Inside the locker is a guide rail, that holds your bike upright also makes a handy 2nd locking point for increased security. You can also store your bags, helmet and other bits inside the locker with the handy internal hooks.
Single Bike Storage Customer Comments
"We have 2 cycle storage sheds placed together. They were constructed by one of your staff who did it very efficiently. Its made a great difference with not having to carry our bikes up the front steps and ruining the hallway walls. I would recommend them. We have had metal racks put up inside the sheds to stop them falling against each other and makes it easier to push them into the shed. Jenny Howell (See Bike Locker Case Study Images here)
"We are very happy with the bike shed from Asgard" John Dalton
"Perfect, installation team was very helpful" Online order.
"Good unit, thanks"
"Just fits down the side of the garage"
(See the Customer Bike Locker Case Study Images here).
Do you want more information about our Single Bike Locker?