Garden buildings made in the UK by Asgard
Flexistore 1511 metal garden shed
The Flexistore 1511 is the smallest of the Flexistore metal garden shed range, but still boasting plenty of storage space. The sleek and stylish design blends perfectly into any garden. Despite its petite look, this tough all metal garden store still offers unrivalled security features, to keep all of your garden items safe.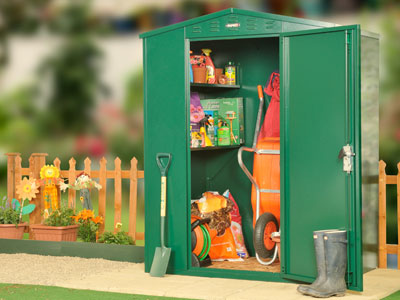 What is the Flexistore metal garden shed made from?
All sheds in the Flexistore shed range are made from strong weatherproof steel, as are the rest of Asgard storage products.
How does this Asgard garden shed work?
A large single door, fitted with a 3 point locking system and pick resistant lock secures the garden shed. Store your items on the integral metal floor or pile them high on the available hook and shelves. The unique ventilation system will prevent condensation and keep your garden equipment in the best condition.
Flexistore 1511 garden shed customer comments
"This was an ideal size for me (it was either this one or the Trojan), I have only a small patio area for storage and (as a keen grower of vegetables) I have a lot of chemicals and fertilizers to store away from the children. With a couple of shelves situated high (one left, one right) they are safe from sticky fingers. There is also room for my ladders, a wheelbarrow and bags of soil, great little unit. Thanks, the service was excellent through out".
See the shed picture here
We are really pleased with the product and the service you have given. Great to see stuff happening in the uk which is so spot on.
Do you want to know how to build this metal shed? See our shed expert in action here.
When it's is together it is actually quite impressive, looks very strong and actually quite stylish. Best of all it doesn't look like a shed, which is great". - Read the full Asgard review here.
"The shed is fantastically robust/safe, looks as reasonable as could be expected and was easy to assemble. Service before & after was pleasant & helpful. Truly a shed for a lifetime!!"
Do you want to know more about the range of Asgard metal garden sheds?