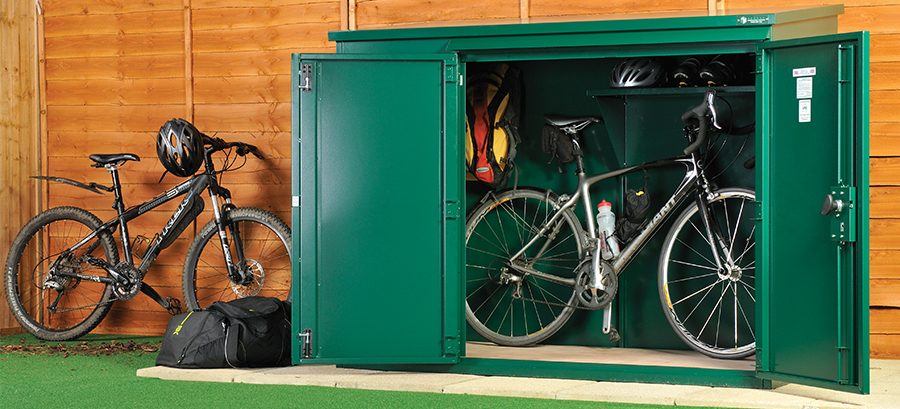 Insurance Approved Cycle Storage
All Asgard bike sheds are designed and made in Britain, designed to be strong and secure; protecting your bikes and cycling gear from theft and the weather. However, if you live in a high-risk area or have particularly expensive bikes, you may feel more comfortable with a little more security from your bike shed with the added protection of bike insurance.
Asgard Secure Steel Storage Heavy Duty Cycle Protection
Our high-security cycle stores are built from the same tough weather-proof steel as all of our storage products. However, when you really need to be sure your bike storage is secure, you need extra reassurance. So, to make them even tougher, our approved units use heavier gauge (thicker steel) steel and each high-security shed features extra bracing bars inside the doors and panels, additional shrouding for the locks and internal and heavy-duty deadbolts.
We have "beefed up" the areas a thief would normally attack!
With all these extra security features, our high-security sheds have been tested and accredited by the Loss Prevention Certification Board (LPCB) to level 1, and have UK Locksmiths Association approval. Each shed from our high-security cycle storage range has been certified as "Secured by Design", (Police preferred specification). With the approval of the Police, LPCB and UK Locksmith association, you may find your current cycle insurance company may offer discounts on bikes that are stored in our sheds.


Insurance approved cycle sheds with Yellow Jersey
Yellow Jersey, is a UK wide cycle insurance company, partnering with Asgard Cycle Storage. Yellow Jersey is currently offering a 10% discount off their cycle insurance to Asgard customers. See our Yellow Jersey partner page for more details, or browse through our high-security bike shed units.
So, if you are looking for high-quality metal cycle storage, made in Britain that is both Police approved and Insurance approved, see our cycle storage pages.
All Asgard bike sheds are designed and manufactured in West Yorkshire, with over 50 years of steel manufacturing experience.