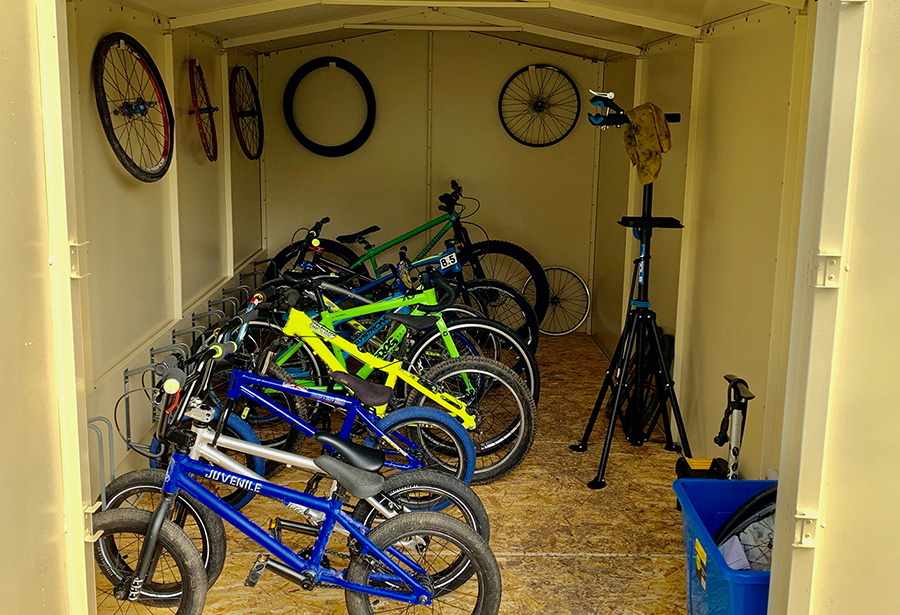 Asgard were approached by a family of BMX Champions looking for secure storage to place their abundance of bikes and bike accessories. The family has a total of 15 bikes looking for a bike storage solution, with no garage or safe space to store them.

The father is the head coach at Knightswood BMX Club and all family members are members of the club and ride for Team Mind Charity as part of the National BMX race team. Their son, Luke Willcocks was placed 4th at the UCI BMX World Championships in Belgium last July (2019), and both he and his father represent Great Britain in BMX racing. With all their cycling ventures, they required enough storage to house their bikes and accessories.

To store their bikes, they have purchased two of our Gladiator Cycle Stores, both big enough to store their bikes and accessories, with plenty of room to spare for them to easily maneuver throughout the shed. With additional bike racks, they were able to store their bikes safely in the shed, whilst also being able to get to the bike they require. The Gladiator all metal bike shed is made from tough, galvanised (weatherproof) steel and is Secured by Design (police) approved. To reach this status, the Gladiator underwent rigorous testing by the Loss Prevention Certification Board.

"Our family needed some serious high-security bike storage. The Gladiator is huge, super secure and every bike is easy to get to. We assembled it in a day. Thank you, Asgard." - Caroline Willcocks.



The all-metal shed features an impressive 5-point locking system, which includes a pick and drill resistant lock, as well as 10mm heavy-duty deadbolts. The lock is also secured with a steel shroud lock casing, making it difficult for thieves to access the lock. The Gladiator features the standard Asgard hidden ventilation in the roof and has further ventilated side panels due to the size of the unit, making sure condensation build-up is kept to a minimum, protecting items inside the shed.

Additional features include no exposed screws; this means there are no sharp edges within the unit, an easy access ramp for better access to your bikes and accessories, reinforced hinges and panels to prevent forced entry, and electric mounting plates to add power to your unit.

The family is incredibly happy with their purchase and the security the Asgard Gladiator Cycle Store has provided for their bikes.

See more Asgard case studies here