Asgard XXL Cycle Store Features
Extra Extra Large Bike Storage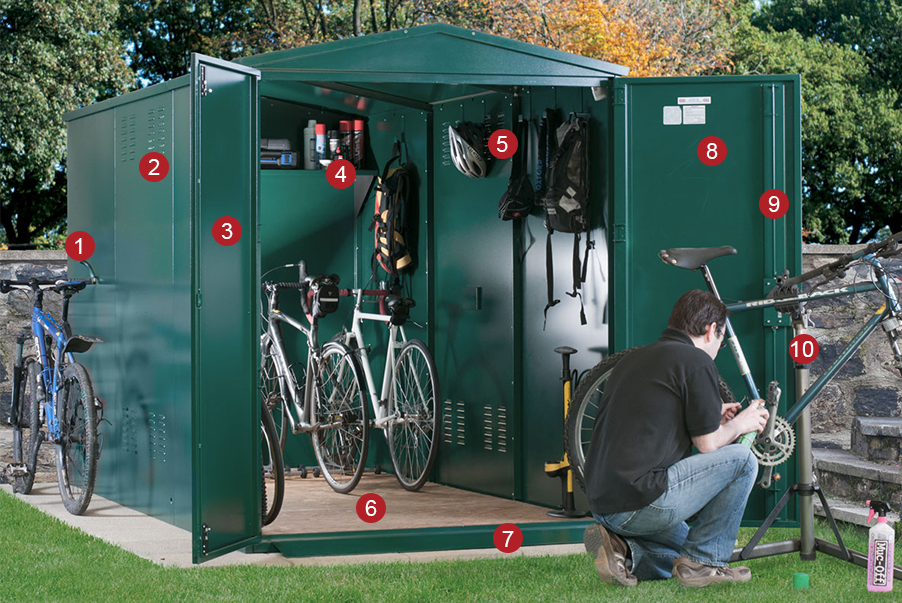 1. Galvanised steel
This metal bike shed is made from strong weatherproof steel panels.
2. Vented side panel
Asgard metal sheds feature a unique shed ventilation system to minimise condensation inside the unit.
3. Supplied with a 10-year warranty
All of our metal storage units are supplied with a 10-year warranty as standard.
4. Includes a heavy-duty shelf
The included shelf is ideal for storing your cycling equipment.
5. Includes a heavy-duty hook pack
Our heavy-duty hook pack allows you to hang up your helmets, bags and other cycling gear.
6. Protective wooden subfloor
The Cycle Store XXL is fitted with an integral metal base. A wooden subfloor is provided to keep your bike tyres protected.
7. Easy fit heavy duty ramp
The provided ramp allows you to ride your bike straight into this bike shed.
8. Easy to assemble
The cycle Store XXL is easy to assemble and comes supplied with step by step illustrated instructions. An installation service is also available.
9. 5 point locking system
This tough locking system is designed to keep your bikes safe and keep thieves out!
10. Room for bike maintenance
Inside this extra-large bike shed, there is room for you to carry out bike maintenance with shelter from the bad weather.
The Asgard XXL sheds are huge! Each of these oversize storage sheds are the equivalent of a small domestic garage, but without the need for planning permission. Each shed is made from heavy-duty, weatherproof metal – so each shed is weatherproof and secure. Featuring 5 point, Pick resistant locks and Secured by Design Status (Police Approved) the sheds can be used for Lawn Mower Storage, Motorcycle Storage, Bike Storage – or just general garden storage. Find out more.