Asgard Bike Maintenance Shed - storage shelf
Cycle maintenance - an important part of cycling
How many bikes do you own??? 2, 4 … more??? If you are a professional bike rider or a keen amateur then why not store all of your bikes and cycle maintenance equipment together, in a Secure Asgard Bike Shed?
Bike maintenance is boring, and after a long ride, you really don't want to be standing outside in the rain oiling up your chain. So if you REALLY have to, why not do all of your cycle maintenance and repairs in a nice dry Asgard bike maintenance shed?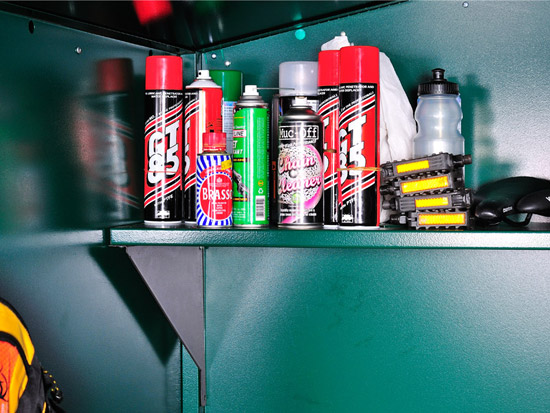 A single shelf across the width of the cycle maintenance unit is ideal for all of your bike tools. These shelves are heavy duty and made from tough weather proof materials just like all Asgard sheds.
Heavy duty cycle accessories
Inside this great value package you will find hooks and a useful heavy duty shelf (pictured) that is perfect for holding all of your cycle oils and lubes together, off the ground and out of reach of little fingers! Our shelf pack is included with the bike maintenance packs and simply slots into pre drilled holes at various points down the side of the units. Put the shelf up high ... put it down low .. it is up to you.
So there really is no excuse now - get your bike maintained in the dry thanks to Asgard Secure Steel Storage.