Access Bike store customer comments
The Access Bike storage - once again a winner
If you need to store your family bikes at home, the Asgard Access could be the bike shed for you. Designed to store up to 4 bikes, the Access is a fully galvanised (weatherproof) shed. Fitted with a 3 point locking system this shed is designed for use by both pro cyclists and the family!
Read more on our main Access bike shed page
"I don't have any photos to hand, but I am extremely happy with the bike box, the security and sturdiness of it is very impressive. It was advertised as fitting 4 bikes, but with some precise fitting I have managed to fit 3 adult road bikes and 2 adult mountain bikes in very snugly, so I am really pleased as it saves me thinking of where to put the 5th bike. And, I have even had people walk past in the street asking where the box came from, so it's obviously attracting attention". - Alistair D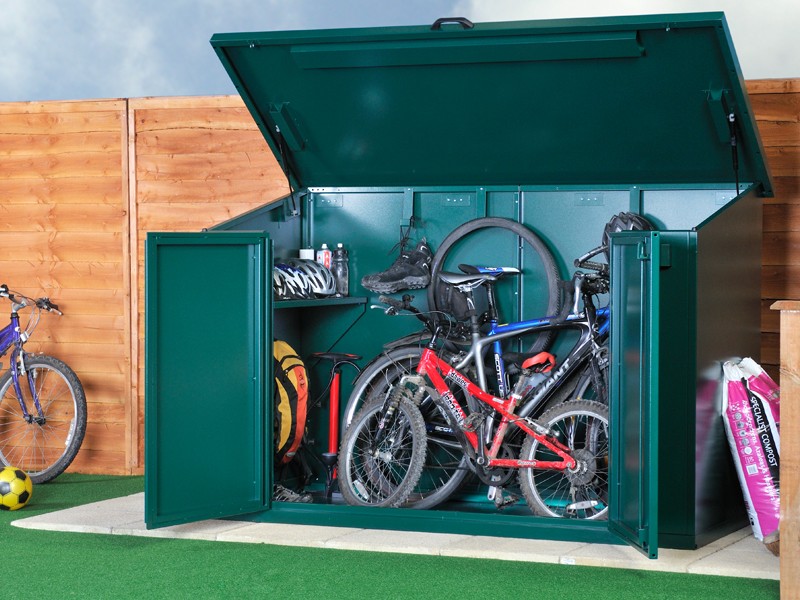 BikeRadar "Excellent attack-proof design" - 4.5/5 stars

Cycling Plus said: 9/10 - Editors Choice

Descent World "We wouldn't hesitate in recommending for

keeping your pride and joy inside"

The Ride Journal "Short of using explosives I can't see anyway

that someone is getting to my bikes".