Protecting your bike in winter
Asgard sheds aren't afraid of snow!
Winter?? come on! Asgard garden sheds and bike storage is made from thick, galvanised steel - making them very strong and weatherproof - Supplied with a 10 year warranty.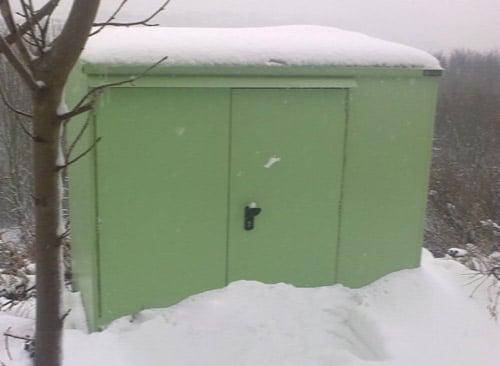 Customer comments:
"My wife bought me an Asgard - As a typical Scot I though it was too expensive even for my best road bike. Two years later I'm glad I have one"
"I was pleasantly surprised when my bike storage unit arrived. The unit was very straight forward to build as it came with a decent set of easy to read instructions. The unit is obviously well made, the finish quality is exceptional for the money. All the welding is tidy, the holes all line up, all the bits were there and it was delivered on time. The level of security is exceptional, bolts, 5 point, pick resistant locking, ground anchoring and reinforced steel tube sections give incredible peace of mind. Actually, if anything I would say these are more secure than they need to be. A nice touch is the fact that the unit does not look like a bike storage unit, deliberate or not this element of discretion is just as important as the amount of locks. A passing thief would never know I have nearly 10k of bikes in there". ADH - Bucks
"I really can't fault it, my bikes have been dry as a bone over the recent bad weather probably because the unit has a built in base. In the end I opted for the high security version which was the most expensive shed they do". Online Order
"This is great for someone like me in a high risk, high crime area. Not only is it really secure .. but the best thing is, it doesn't look like a bike storage unit. So double protection!" Simon
"We are extremely happy with both the quality of the units and the service we received from Asgard. We ordered 2 units and the higher security unit came with a lower security panel which was an error - Asgard responded very quickly and within a day we had the correct panel.Both 'sheds' are now in situ and doing just the job".
See more tough weather proof outdoor storage here.