Asgard metal sheds why are they so secure?
Which secure metal storage is the best for you?
What sets Asgard metal sheds apart from the rest? - Is it the high quality UK made build quality? Is it the free 10 year warranty? Is it the free mainand delivery? Is it the ISO accreditations or the 1000s of happy customers??
Click on the numbers below and take a look at these features to see why Asgard metal sheds offer the best in shed security.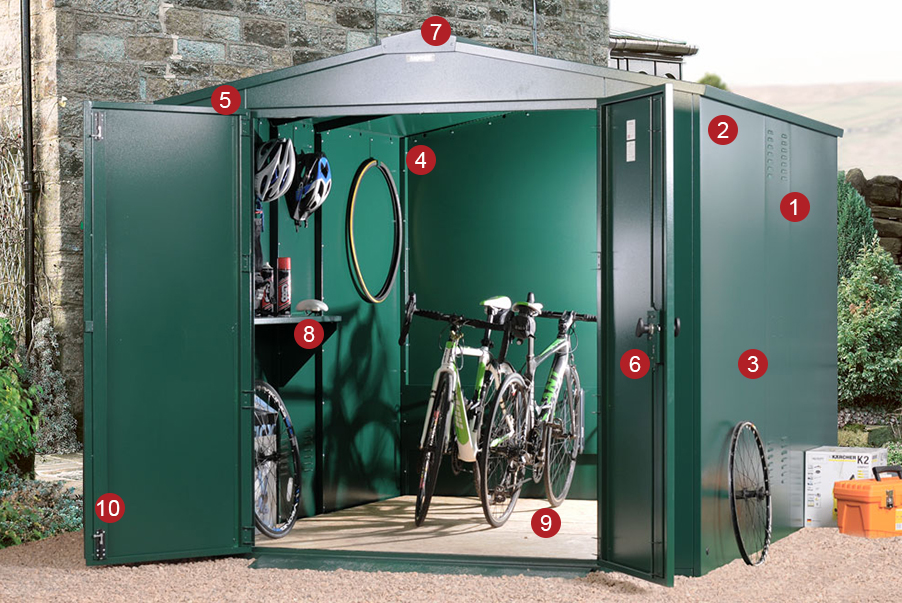 1. Fully Galvanised steel construction
All of the metal sheds from Asgard are made from strong weatherproof steel panels. This high quality material makes Asgard sheds strong, secure and very heavy.
2. Low Maintenance
Unlike wooden sheds, Asgard metal sheds require very little maintenance. The weather proof (galvanised) metal ensures that Asgard sheds will give you years of reliable secure storage. You don't buy an Asgard shed, you invest in an Asgard shed.
3. 10 Year warranty on Asgard sheds
Asgard design, manufacture and delivery all our own sheds. As we make every single shed here in our factory we can give all of our metal sheds a 10 year warranty as standard. Take a look around our factory using our virtual tour.
4. No exposed screws or fixtures
There are no exposed screws inside Asgard units, so there are no sharp or dangerous edges that might cause harm. An internal - inside out - construction also makes Asgard sheds more secure than many other sheds on the market. See our shed comparison here. With no exposed bolts or screws, many thieves are beaten at the first hurdle.
5. Easy assembly
All of Asgard sheds come with simple step by step instructions for an easy home assembly. With only basic tools, 2 people can assemble most Asgard storage in a couple of hours. An installation service is also available if shed building is not for you.
6. Pick & drill resistant lock
Pick and drill resistant locks are fitted to most of our metal storage units to provide the best possible security. Each pick (and drill) resistant lock has a special handle that is designed to shear off in the event of an attempted forced entry thanks to a special "snap off" spindle. Keeping your tools safe and dry.
7. Unique shed ventilation
A unique shed ventilation system is hidden in the roof in every Asgard metal shed. This unique ventilation system helps to minimise condensation inside the shed, by allowing air to flow around the inside of each Asgard, even when the shed is locked.
8. Accessories
All Asgard units are pre drilled for our shelving and hook packs. These accessories are available to purchase on each product page or as money saving bundle packs - a great way to add more storage options to your Asgard shed.
9. Integral metal floor
Metal sheds from Asgard are the ONLY metal sheds with an integral metal floor. A metal shed with a floor adds even more security to the unit as it adds weight and stability to the shed. Each Asgard is supplied with ground fixing bolts, to secure the shed to the ground. Wooden subfloors are also available for each Asgard shed, these are designed to sit ontop of the integral metal floor to prevent scratches and damage.
10. Insurance and Locksmiths approved locking system
These metal sheds feature tough locking systems to help keep stored items safe from theft. Many Asgard sheds are either Locksmiths approved or Insurance approved.