"Very pleased with our Asgard metal shed"
Pleased Asgard Customer
At Asgard, our range of metal garden storage units are available in a variety of sizes and styles. See what this customer thought of Asgard Flexistore 1522.
The Flexistore range is a traditional looking set of garden sheds - featuring a pitched roof and sing;e door access. Inside this heavy duty, galvanised shed you will find a tough 3 point locking system designed to keep your garden tools safe and secure.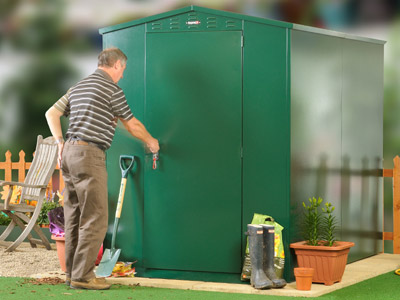 Customer comments:
"We are very pleased with the shed. It is as described, sturdy, secure and ideal for our needs. We were also impressed with the straight forward ordering process, delivery to time. The construction of the shed by your staff was also well worth the extra money. All in all money well spent and a job well done." Chris Haynes
We live on the east coast less than 1 mile from the sea and we bought this shed in 2010 to store garden and DIY equipment. We have had snow, wind and rain and to date the shed looks as good as the day it was despite the salty weather. The inside remains rainproof and secure and it is large enough for our domestic storage needs, power tools, old paint tins, steps, garden tools etcAs another reviewer pointed out it is dark inside since there are no windows but it isn't an issue for me with the door open, I can see to the back during daylightIt was easy to erect, I paid someone local to help - Steve