Asgard has replaced our old B&Q Shed
Asgard have a lot of storage customers, here are their comments
"Brilliant, I have had 2 attempted breakins in the last 6 months, and they never got in. The handle just sheared off and left my tools nice and safe inside".
"The shed is fantastically robust/safe, looks as reasonable as could be expected and was easy to assemble. Service before & after was pleasant & helpful. Truly a shed for a lifetime!!"
"We are very happy with the product and your service, top marks all round"! Gary and Lisa Nichols
"Excellent speedy service. Delivered before expected but contacted by seller to check instructions. First class service and first class item"
"An excellant shed, comes in sections but due to the quality and strength it is very easy to put together. You can easily build it within 2hrs I actually built it by myself".
"To repeat, I thought the quality of your product is excellent. The shed it replaced was a cheapo from B&Q or similar, it was not nearly as good quality, much thinner material, loads more parts, much harder to assemble, never looked too good. The other larger shed (still in use) is better quality, still not nearly as solid as Asgard, but took us days to put together :-(. When it starts falling to bits, we'll replace it with a 'Trojan'."
"Quality British product from a quality supplier, thank you" - WE
"An Asgard shed is one of the heaviest and best quality on the market and so their self weight and goods stored within them often mean that anchoring the base is not required for sheltered locations". John - The secrets of shed building.com
"Very good service and a great product. We will highly recommend. This is the best price anywhere and good value for money. Thank you".
"I am highly delighted with my purchase. The order was dealt with in a highly professional manner and delivered within the timescale. The erection of the shed was completed by extremely competent staff".
"The steel storage unit is first rate. Two of us assembled it easily and fixed it to some railway sleepers in our community orchard. Looks great and secure enough to store our mower, strimmer and other tools in our orchard which is a public place".
"Our shed has been a real success on our allotments - so much so we have bough a 2nd".
"The Asgard bike storage shed is spacious, and keeps contents dry. The fitting team did an excellent job and were speedy, polite and friendly. I would recommend having it fitted as it is stressfree. Very secure locks. Very smart storage shed".
"It is about fifty times more secure than the cheapo metal sheds you find in the Argos catalogue".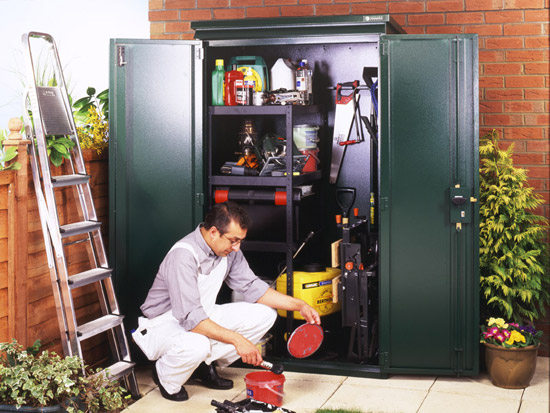 "This was an ideal size for me (it was either this one or the Trojan), I have only a small patio area for storage and (as a keen grower of vegetables) I have a lot of chemicals and fertilizers to store away from the children. With a couple of shelves situated high (one left, one right) they are safe from sticky fingers. There is also room for my ladders, a wheelbarrow and bags of soil, great little unit. Thanks, the service was excellent through out".
"Both the garden shed and the secure motorcycle shed that I bought from you, have proved very satisfactory. They instructions were clear. Many Thanks" - Paul Baines
"We are very pleased with the unit. We initially sought something of this sort because country rats are very fond of horse grain. Since installing this unit, we haven't had a single nibble or hole in the grain bags from so much as a mouse, let alone a rat. They simply can't get in there. Excellent". Janet Rainey - See a photo of this customers shed here
"We were very happy with our Asgard unit. As a window cleaner it's perfect for storing my ladders and all my cleaning bits" - D.W. Yorkshire
"Impressed by the quality and design. Not cheap but you get what you pay for!:" - Nigel C
"Excellent - delivered early. What more could you want?"
For the best in hardwearing, tough garden sheds would like to see all of our garden storage range - see our garden storage product pages.