Tough and reliable school storage packs
School storage pack - compact steel storage
Store all of your school and playground items in the compact metal storage shed. Double door access and an easy to use hasp and staple locking system, make this unit great value shed ideal for storing small playground items, which you need quick access to.
All Asgard school packs include installation, delivery and our fantastic 10 year warranty.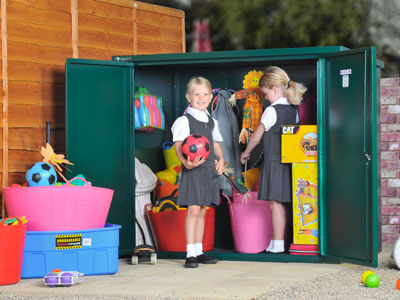 What is the school storage shed made from?
This compact storage shed is made from high quality, weatherproof steel.
How does the school storage shed work?
Fill all available space in this storage unit, store items on the integral metal base or hang them from the hooks provided.
School storage customer comments
"Fantastic unit. Installation guys were great. Very polite and friendly".
"Good size unit for a playground. Ideal for quick access."
"Our sheds look great in our new outdoor area. They blend into our eco environment whilst keeping our enrichment boxes and equipment safe, dry and accessible. Thank you."Headteacher St. James' C.E Primary
"We have been extremely pleased at MalmesburySchool with our Asgard sheds, they are smart, robust and provide secure storage for a wide range of materials"Headteacher, Malmesbury School
"Our Asgard shed has provided clean, secure and easily accessible storage for our equipment. Installation was quick and efficient. In fact we were so satisfied that we have recently ordered a 2nd." (Headteacher) HATTON SCHOOL
Would you like more information about Asgard School storage packs?