The NEW Secure fishing tackle storage unit!
Fishing tackle storage - Asgard press release
Bradford, West Yorkshire, January 2011 - Asgard is pleased to launch the latest high security Fishing Tackle Storage Unit following the demand for secure outdoor storage box for the nations anglers. This substantial storage box is designed with an inbuilt ventilation system to store all your equipment and tackle safe and secure.
The Asgard outdoor Fishing Tackle Storage Unit is fitted with a tough 5-point locking system and reinforced doors, hinges and panels, and is the only outdoor metal fishing tackle storage unit which has been approved by the Loss Prevention Certification Board (to level 1) in the UK. This independent industry test ensures that this unit offers the highest security storage facility for valuable fishing tackle equipment.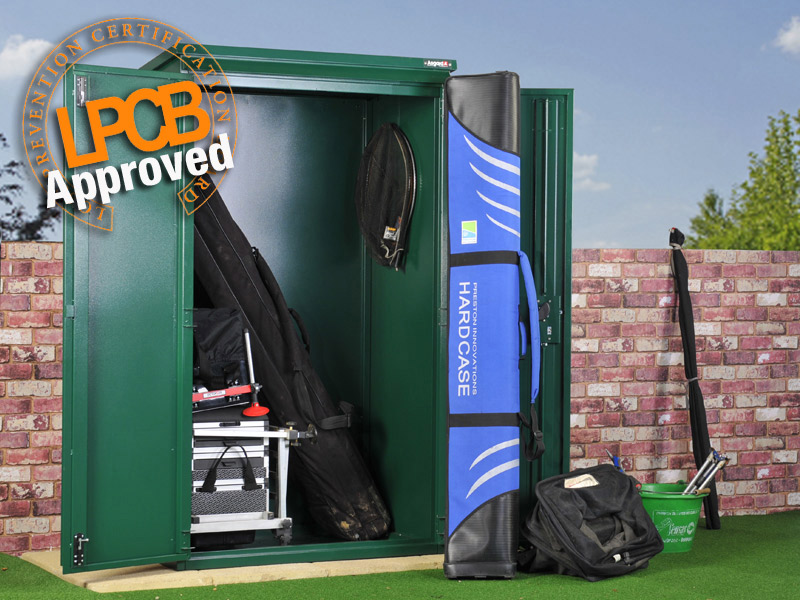 Security approved fishing tackle unit
Built from heavy-duty galvanised (weather proof) steel panels and integral metal floor, this Asgard Fishing Tackle Storage Unit is easily accessible via the large double door access. Measuring at over 6 foot tall and nearly 4 foot wide, this heavy-duty outdoor storage unit is secure and spacious enough for all of your expensive fishing gear. This new Tackle Storage Unit is part of the outdoor sports storage range designed by the team of engineers at Asgard. Neil Horne, Product Planning and Design Engineer and also an avid angler proposed this new storage range for tackle storage after his experiences in the sport; whether you have been fishing for years or just starting out, its important to make sure that you look after all your tackle and gear."Like most people, I don't have the space inside the garage, so this unit is ideal for keeping all my fishing rods, landing nets, seat boxes, holdall bags, clothing and bait boxes safe and secure when not in use". The new fishing tackle storage range is now available to order via the company website / at Special introductory prices for a limited time starting from just £549 with Free Delivery with the UK*.
About Asgard
Asgard is one of the UK's leading suppliers of high qualitysecure metal sheds, metal bike storage units, motorcycle garages, school storage and caravan storage for over 50 years. From very large industrial size units down to smaller more discreet units the Asgard range of outdoor metal garden sheds are security approved and built to last.Asgard prides itself on its superior quality and secure design, with many of the Storage Units accredited with the Loss Prevention Certification Board, to Level 1 as well as supplying Sold Secure and Thatcham approved security products. As specialists in secure steel storage, Asgard is also a Calor Gas approved supplier for the Asgas gas bottle storage units.
Asgard design and manufacture the most versatile and secure multi-purpose storage for outdoor use, with excellent weatherproof protection and unequalled build quality. Asgard continuously monitors its environmental impact, with its environmental systems ISO 14001 approved, and its Quality Management System accredited under 9001.