Tall Metal Garden Storage Shed
Trojan tall metal garden storage
Store garden equipment, furniture, tools, ladders and toys in this garden security shed. This shed is perfect for keeping your items dry and safe from theft. A single large door in the middle of teh unit allows you to put shelves either side for loads of storage. A 3 point locking system gives you great security all in a easy, great value package.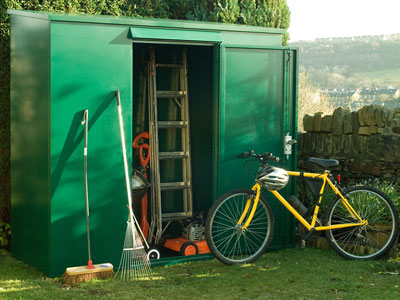 What is this metal garden storage made from?
As with all the metal sheds at Asgard, this garden shed is made from strong weatherproof steel.
How does the metal garden storage work?
This metal garden shed is secured by a 3 point locking system and pick resistant locking mechanism. The integrated rain guard keep wind and rain out, while additional hooks and shelves great optimised storage.
For more information see the main Trojan shed page.
Trojan garden storage customer comments:
"Impressed by the quality and design. Not cheap but you get what you pay for!:" - Nigel C
"Excellent - delivered early. What more could you want?"
"We are very pleased with the unit. We initially sought something of this sort because country rats are very fond of horse grain. Since installing this unit, we haven't had a single nibble or hole in the grain bags from so much as a mouse, let alone a rat. They simply can't get in there. Excellent". Janet Rainey