Secure ski storage unit
Security is the key feature of this ski storage unit. Keep your ski and snowboard equipment locked away safely in this unit approved by the Loss Prevention Certification Board. With a water proof finish, and galvanised construction this unit is great for Skis and Snowboards where you will encounter a lot of moisture. A vented roof allows air to circulate to help to dry your clothes and keep smells at bay.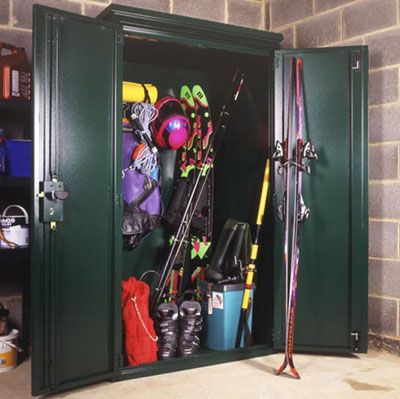 What is the ski storage unit made from?
Asgard ski and snowboard storage units are made from weatherproof steel.
How does the ski storage unit work?
Advanced security features are used to maximise security onthis unit. Reinforced doors, panels and hinges, a 5 point locking system and a pick resistant lock all strengthen this unit against break-ins and theft. The addition of shelves and hooks, offer more storage options and free up valuable space from the base of the unit.