Gas Bottle sheds to protect your Gas Bottles
Medium gas bottle storage
The Asgard medium gas bottle storage unit is approved by and designed in conjunction with Calor Gas. This specific model is designed to hold up to two 47kg propane gas bottles. Our gas bottle storage unit is a great way of concealing gas bottles and blends well into any environment.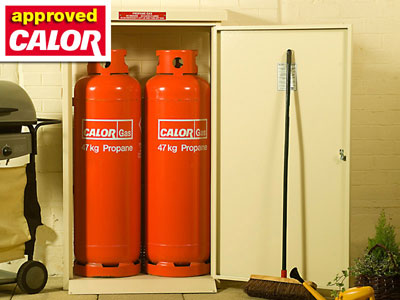 What is this Asgard gas storage unit made from?
Asgard gas bottle storage units are made from thick, weatherproof steel, to prevent rust and decay, like all Asgard storage products this is backed with a 10 year Warranty.
How does this medium gas bottle storage unit work?
A lift up lid allows you to inspect the regulator without having to unlock the unit. Access the bottles with a utility style lock that locks the large door. A ramp is included which makes for easier manoeuvring of the gas bottles.
Medium gas storage customer comments
"Lovely looking unit. Much better than having loose bottles all around the back of my house. The ability to chain the bottles to the unit is very useful"P.L. Winchester
"The Asgard gas storage cabinet arrived as promised. Good build quality and the brown paint finish looks perfect against the natural stone wall. I would definitely recommend this product for anyone requiring LPG gas storage". Malcolm
"Hi Tracey, I feel I must make a point of thanking you for your on-going support and assistance. Product quality and new variations to your range are absolutely first class" CARAVAN SALES MANAGER. STANWIX PARK HOLIDAY CENTRE - CUMBRIA.