Secure Fishing Tackle Storage Unit
Fishing tackle storage unit
Approved by the Loss Prevention Certification Board to level1, this storage unit may help reduce your insurance premiums and is strong enough to store your most expensive tackle.
This unit is great for storing fishing tackle and keeps that fishing odour locked inside!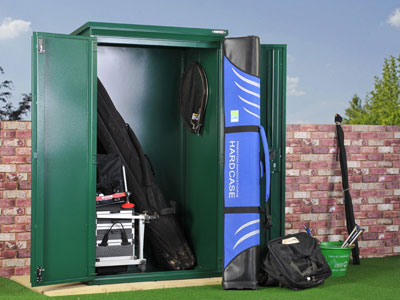 What is the metal fishing tackle storage unit made from?
Our fishing tackle storage unit is made from robust weatherproof steel, keeping your items safe against the elements.
How does the metal fishing tackle storage work?
Double doors make it easy to manoeuvre stored items insidethe shed, while reinforced components keep the unit secure. A 5 point locking system and pick resistant lock combats theft and the integral rain guard keeps strong wind and rain out!
Fishing tackle storage customer comments
"Impressed by the quality and design. Not cheap but you get what you pay for!:" - Nigel C
"This is agreat unit. The height is perfect for my Pole hold-all and rodbag. Loads of room to spare for my trolley, seat box and even hanging space for my "Bib and Braces". I have recommended this to all my fishing club mates" C.R - Huddersfield
"Good unit. Lots of room for my kit and my sons, I can even get our trolleys in with room to spare" N.H. - Leeds
Do you want to know more about the Asgard Insurance Approved Fishing Tackle Storage Unit?