Scootering reviews Asgard Scooter Storage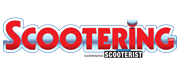 Scootering reviews Asgard's Scooter Storage
Posted: April 2014 [Magazine] and 2016 [online]. Author: Dan Clare
View the article on their website.
We have recently been featured on Scootering's website and magazine, as a double-page scooter security feature. We sent them one of our Scooter storage shed packs, and they decided to build it themselves. It was featured as the 'DIY Secure Storage' solution.
"The unit was delivered in kit form by two helpful gents who, after unloading it from their lorry, explained how each panel was stickered to make putting it together easy." They followed the simple step by step instructions which are provided alongside the fastening and screw kit required. As you can see in the photographs, it is clear to see the key stages of the construction and just how easy it is.
The scooter garage is a Weight Category 4 storage garage, so anchoring it to the ground simply makes if even more secure and sturdy. It is also made from strong galvanised steel with a 5 point locking system with a shrouded lock to keep everything secure. Also, if green isn't your colour, you have a choice of also having it in ivory or grey.
The Asgard scooter storage is considered as one of the most affordable, convenient and most secure alternative to a £20,000 brick garage. If that's not good enough, in most cases planning permission isn't required! Don't just take our word for it, read the review and see what they had to say:
Scootering DIY Secure Storage Review
So you haven't got a brick built garage to park your scooter in at home, and nowhere. To build one even if you wanted to… but if you've access to. A yard or a small piece of garden, then this could be a solution for you.
What's in a shed?
Asgard Secure Steel Storage has been designing and manufacturing steel storage systems for almost 50 years at its West Yorkshire HQ. The product range includes a motorcycle storage unit and Asgard proudly proclaims: "Our reputation is built on quality UK manufacturing. All our products are designed and manufactured here in Yorkshire from heavy, galvanised (weatherproof) steel, featuring integral metal floors, vented roofs and high-quality locking systems and should not be. Confused with similar looking, thinner gauge, lightweight products".
Featuring a strong five-point locking system with deadbolts and a pick-resistant, Euro cylinder lock barrel, Asgard says these are the only UK Locksmiths Association (UKLA) approved motorbike storage units in the UK. The firm also told us that thanks to the robust nature of these storage units, which not only feature reinforced doors, sides and floors, but can be securely bolted to a concrete base, a number of insurance companies treat these as the same as garages when it comes to quoting. This means that as well as keeping your scooter safe and dry, you should also get a discount compared to parking it in the open.
The Challenge
With all this in mind, we thought it. Would be a good idea to see what the fuss is about and have a go at building one ourselves. After all, aside from the space issue, it's cheaper than building a traditional garage. Weighing in at nearly 300kg (over 46 stone), the Motorcycle Storage Unit's dimensions are 8ft 11" x 5ft x 6ft 7" in height (or for the youngsters 2718mm x 1524mm x 2032mm). This is not something you can pick up in your car, but the price of the unit includes delivery to most UK destinations. Before installation can take place, a firm level surface will be required: concrete, tarmac etc… at least 2in/ 50mm thick.
The unit was delivered in kit form by two helpful gents who, after unloading it from their lorry, explained how each panel was stickered to make putting it together easy. The instructions were in plain English and simple to follow (the joy of being manufactured in Bradford rather than having instructions produced in Cantonese, translated to Swedish and then pidgin English!), they offered tips on assembly and told me it usually took about 90minutes to do one between them. Ah…. The gauntlet. Andy
Step-by-Step Shed Build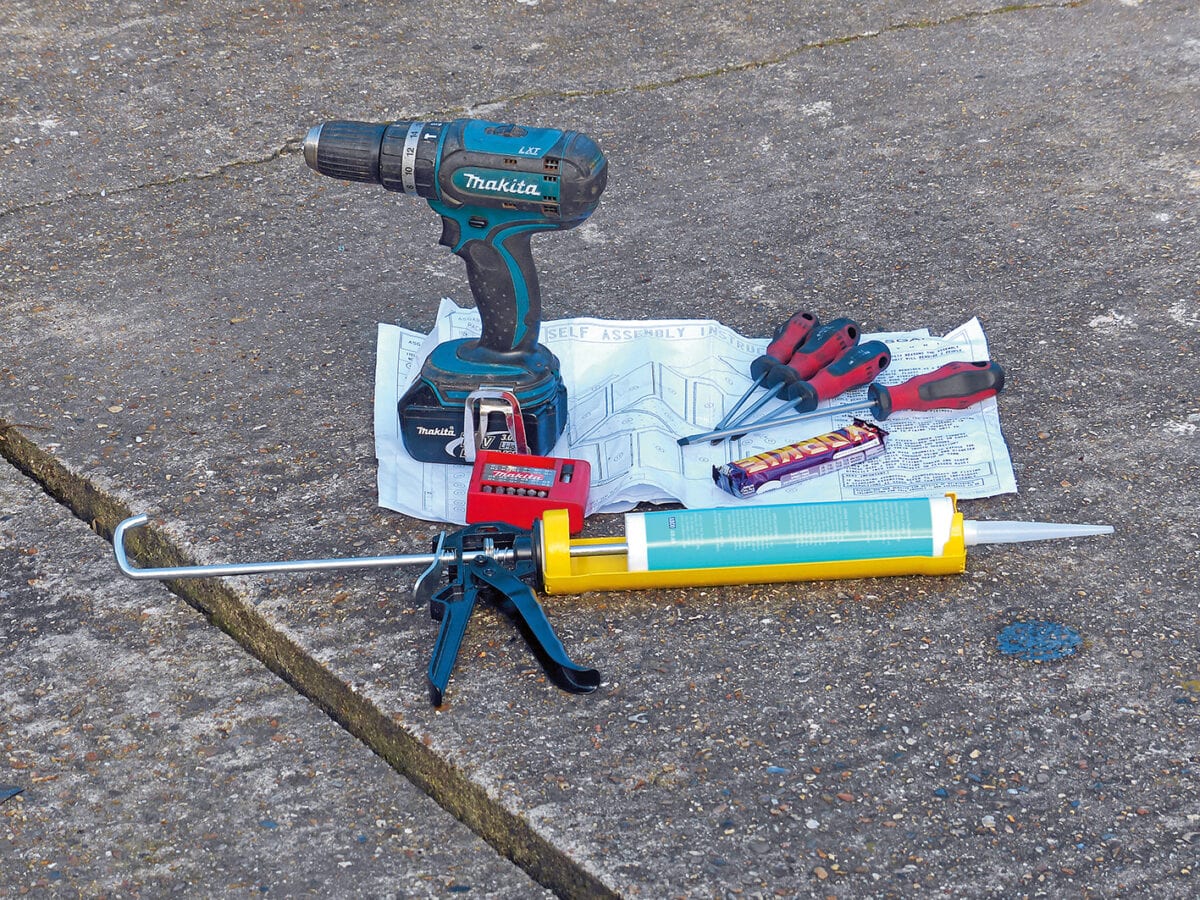 1. The kit comes with an excess of fastening screws (yes, like good scooterists we had some left over in the end!), packing pieces to level the unit once completed, and instructions that are clear and easy to follow.
2. Tools required are screwdrivers (and we recommend a powerdriver/drill), sealant gun (sealant provided), 6mm masonry drill and 13mm socket spanner for anchor fixings, a set of step ladders and a friend.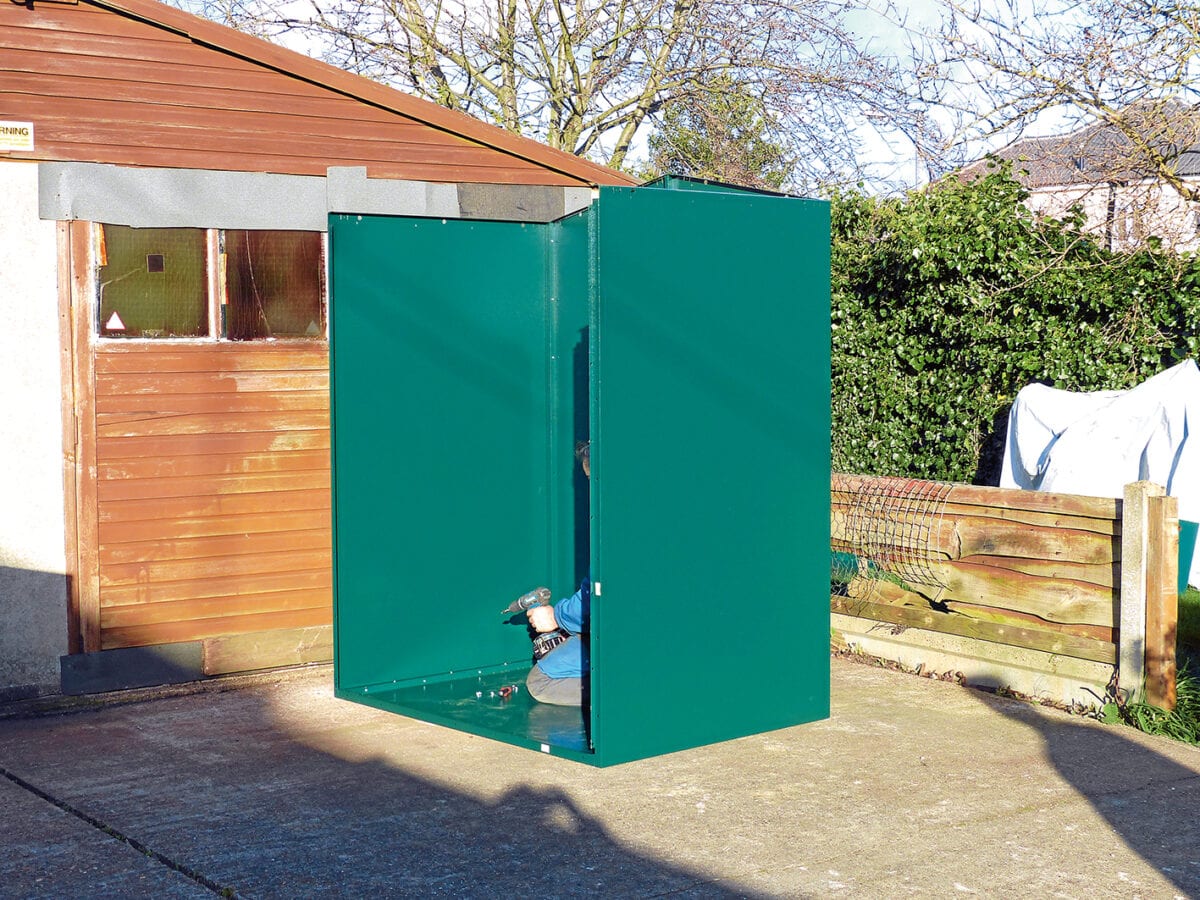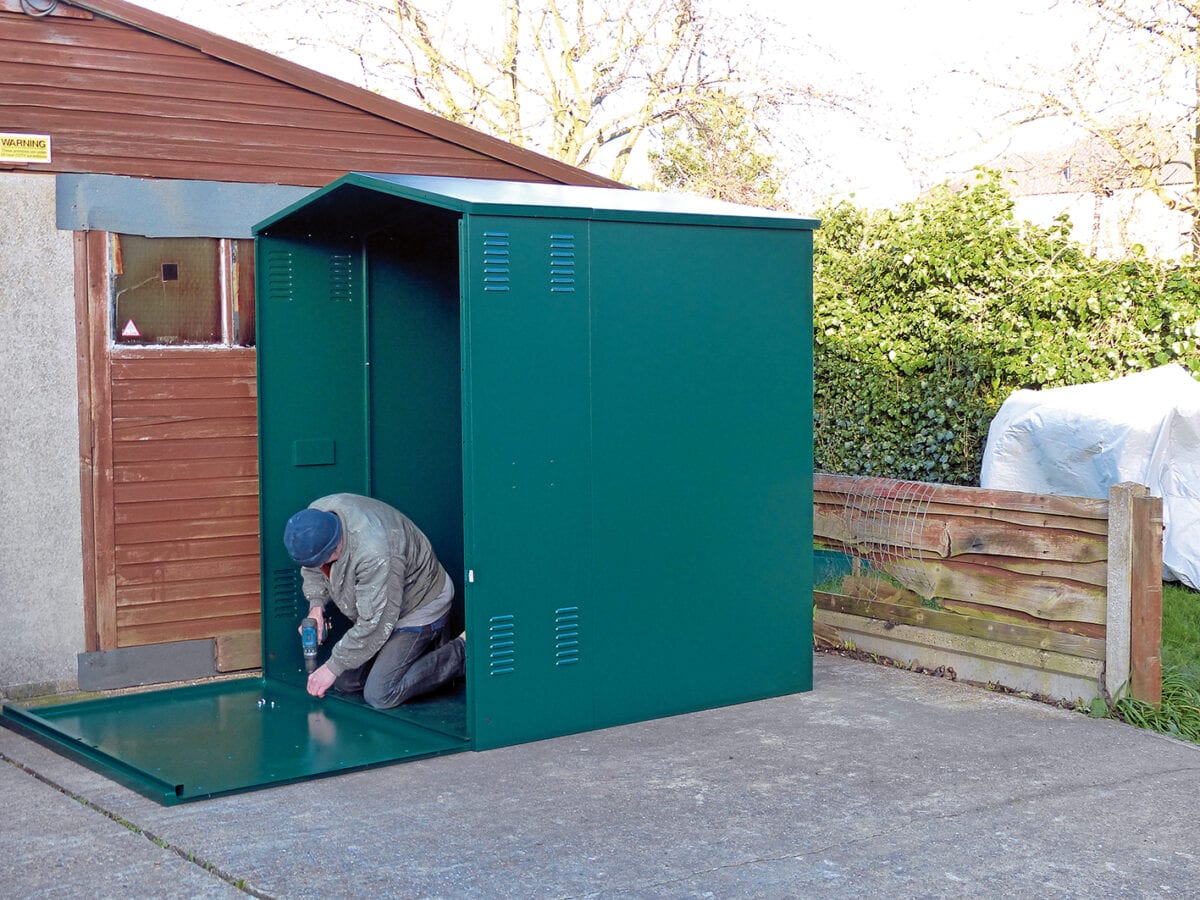 3. The instructions tell you where to start – the piece-by-piece assembly is pretty straight forward and involves a lot of screwing. It is definitely a two-person job, and having a third person was useful at times too, especially when someone missed a few steps of the instructions and we had to dismantle what we'd just put together!
4. The main unit is also a standard shed in Asgard's collection. The vented middle section is an addition, and together they make the motorcycle unit. So for this section, you skip to an extra page of instructions. The metal floor throughout adds an extra element of rigidity and security to the whole unit. (Please note, instructions have been improved since this article was published)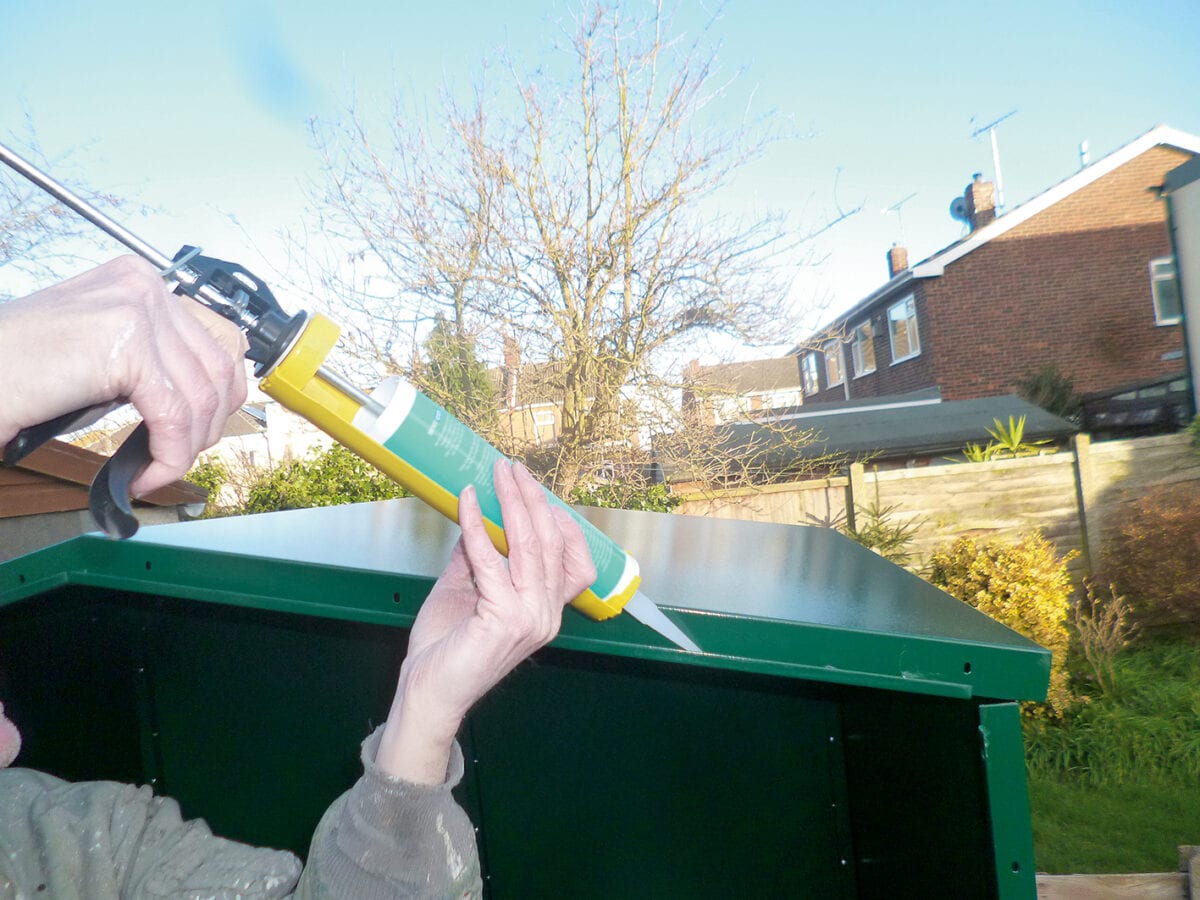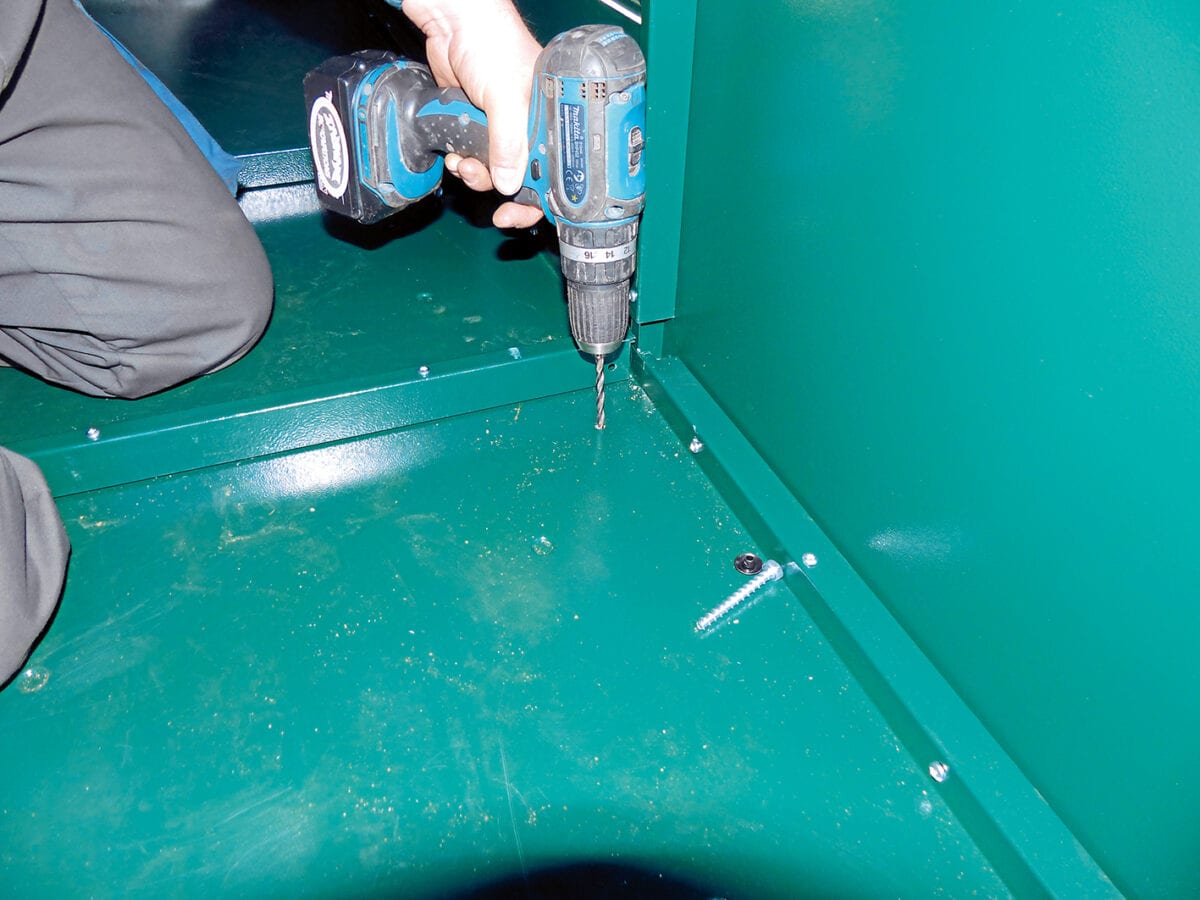 5. The sealent is used between roof sections, the whole unit topped off with a trim from front to back. Inside exposed screw ends are hidden with trim on uprights and roof. The unit is fully vented to prevent condensation and electrical mounting plates are also fitted. A tip is to insert the loading ramp before adding the final roof section.
6. Inside, before laying the OSB floor boards, drill the concrete base through to the unit's pre-drilled holes and bolt it down securely. Now not even a big bad wolf will be able to blow it away! All in all, it took us about three and a half houses to erect, including photos, tea breaks, ignoring instructions and building some at night!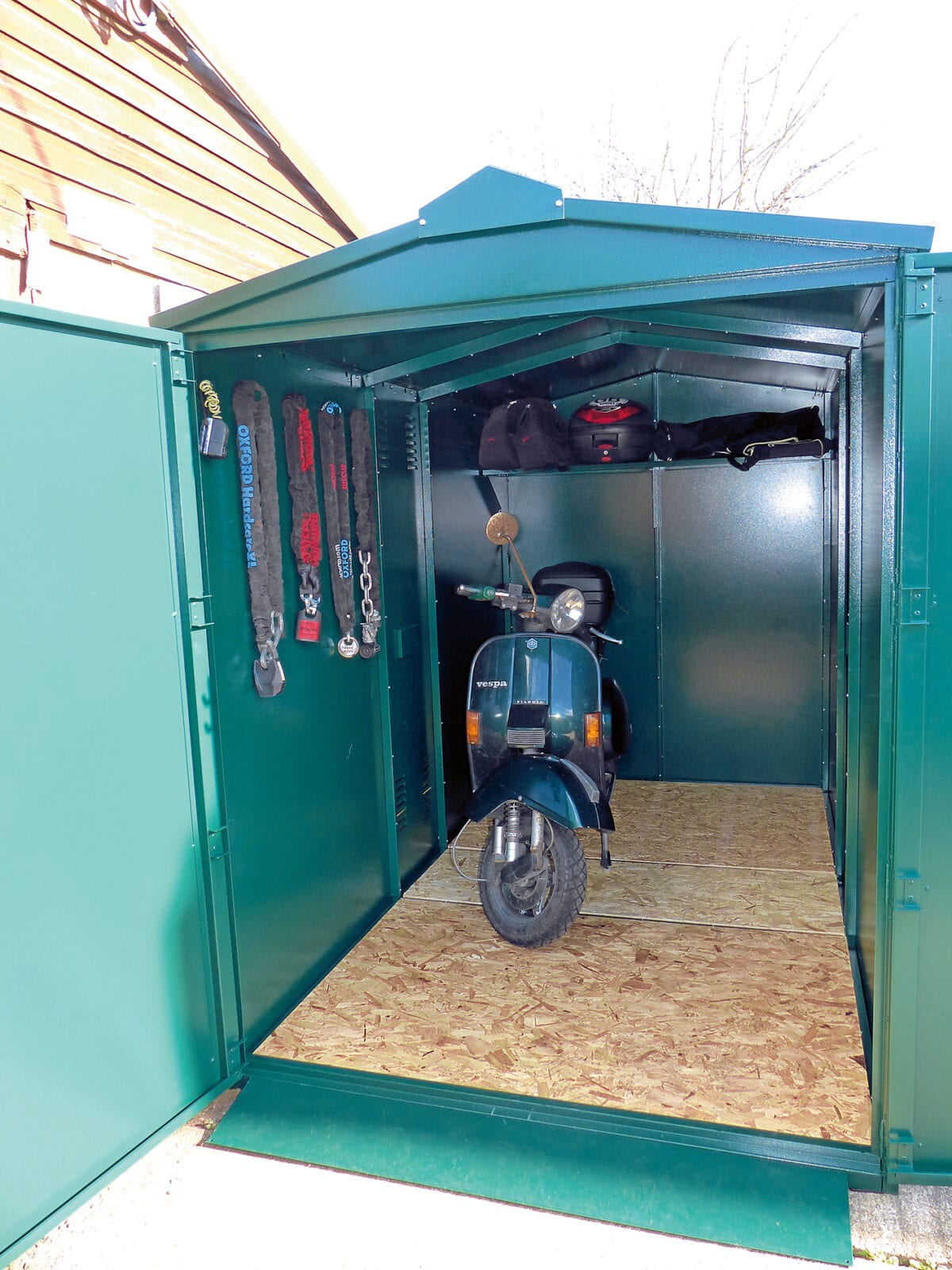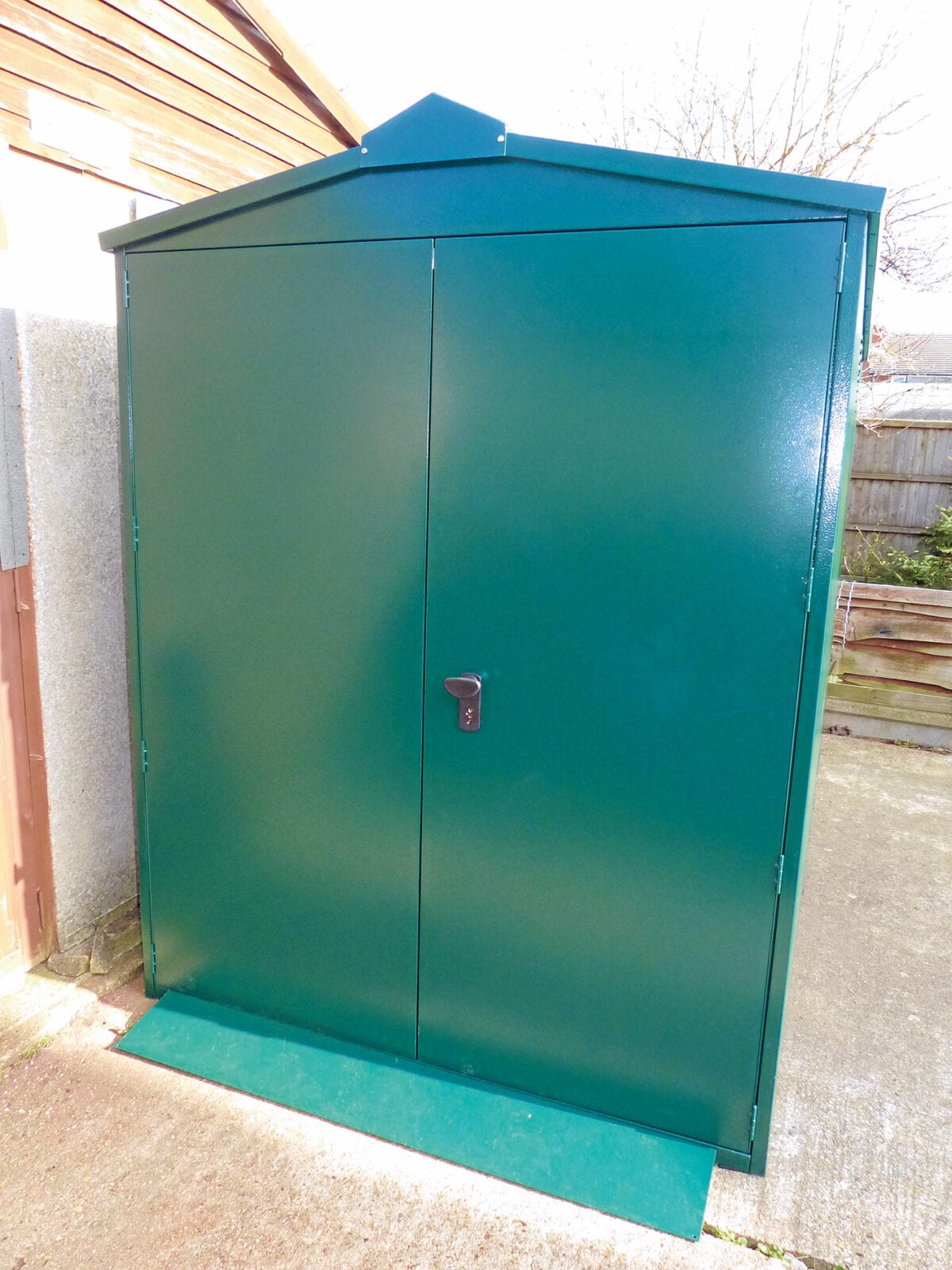 As you can see, there's plenty of space for two scooters, easily wheeled in via the ramp. You get a set of hooks and a shelf to fit inside your unit too. Note that even though your scooter is in a secure shed, you should still use extra locks. For example, a ground anchor is to be fitted unit the wooden floors here.
Building it yourself you get to appreciate how much is involved with this unit – it really is far more solid and secure than a basic garden shed. If you don't fancy that then for Asgard to assemble it for you it will cost an extra £185*. There is currently a special offer on the motorcycle units at £999* (including free delivery to most of the UK and 10 year warranty), for more info call 0345 658 0730 or visit www.asgardsss.co.uk
*Correct at the time of writing.
---
This review is about the Asgard Centurion Motorcycle Storage. Click here for more information.