School storage available from Asgard
School pack 5 - secure school storage unit
Protect all of your school equipment in this tough school storage unit, designed for the ultimate protection of your stored items. This Asgard school pack includes the delivery and the installation of the storage unit.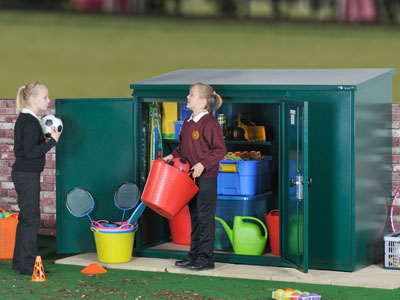 We know Asgard is tough, but what are the school storage units made from?
Asgard school storage units are made from tough weatherproof steel for the best security.
How does the school storage unit work?
A 3 point locking system and pick resistant lock, keep stored items locked away securely. Access items through the double doors and hang items on hooks and shelves. The integral rain guard will protect your school equipment from the harshest of wind and rain.
School storage customer comments
"Our sheds look great in our new outdoor area. They blend into our eco environment whilst keeping our enrichment boxes and equipment safe, dry and accessible. Thank you."C.A Headteacher St. James' C.E Primary Wardle
"Our Asgard shed has provided clean, secure and easily accessible storage for our equipment. Installation was quick and efficient. In fact we were so satisfied that we have recently ordered a 2nd." S.B (Headteacher) HATTON SCHOOL
"We are happy with the quality of the Asgard sheds we now have on site. They were delivered and erected swiftly and professionally."K.R. Rougham CEVC Primary
"Asgard sheds allowed us to secure our extensive range of sports equipment in an easy to use annex which has helped both staff and students." K.R IUS Manager Pent Valley Technology College
Do you want to know more about Asgard School Storage?