Child friendly school storage
School storage pack 7- Child friendly school storage
For secure, easy to access storage for school and sports equipment this is the storage unit for you. Its compact shape has been designed with strength and security in mind.
Storage pack 7 includes the delivery and installation of the unit.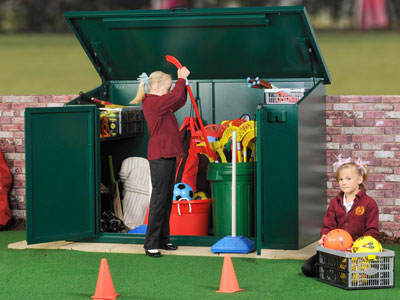 What is school storage pack 7 made from?
All Asgard school storage units are made from tough, weatherproof steel. Designed with security in mind.
How does this school storage unit work?
Easy access is the key to this school storage unit. The gas assisted, lift up lid on this unit, along with the front opening double doors, make it very easy to access stored goods. Great for quick playground games. If you are worried about security, then don't be. Two shrouded locking points and a central drop bolt ensure this is a secure unit.
School storage customer comments
"Asgard sheds allowed us to secure our extensive range of sports equipment in an easy to use annex which has helped both staff and students." K.R IUS Manager Pent Valley Technology College
"We are happy with the quality of the Asgard sheds we now have on site. They were delivered and erected swiftly and professionally." K.R.Rougham CEVC Primary
"Our Asgard shed means we can store our equipment in one place that is safe, secure and easily accessible for both children and staff" St. Stephen's CE Infant School
"Asgard sheds have given us peace of mind as we know our equipment is safe and secure and is easyfor the children to access at a moments notice." A.F. Headteacher
Do you want to know more about the range of Asgard School storage?