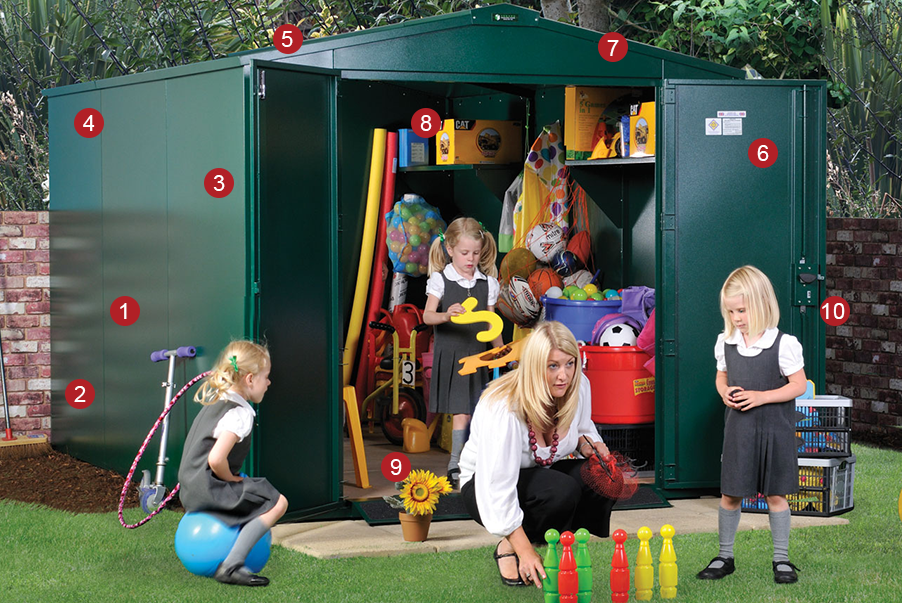 1. Fully Galvanised, weatherproof construction
Asgard school storage is made from galvanised, weatherproof steel. This makes every Asgard shed tough, heavy and secure. Find out more about the Asgard weatherproof steel panels.
2. Maintenance
Asgard school sheds require almost no maintenance. The weather proof nature of the construction (galvanised) steel means a simple wash down a few times a year will help to keep your Asgard shed in great condition.
3. Free 10 Year warranty
Asgard school storage is designed and made here in the UK. As standard Asgard offer a free 10 year warranty with every Asgard shed. If you would like to know more about our manufacturing, check out our virtual factory tour.
4. Asgard storage is made .. inside out.
All Asgard sheds are made inside out, so all the fixings are inside the shed. This method of construction ensures there are no exposed screw heads outside the shed making each Asgard difficult to break into.
5. Each School pack includes assembly
Every Asgard school storage pack includes delivery AND installation including bolting the shed to the ground. Delivery and installation is carried out by our own installation teams to ensure you get the best service.
6. Pick & drill resistant lock
Pick and drill resistant locks are fitted to most of our school storage packs. Each lock has a special handle that is designed to shear off in the event of an attempted forced entry thanks to a special "snap off" spindle. Helping to keep your school equipment safe from theft.
7. Unique shed ventilation
A unique shed ventilation system is hidden in the roof in every Asgard school storage shed. This unique ventilation system is designed to minimise the build up of condensation inside the shed, by allowing air to flow around the inside of each Asgard, even when the shed is locked.
8. Accessories
All Asgard units are pre drilled for our shelving and hook packs. These accessories are available to purchase on each product page or as money saving bundle packs - a great way to add more storage options to your Asgard shed.
9. Integral metal floor
Metal sheds from Asgard are fitted with an integral metal floor as standard. A metal shed with a floor adds even more security to the unit as it adds stability to the shed.
10. Locksmiths approved locking system
Many Asgard shed sheds feature tough, Locksmiths approved locking systems with pick and drill resistant locks.
---
School storage
Asgard school storage is made in the UK from heavy duty, galavanised steel - designed to keep the weather and the thieves out and your school equipment in. All Asgard school storage packs contain the sheds, the accessories for immediate use. Each of our school storage packs includes delivery and installation.