Road cc on the impact of Asgard Storage
Road CC recommend Asgard Bike Storage
We at Asgard love it when people talk about our cycle storage products! Here we are with more kind words from members of the road cc club. They are talking about our bike shed designed to hold up to 3 bikes in.
Road CC:
"I mentioned this in passing a couple of weeks ago and since a few guys from the club came around the other week thought it was a top idea and a couple have ordered them. So they advised me to post details of it in a forum or 2 as others may benefit. As most of them have had bikes nicked at some point (touch wood not me yet). One poor bloke had 3 nicked .. from inside his house as he slept upstairs. They broke in JUST for the bikes!"
"1st I don't work for these guys!! But I bought a Bike Store from a while back (via Winstanley) and I have to say it is rather splendid - super secure etc.. and I can get 3 bikes (2mtb 1 road), road helmet, mtb helemt, 2 x mtb backpacks, track pump, workstand, 3 x pairs of shoes, 2 x spare tyes, innertubes, box of spare bits in easy. The unit was £450 but it has stopped me from arguing with the wife about blocking the garage with 'all that cycle rubbish' not that we use the garage for a car and I have not had a bike nicked!"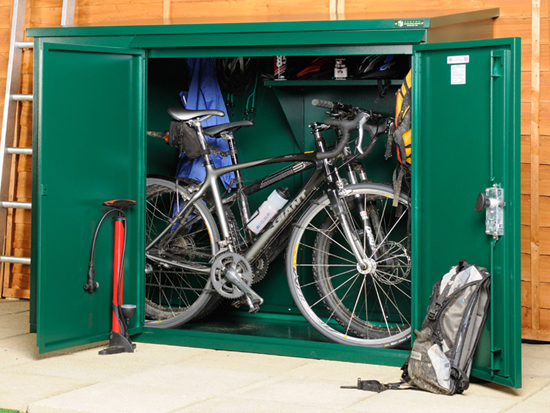 See the rest of the asgard metal cycle storage