Cycle storage made in yorkshire
The Access compact cycle storage
Easily the best selling cycle storage shed from Asgard - The Asgard Access has been designed to store up to 4 bikes inside its heavy duty, weatherproof body. With level 8 rated security locks and a fantastic lift up roof, this unit offers great weatherproof storage for your road or mountain bikes all year round.
Easy access wide doors allow you to effortlessly guide your bikes in up to 4 though maybe more! Inside the option shelf and hook packs allow you to store all of your riding gear and cycle maintenance bits together with your fleet of cycles.
This all metal cycle store shed is also available in a choice of colours – dark green, brown and ivory- to suit your outdoor environment.
With approval from cycling magazines such as BikeRadar, Cycling Plus and Descent World, you know you're getting the best storage for your bike.
Asgard customer review
"Overall very pleased. The unit looks much better than I'd expected which is important as it's on our front drive, and has two adult bikes, two kids bikes, a baby bike and two scooters in it. It can be a challenge when they're in the wrong order but that's a good problem to have!"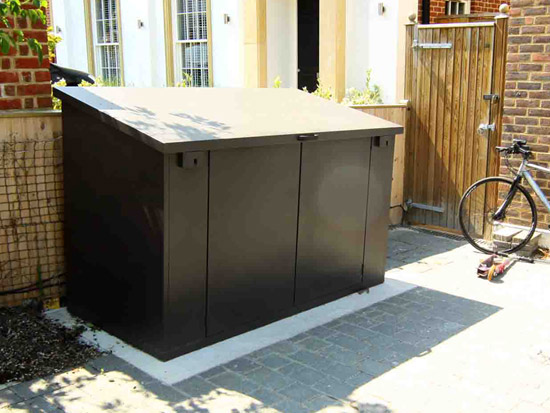 The Access bike store is designed to store up to 4 bikes. As you can see from this customer review, depending on the size of your bikes there could be room for more. This is our most popular bike storage unit with Asgard customers and it's easy to see why. Take a look at the features of the 4 bike shed here, to find out why Asgard customers love it so much.