Police tips for a safe garden
West Mercia Police Garden Security Advice
Garden, Shed And Allotment Security
Helping to weed out crime are CSO Kylee Berry and Andy Allen of the Worcester Allotment Forum. Although many people take steps to protect their homes and the property inside them, they leave valuable equipment in gardens and unsecured sheds, providing easy pickings for opportunistic thieves.
Power tools, mowers, garden tools, mountain bikes and golf clubs are just some examples of expensive equipment left in sheds that are not strong or secure enough to protect them from thieves. To make matters worse, these stolen items could then be used by the intruder to break into your house.
Around 1,500 shed burglaries take place every year within West Mercia, which highlights the importance of storing valuable items securely. Effective garden security covers everything from boundary fences and gates to the valuables stored inside your shed.
As part of our Safe & Secure campaign we've pulled together the following hints and tips to keep your garden - and therefore your home - secure.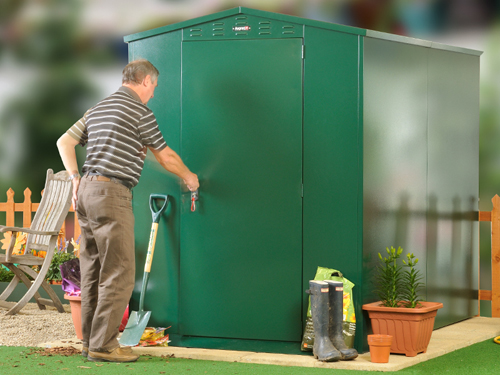 Top Tips for a Safer Garden, Shed Or Allotment
Gates, fences and walls should be kept in good repair to stop intruders getting in
Grow prickly plants close to vulnerable areas such as windows, fences, boundary walls and drain pipes
Don't leave expensive equipment like garden tools, mowers, mountain bikes and power tools in the shed
If you have nowhere else to store valuable equipment, take measures to secure your shed
Don't leave ladders and tools lying around in your garden, these could be used to break into your home
Mark your garden tools and equipment with your postcode
See the Asgard range of tough garden sheds