My asgard bike shed is really handy
The Asgard cycle maintenance store gets the thumbs up!
A little while back we had a customer contact us about how they had used one of our biggest sheds as a bike maintenance shed. Asgard are not ones to ignore a customer! So we have asked this customer to keep us updated as to how he got on using it through the summer... we say summer as we thought we might have some sun, not so. Anyway the constant rain has actually helped us, our customer was able to review our shed in some of the harshest conditions possible.
Putting down a base
"As you know as I really pleased with the original delivery, the unit was on time, even though I had forgotten to get my base down in time. So your delivery lads carefully stacked the unit in my garden for me."
"My base was down a week later, at a cost of £100 + VAT. I used a local concrete firm who came along and simply poured a few cubic meters of concrete into a hole I had dug. The process took about 20 mins, no mixing concrete by hand for me! That's my top tip for anyone thinking of buying one of these big Asgard units and needs a base putting down. Mixing concrete for a base 2.2 x 2.2 x 100mm deep is a lot of heavy mixing work. I worked out the cost for this would be £70 in materials and mixer hire, it just made no sense to do the work myself."
Construction
"I won't lie to you, when you lay out all the bits and look at the number of screws, this looks like one intimidating piece of kit. The saving grace is the instruction sheet, looks a bit like an engineering manual, but is actually really clear and easy to use. The stickers on each panel identifying what they are is a touch of genius, as at first glance all of the panels looked the same to me."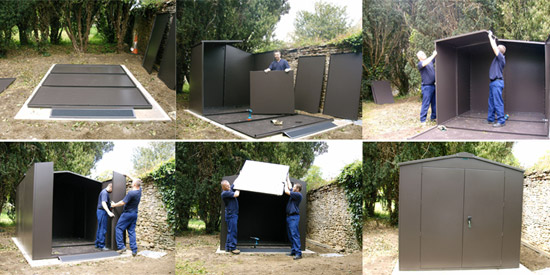 (generic installation shot)
"Building this metal unit is heavy work, this being one of your biggest sheds I can see why you recommend 2 people carry out this task. The sides are easy enough to pick up and manoeuvre, though it is near impossible to hold two sides at once and screw then into the base. Believe me I tried. The front fascia's are light and easy to manoeuvre, when you get onto the doors though you are in to a different world. They were heavy things. Due to the raised base lip you need to lift the door about 10mm off the base to get the hinges to line up with the fixing holes. 10mm is not much, but takes a fair bit of effort to hold a door steady !"
"I didn't bother bolting down the unit, I know this would give me increased security, but lets face it, this shed is immensely heavy. No one will move this. Besides I have a ground anchor, which will bolt down through the base to act as a secure point."
Finally the roof
"I thought the doors were awkward! The roof and top cap really needs to built on the ground and then lifted onto the shed. We tried to build the roof ON the shed. No chance. The roof is integral to keeping the shed perfectly square, so lowering it, squaring it up and screwing together all at once is impossible. Two aborted attempts led to the conclusion that we should build it on the lawn then lower into position. That worked a treat. A tip here would be watch the fingers! When the roof suddenly drops into place on the shed it drops an inch down onto the walls quickly. Any fingers in the way will be squashed."
Ground anchor installation
"Not that easy. I had to cut a square out of the wooden floor a good 6, bigger than the Anchor (to allow room for the chain) THEN screw through the base of the unit a real pain to do and probably not worth the effort."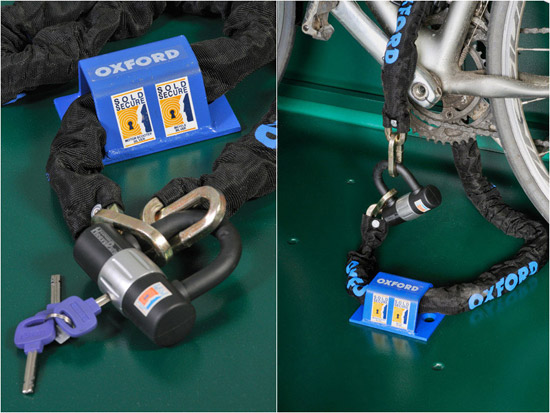 My Asgard is complete - how does it perform?
"Cracking unit in use. A third tip here. I forgot to run a line of silicone down the joins as per your instructions (missed that bit to be honest). So, the 1st windy/rain day I had a leak through the roof (under the capping joint) Not a huge leak but enough to annoy me. I ran the silicone all around the unit retrospectively; luckily you supply clear silicone, so you can hardly see it. From that moment on the unit was water tight."
"I ordered your full shed pack, shelves, hooks and flooring."
The flooring - "I thought this was too much money when I bought it, for what I thought was chipboard. Then I tried to lift it. What is it? It's heavier that the rest of the unit put together. Really good quality stuff. Watch the fingers when dropping into place though!"
Shelves - "Well worth having - great for oils and tools. If you are smart, you put a shelf low down and use it as a maintenance platform."
Hooks - "Really handy. I ordered 10, seems a lot, but once you have a couple of back packs, a helmet and a few waterproof items up there, they soon fill up."
"Another tip for your customers here. Get to Wilkos and buy some plastic storage boxes (£6.00 each) divide your riding gear into winter and summer boxes and stack them."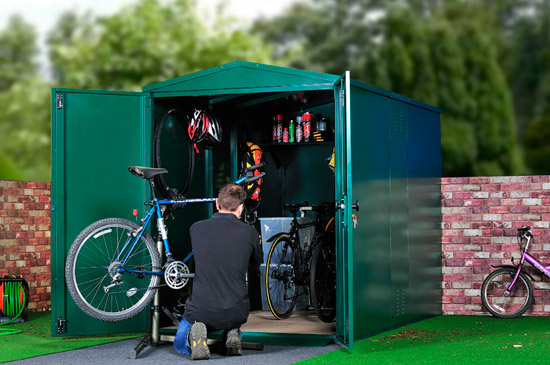 My Asgard as a maintenance shed
"Really handy. I do have a garage, but like most peoples its full of prams and tools, here in my 'man zone' there is only bike gear. I have a bike maintenance stand which I stand just outside the shed door. Perfect I can keep out of the wind whilst I am prepping my bike. I don't bring the bike in as the oil would ruin the floor. The shed gets a little warm in direct sunlight, so I don't stay in there too long on nice days, on a cold day it's a great shelter from the wind and rain. In terms of security, I really have no worries at all. This is a really solid unit, I can't imagine anyone getting in without a metal saw. Conclusion. Great shed but get a mate to help and for your own sanity buy an electric screwdriver.I hope that is enough. Feel free to use this review in any way you see fit".
See the full range of Asgard cycle garages here.