Motorcycle Storage Review
Converted to an Asgard Motorbike shed
The Asgard
motorbike shed
is in the press yet again! Proving to be one of our most popular storage units, Ride Magazine have reviewed our motorcycle garage. Did they like it?? With a host of security features built in to this unit........ of course they did!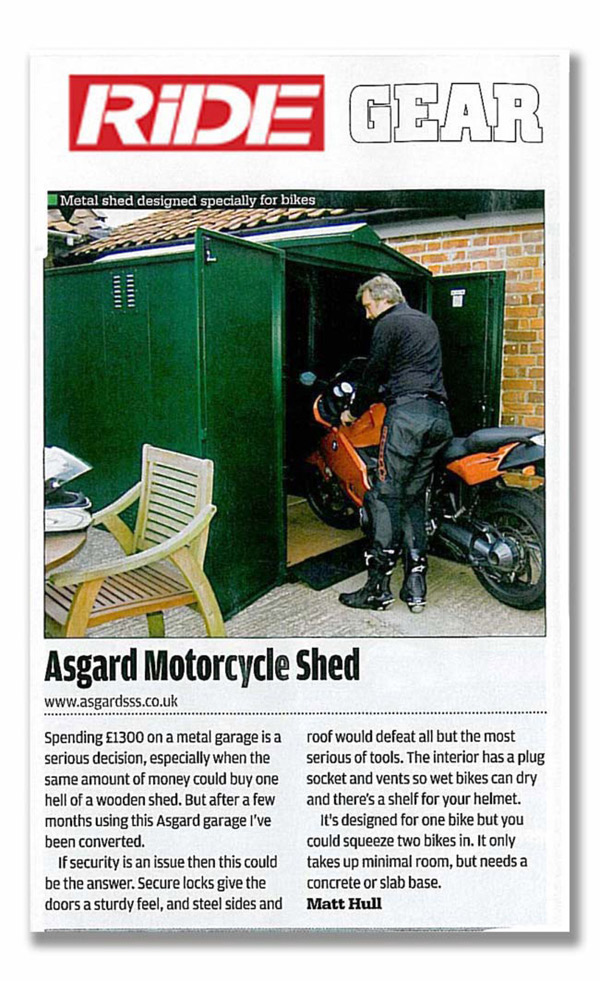 RIDE Gear
Metal Shed designed specifically for bikes.
Asgard Motorcycle shed
Spending £1300 on a metal garage is a serious decision, especially when the same amount of money could buy one hell of a wooden shed. But after a few months using this Asgard garage I've been converted.
If security is an issue then this could be the answer. Secure locks give the doors a sturdy feel, and steel sides and roof would defeat all but the most serious of tools. The interior has a plug socket and vents so wet bikes can dry and there's a shelf for your helmet.
It's designed for one bike but you could squeeze two bikes in. It only takes up minimal room, but needs a concrete or slab base.
Matt Hull
---
This review is about the Asgard Centurion Motorcycle Storage. Click here for more information.